Posted in: Recent Updates, TV | Tagged:
---
The Dynamic Music Partners of Batman, Avengers and Young Justice
Jimmy Leszczynski writes for Bleeding Cool,
Ever since Batman: The Animated Series exploded on the scene in 1992, composing trio Dynamic Music Partners, individually known as Lolita Ritmanis, Michael McCuistion and Kristopher Carter, have been responsible for composing the melodic backdrops for such notable achievements as Batman Beyond (for which they received the Emmy Award in Music Direction and Composition), Batman: The Killing Joke, and Batman: Return of the Caped Crusaders (which earned them an Annie Award nomination), as well as their recent soundtrack for Scooby Doo & Batman: The Brave And The Bold.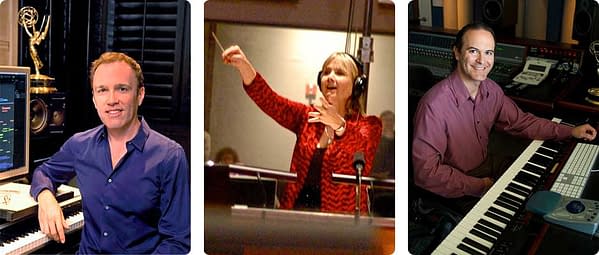 This year marks 20 years since Batman: Sub Zero originally chilled our hearts with the tragic tale of Dr. Victor Fries and his wife Nora; now Lolita, Kristopher and Michael sit down with Bleeding Cool to chat about the re-release of Sub Zero, changes to the Avengers: Assemble universe, hints about the eagerly anticipated return of Young Justice, and lots more music stuff!
Michael (MM), you were the composer on Batman: SubZero, with Lolita and Kristopher contributing in supporting roles. Can you reflect on the process of writing the chilling tones you crafted for this feature?
MM: Well it was interesting because in this particular instance they brought me on board at the storyboard phase. So, I was able to go through all the boards with Boyd Kirkland and Randy (Rogel) who were co-producing. I had a really early start on this. And that was good, because they wanted themes. A theme for Nora and Mr. Freeze, and a theme for Batman, you know, specific to this show. They wanted a lot of really specific musical IDs, so we had a chance to have a lot of collaboration on that before formal work began on the underscore. The project took quite a long time because it was such a huge volume of music and because we were working with a live orchestra. There was no way I could do something like this on my own. So I had a whole team of people including Lolita Ritmanis, and Kris came on board to orchestrate as well. I had Andrew Kinney doing mockups for me. We assembled this great music team that could make everything happen, because it was an enormous task. We had, I think, a 70-piece live orchestra and I believe it was a 16-voice choir as well. And also a big band and 2 days of sessions at Paramount's legendary Scoring Stage M. It was quite the adventure.
Lolita (LR) and Kristopher (KC), even though Michael was composing on this project, it still sounds like there was so much more to do. Can you tell us a bit about your roles on Sub Zero?
LR: The role of an orchestrator varies, from project to project. With Michael, he made all his decisions, like brass is going to play this, and the strings are going to play this, and then the orchestrator basically takes these sketch(es) and assigns each instrument their specific part. All of the real creative decisions have been made, with the exception of a couple places where I did a little bit of arranging.
MM: You did the end credits; you did a beautiful arrangement of the different themes and put them together for the end.
LR: It was such a joy too; it's always fun to work, well just to be working period. But at that point in my career to have one of my very dearest friends compose such a tremendous score, and that I had the opportunity to be a small part of his support team was wonderful.
KC: I created some of the mockups as well. Because the directors can't really look inside Michael's head and experience all this beautiful music he has created, they need to hear something to be able to react. So one of my jobs was to take Michael's sketches, and use a synthesizer to create a demo recording of the music so the directors can have a constructive conversation about what the music is going to be, and any adjustments and notes can be addressed before the orchestra is sitting around on the stage at a hefty price per minute!
Please discuss the choices made to make to music feel colder and bring the eerily frigid melodies to screen.
MM: That's funny. Since we are film composers we have a certain kind of carte blanche to create texture and tone, and I'm always into that sort of thing. So, a lot of the strings are muted, a lot of them use non-vibrato. I had written a theme for Mr Freeze's wife, Nora—you know the story, she is in stasis, she is held in suspended animation. There are vocals in that tune, and I had them use less vibrato, and use a very breathy sound. The strings are also in mutes to take the edge off their sound through much of the show, except for when Mr. Freeze shows up…everyone just lets loose for that!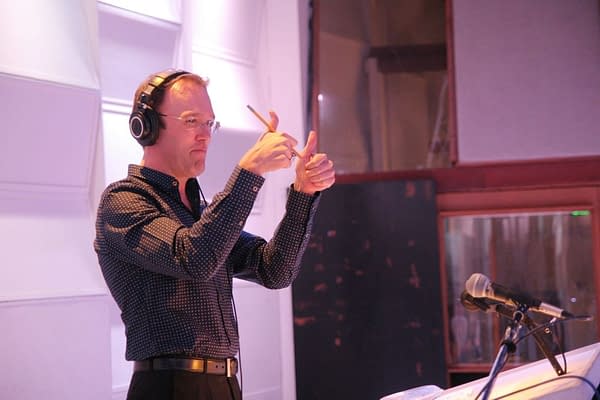 "I think texture and tone are probably the most valuable things we have as far as composers to communicate mood, even more so than harmony and melody." – Michael McCuistion
Teamwork makes the dream work, I always say, and with the volume of music DMP is responsible for producing it is sometimes necessary for each team members to focus on different aspects of the music. Can you please speak a little about how your roles, writing, composing, and orchestrating, change from project to project?
MM: Both Lolita and Kris have had their own long form movie that they did. Subsequent to Sub Zero, Kris did Return of the Joker. That was his project alone. He asked us to work with him on that, in various aspects. Lolita had Mystery Of The Batwoman where she did that on her own totally.
LR: As far as our collaboration, we all compose. If we have enough of a budget we bring in orchestrator Larry Rench to help with score prep. But, as for composition, we do all of the work. We have two engineers that work with us: Mark Mattson and Mako Sujishi. We hire musicians, and we band together just simply because there was, and there is, a lot of work.
"We really want to give attention to every every music cue that we write. We are not a music library. We are scoring every minute of picture that we are privileged to write for." -Lolita Ritmanis
Aside from basic character themes, I do not think any two projects really sound the same. As an example, Batman and Scooby Doo both have very similar, but completely different music themes and tones. Can you explain how you managed to blend these two contrasting themes together for the feature Scooby Doo and Batman: The Brave And The Bold and coming up with magic?
KC: Our first foray into the Scooby universe was working on Mask Of The Blue Falcon which was essentially a send-up of the whole con-going culture. It happens at San Diego Comic-Con and features a character kind of like Batman. We wanted to pay homage to the wonderful music that had been written for Scooby: it's lighter, it's more comedic. It hits the action in the way that Warner Brothers comedy is famous for. But we also wanted to have the scary moments too. When we worked on Batman: The Brave And The Bold, the score was all about the bongos! So there was a real opportunity when James Tucker (Executive Producer Scooby Doo & Batman:The Brave And The Bold) asked us to do the Scooby/ Batman crossover that could bring both those worlds together, and it flowed easier than we thought it would! We are returning, ostensibly, to Batman: Brave And The Bold 's world but adding Scooby. It felt like we were sitting with two old friends finally at the same table together.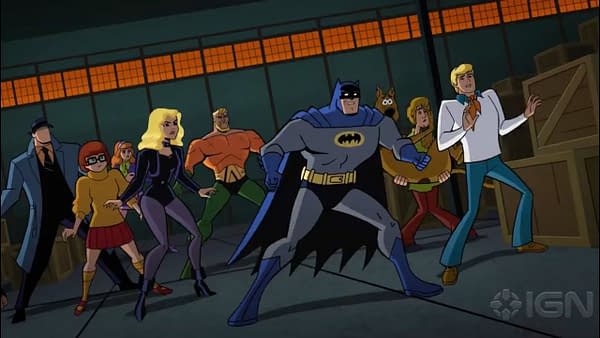 Speaking of Batman: The Brave And The Bold, the Mayhem of the Music Meister (the musical Batman:TBATB episode starring Neil Patrick Harris), featuring a crooning Batman, is well known among fans as one of the most unique Bat-stories put to screen. Can you tell us a little about what was it like to collaborate with James Tucker and Michael Jelenic and how much influence you had on the overall pace and tone?
KC: James Tucker and Michael Jelenic wrote the lyrics together, and then the three of us composed the music. I think it was really exciting to come into the episode production very early. Normally the only time we get to even see things in script stage, before the voices record and before the animation is done, is when there is a song that has to be done beforehand. And that was really exciting to work with the actors so closely and to sing the songs. It was an adrenaline rush to have to turn around an entire musical in a very short period of time!
LR: We love these sing-alongs! I think that the songs that I wrote If Only and Drives Us Bats those happen to be the easiest ones to sing because they are just straight ahead songs. I have to say, my heart is so full anytime I am at one of these sing-alongs, and the fans line up in all shapes and sizes, in costume sometimes, with varying levels of experience. Sometimes we hear talent that is top-notch—professional-level singers, and sometimes it's great because it's not great. They're trying really hard. It's so wonderful.
An Act of Love, your recently-completed feature-length documentary, received the silver award at the Mill Valley Film Festival, and is quite a departure from what we normally expect from DMP. Do each of you have a favorite piece of work, not necessarily a comic or superhero property, that you are most proud of? Something that Bleeding Cool readers might not be aware of?
MM: For me it was probably the planetarium show called Time's Up I did for Griffith Observatory. That was such a different way of working. It's a multimedia experience, but, it's performed live every time. So that means that every time it was slightly different, and the music had to allow for those differences. The music was cueing the actors who were listening to how the music was unfolding. The music was really driving the whole show. It was just a really wonderful experience. I worked with Dr. Laura Danly, curator of the observatory, who was fantastic. She's such a wonderful musician herself. It was very much apart from everything I had done in the superhero world.
LR: For me I've always been writing music that's not part of the superhero world. I've always got something else going on. I've written 4 full-length musicals. Last year I had a real highlight of my career, where one of my orchestral pieces received its US premiere at Carnegie Hall. That was a real thrill. There were many people in attendance, it was a big moment in my life personally and professionally. For me, to use a different part of my brain where the music stands alone without picture is very fulfilling. I'm looking forward to some more opportunities like that coming up for me soon.
Is there any chance the musicals are anything we may have heard of?
LR: If you are Latvian. I'm Latvian, so they are in the Latvian language ( I found a few songs!). My parents emigrated here after World War II. It's a singing nation, it's a culture that's very musical. Music is very much a part of everyday life. It's been a real blessing to me to have that as a separate part of my life. My other passion, I wouldn't even say its my passion, it's my charge with Shirley Walker sitting on my shoulder. God rest her soul. I am the current president of the Alliance for Women Film Composers. Our mission is to amplify the work of women composers, educate, and also advocate for gender parity.
KC: I have worked on several independent feature films, outside of my work with superheroes. I worked on a film, a year and half ago, called SIREN by Universal's Chiller TV. that was produced by my very good friend, Director Gregg Bishop, about a woman/monster who charms men with her singing, and there was lot of music in that. The actress had to sing on set, and the music had to fold around her singing without making it sound like it was being performed like karaoke or something like that. It was a real pleasure to explore how to use music in such a way that it's both happening inside the scene and outside the movie at the same time!
When talk of mentors comes up, DMP collectively get a big smile on their face(s)
(they are smiling at each other and almost holding hands)
KC; We are all going to say this in unison…
DMP: 1, 2, 3…Shirley Walker!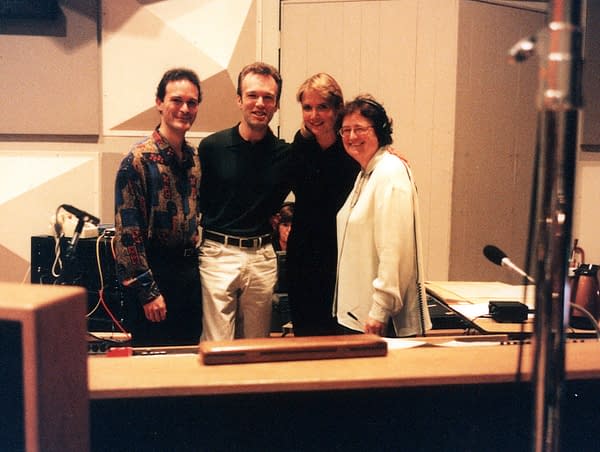 "We owe a major part of our careers to her guidance, and her support, and her enthusiasm and so much to this amazing woman."– Kristopher Carter
The work never seems to stop coming in for Dynamic Music Partners. Any hints at what we can expect down the road from you?
LR: We have a couple of long forms that we can't talk about that are on our slate that we're just absolutely thrilled about. But we are working on season 3 of Young Justice (Outsiders) which is such an exciting thing because of the fans and because of the clamoring for more episodes to get a call saying, 'Hey, we're going to do a season three,' and we are looking at our calendar (and said) "Didn't we wrap like 5 years ago?" So we really have to thank the fans for their amazing support; we can't talk about any of the story lines or anything,
Can we expect any more Batman:TBATB movies, or can you spill any Young Justice: Outsiders secrets? Can you mention if you are seeing storyboards, or some finished product?
(Sideways glances and chuckles between them.)
MM: We can tell you that Season:5 of Marvel's Avengers: Assemble is awesome. We can tell you that Season 3 of Young Justice is beyond cool—the fans are going to go crazy for that.
KC: We can tell you that the DC animated movies are continuing to be made. WB Animation has been working non-stop so there are more long-form movies to be coming out for sure. Young Justice Season:3 is currently beginning post-production: they have already written the scripts, recorded the voices, and are currently in the middle of the process of producing the animation.
When pressed for a potential release date for Young Justice: Outsiders Lolita tells me,
LR: We can't, and honestly we don't know, but I think the fans are just gonna go nuts. It's really such a cool show. Brandon Vietti and Greg Weisman (Young Justice creators) are really hitting it out of the ballpark on this one.
Ritmanis continues,
LR: We have the other universe that we live in, also a big part of our lives: Marvel's Avengers: Assemble, which is also evolving! We're having a really, really cool time right now, and that's all I can say about that.
Smelling a potential Avengers scoop, I hone in on one aspect asking, if it's evolving into something better, different? Do you love what it's evolving into?
LR: Anytime anything stays stagnant, I think we are fortunate to work with creative people that are always looking for ways to make something a little different and take it to the next level.
OK, I'll take the pressure off and say thank you, Kris, Lolita, and Mike, it really is my pleasure to meet and chat with you talented folks
In addition to their website, you can find Dynamic Music Partners on Twitter as a group @Dynmuspartners, or individually Lotita Ritmanis is @LRitmanis, Kristopher Carter can be found at @utadeer, while Michael McCuistion prefers not to tweet.Batman: Sub Zero is currently available for purchase on Blu Ray and Digital download.
---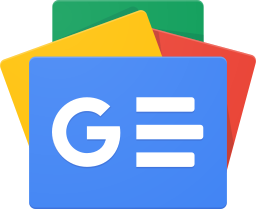 Stay up-to-date and support the site by following Bleeding Cool on Google News today!