Every Home Needs A Bunch Of Comic Artists Off The Leash – Dive Into kaBOOMbox Anthology Volume One You may have seen the Out of Step Arts Collective representing at SPX or more recently at HeroesCon in North Carolina, and the stand out from the crowd for being an independent arts collective with quite a few highly original comic book creators in their ranks across a wide range of styles and subjects and for their interest primarily in comics work but also in other formats for the exploration of their skills including gallery events and other types of media. I first met the rising star Toby Cypress ( of The White Suits from Dark Horse whose cover was recently chosen by Diamond Previews to highlight) at an OOSA table at SPX, and those who belong to collective also include: Andrew MacLean, Logan Faerber, Nathan Fox, Liz Suburbia, Alexis Ziritt, Paul Maybury, Chris Visions, Ming Doyle, and Greg Ruth.
OOSA teamed with the webcomic project Brand New Nostalgia to present a collection of experimental projects set to chosen themes with an even wider range of talented folks. Like the publisher Nobrow, whose anthologies often bridge the gaps between illustration, design, and comics, and bring them all together for an exploration of form, The KaBOOMbox Anthology really makes a visual splash and is an excellent showcase for these versatile creators. Originally a Kickstarter project, the book is now in print and available, and is one of those books that shouldn't remain a best kept secret of the cream of the crop in comics in illustration working right now. Flipping through the book, it features opening bios of the contributing artists, splashpages of their work, and is followed in each loose chapter section by a short comic that is invariably a whirlwind of color and bold style that runs non-stop to 188 pages in total. The Editor and Designer on the collection, Brand James Clark has brought top-end production values to the piece by rendering many of the comics flush with the page turns, giving you the impression that ink and color is practically oozing off the pages at you and only using minimal borders when needed.
The book opens, following an introduction by stellar designer and artist (and SVA grad program professor) Nathan Fox, with Tradd Moore ripping into explosive artwork and it sets the tone for the book. This is what it's all about–seeing these powerhouses of comic art given full freedom to explore the recesses of the their imagination that you simply haven't seen before. Joe Querio takes us through a four-page lavish comic "Haunted Space!" that seems to also strike a note for the collection, the mixing and blending of genres that produces plenty of visual surprises for readers. Andrew R. MacLean dives into a spectral assassin story with an Asian theme in lush inks with plenty of movement next.
Jorge Coelho's art on "Sea Monster" is utterly haunting with his fine, graded line-work and muted colors, again taking on the strange and imagination-stretching in storyline by Paul Allor.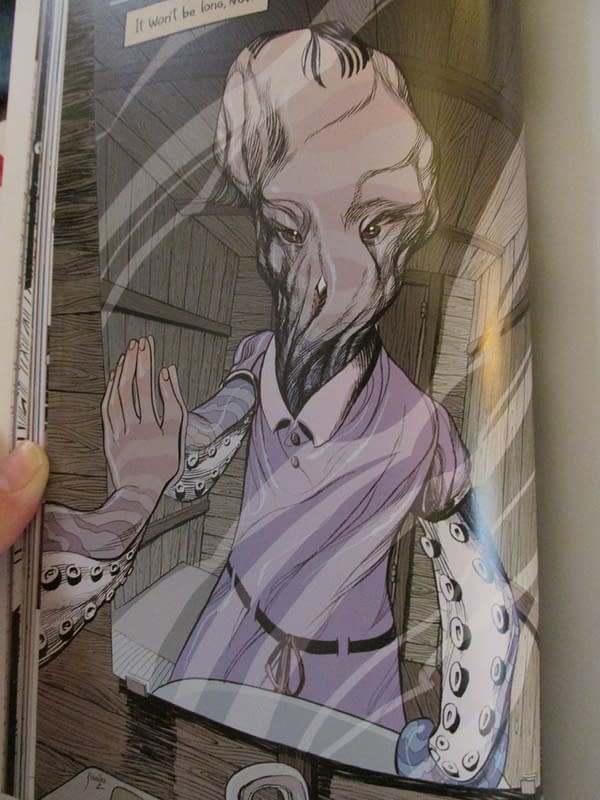 Logan Faerber's instantly recognizable style for facial expressions and movements is just the kind of thing that winds up as a best-seller from Boom! or Image these days, a pleasure to behold.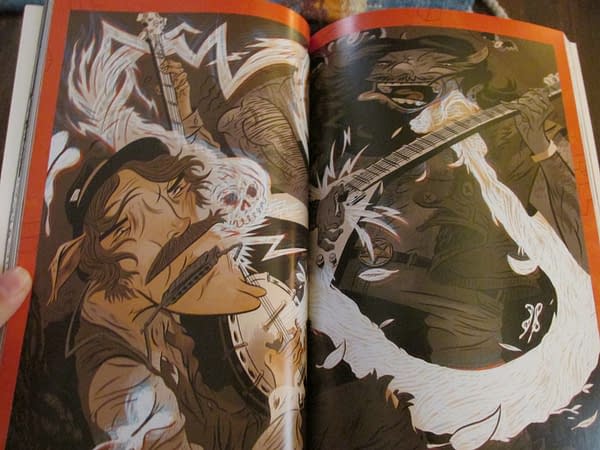 Ricardo Venancio has a keen illustrative multi-genre style and his painterliness give you a sense of the epic and historically-accented subject-matter.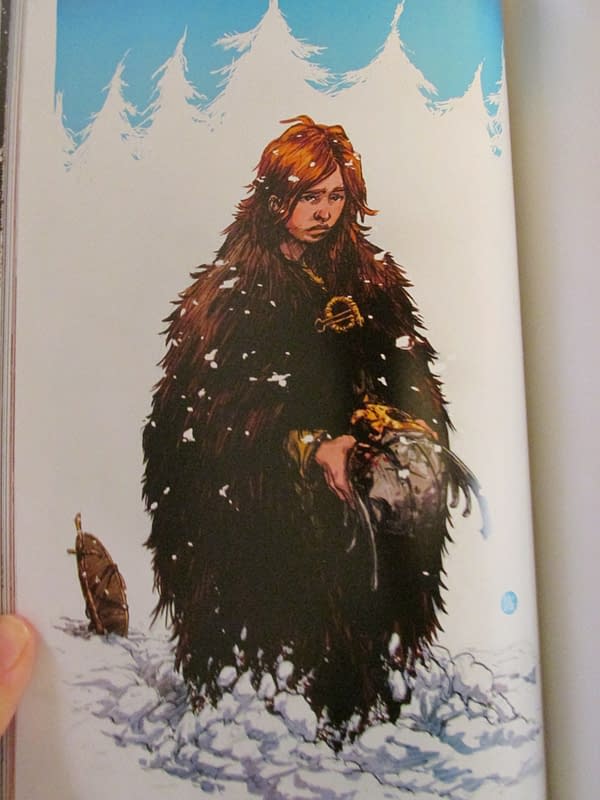 Filipe Andrade's contributions are full of flowing lines, often psychedelic with a softer edge on striking, dream-like themes.
I'm a big fan of Giannis Milono Giannis, and was pleased to see his manga-influenced attitude-ridden work included, too. There's just so much in this book that it can't be summed up succinctly very easily, and part of the pleasure of the book is knowing that it contains hours of reading and contemplation observing differences in style and treatment. James Harren takes us into the gruesome side of genre stories, and it's easy to see why he's worked on Conan and Abe Sapien in the past, with gusto.
Alexis Ziritt terrifies us in the all the right ways, with an excellent choice of sizzling hot colors.
Toby Cypress has 11 pages of comics included and some of his striking poster-like spreads I sometimes see as prints at shows. The man is in demand, and his quality work is engagingly apparent.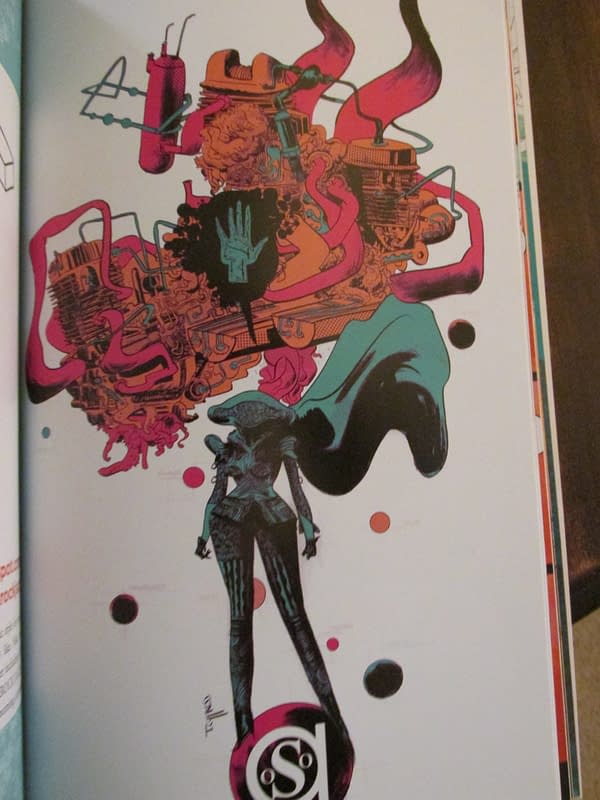 Paul Maybury's artwork on "American Space Ninja in Space" strikes an interestingly humorous pose while mixed with suspense and the colors are just immersive.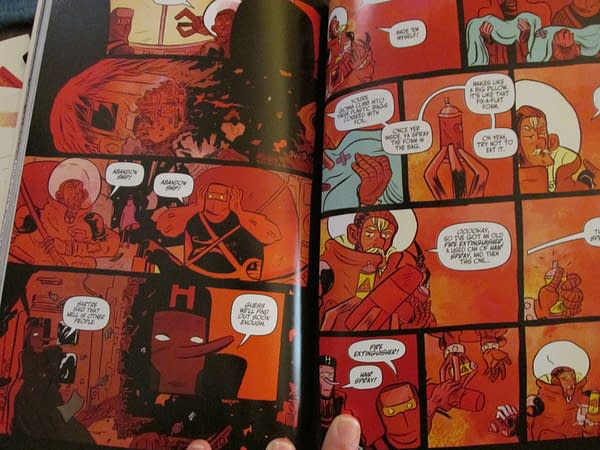 And I'll close with the fabulously delicate, realistic, and yet ethereal work on Ming Doyle, whose lines take you into something like a dream state that yet doesn't guarantee protection from strange truths. And that's only a small sampling of the kaBOOMbox: Volume One Anthology (More volumes to come? That's incredibly reassuring). It's something every art-loving home needs, with plenty to return to over time and also a window on what's coming up, a kind of barometer of where comics are heading in the next couple of years.
You can find out more about getting a copy of the kaBOOMbox Anthology at the OOSA store once they've completed all their Kickstarter shipping which is underway at the moment. You can also find Out of Step Arts on Twitter.