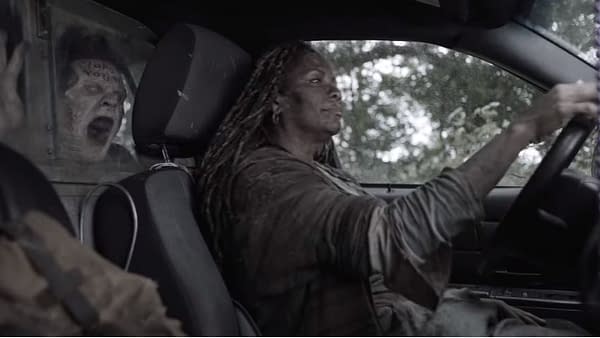 Welcome to Bleeding Cool's weekly review of AMC's Fear the Walking Dead season 4, this time with our thoughts on the season's 12th episode, 'Weak'.
So Morgan's (Lennie James) decided to try for the best of both worlds: use his new "frenemies" to scoop up the folks he left back in Texas, drop off some safety boxes along the way, and make his way back (with new team in tow) to the warm embrace of The Walking Dead's Alexandria-Hilltop-Sanctuary community. Pretty straightforward plan, right? What could go wrong?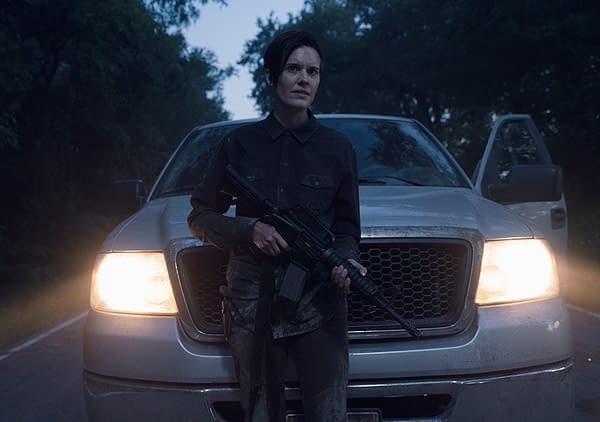 Well, this week's episode of AMC's Fear the Walking Dead proved that a lot of things could go wrong — starting with June's (Jenna Elfman) efforts to help a not-doing-too-well Althea (Maggie Grace) not going as either of them planned. While behind the scenes, Tonya Pinkins's mysterious survivor looks to learn more about the survivors as her plans unfold — and as we offer our review of FTWD s04e12 'Weak':
Spoiler Warning: I'll be covering some themes and takeaways involving major and minor plot points from the episode, so just keep that in mind. Definitely not looking for pitchforks and torches outside my apartment.
Fear the Walking Dead s04e12 'Weak': June helps when Al's health deteriorates; Morgan searches for friends lost in the storm.

Here's a preview of next week's episode of AMC's Fear the Walking Dead, 'Blackjack':
Fear the Walking Dead s04e13 'Blackjack': Strand and Dorie are marooned; Luciana aids a man in need; the group's efforts to help a stranger put everyone in danger.
In this behind-the-scenes video, the cast and creators discuss this season's new "acquaintances" and if they're going to be a help to Morgan and the crew — or a threat:
The first half of season four began with one figure huddled around a campfire, and ended with nine. Characters who started their journeys in isolation collided with each other in unexpected ways and found themselves in one of the last places they ever expected to be…together.

In the back half of the season they will explore who they are now – as individuals and as part of the greater group – and how they will forge ahead. They will find themselves pitted against new adversaries – human, walker, and even nature itself. Theirs will be a journey wrought with danger, love, heartbreak, loss, and ultimately, hope.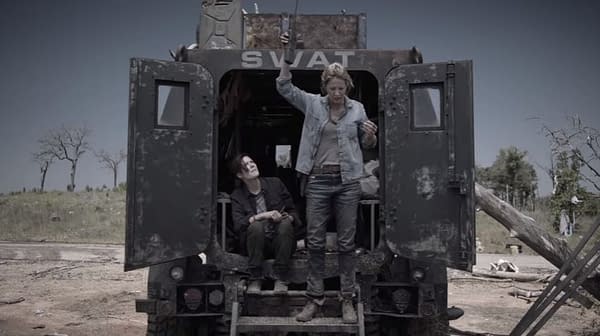 Fear the Walking Dead is executive produced by Scott M. Gimple, showrunners Andrew Chambliss and Ian Goldberg, as well as Robert Kirkman, David Alpert, Gale Anne Hurd, and Greg Nicotero, and produced by AMC Studios. The series stars Lennie James, Alycia Debnam-Carey, Colman Domingo, Danay Garcia, Garret Dillahunt, Maggie Grace, Jenna Elfman, Alexa Nisenson, Mo Collins, Daryl Mitchell, Aaron Stanford, Tonya Pinkins, and Stephen Henderson.