Gail Simone has a Writer's Commentary on her new series, Death-Defying 'Devil #1, on sale now from Dynamite Entertainment.
Hello, all!
It's possibly not a well-kept secret that I am a huge fan of the pulps and pulp-like characters. In the early days of Western comics, many of the superheroes bore more of a resemblance to comic strip adventurers and pulp heroes than to Superman, and one of the most striking was always Daredevil, as he was called then.
Daredevil had an odd, powerful look that still works today, and was a real bridge between, say, the Avenger and the Avengers. His book sold in the millions in its heyday, and if circumstances had been different, I fully believe he would be as well-known as Captain America or Spider-Man now. So I jumped at the chance to write him, and we wanted to tell a modern story, but without undoing the gritty pulp tropes that made him a hit in the first place.
Thank you for the support and all the lovely reviews of this book, we know it's a different book for me, and also, my long-time collaborator Walter Geovani. He loves superheroes, and this is his first time drawing them in a real comic! He did fantastic work, I love how moody it all is.
SO here we go!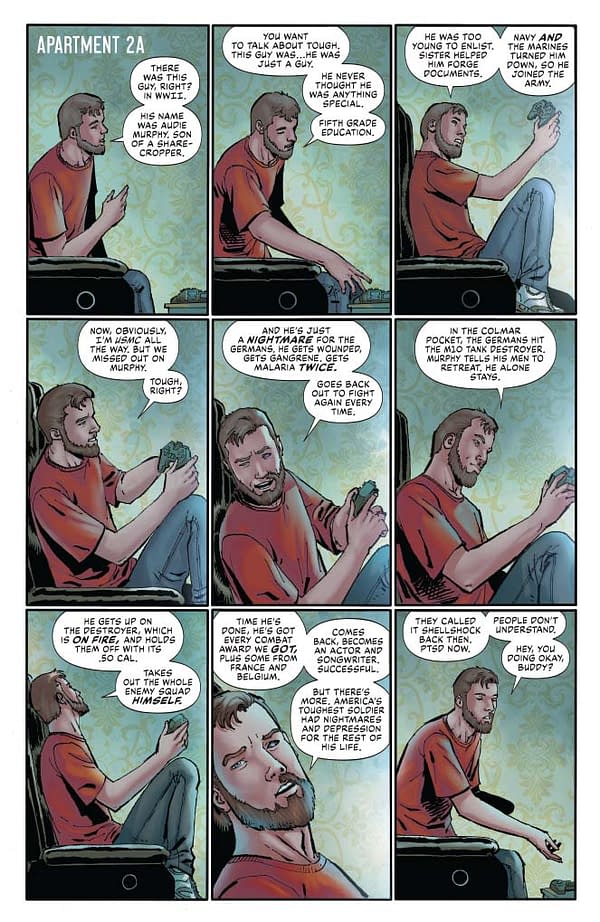 PAGE ONE:
A LOT to unpack here. First think, Audie Murphy was a real guy, a war hero of such an unbelievable record that he went on to have a career as an actor and public figure based on his heroism and courage alone. The stories of his battle valor were so incredible that even now they sound more like Sgt. Fury than reality, but they happened, and he lived them.
So he became the face of the American soldier for many people.
The less-told part of his story is that he did suffer the rest of his life with symptoms that we would probably call PTSD. I feel it's important to know the whole story, that you can absolutely be a hero and still suffer from consequences both physical and mental. He was courageous AGAIN in talking about it at a time when people were less willing to hear such a message.
His story is one that, respectfully, I think fits a lot of soldiers, and the struggles many of them face afterwords.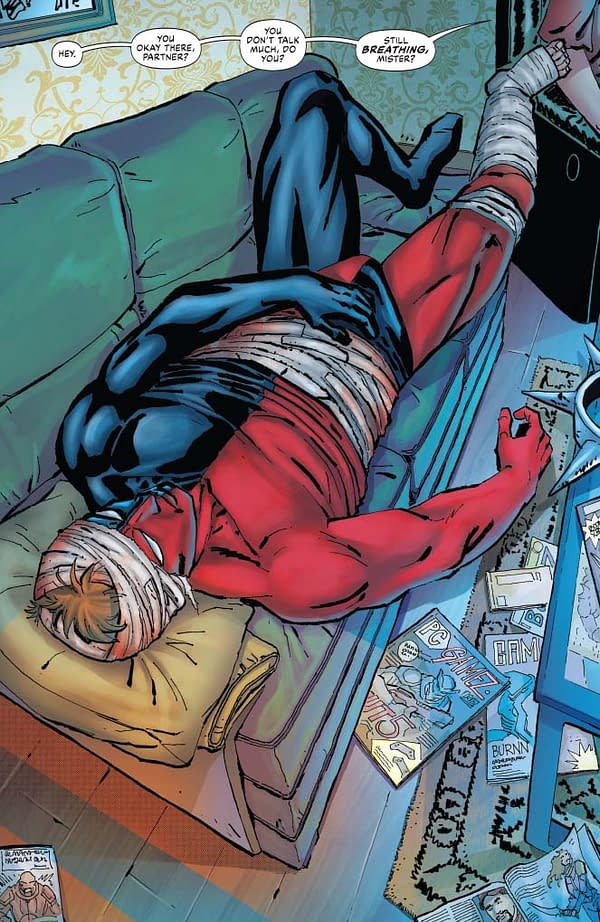 PAGE TWO:
This is a real life example of some of what I am talking about here. The soldier here, 'Dave,' is based on a real person. His name is Dave, I don't want to use his last name here without permission but he's a public figure so it won't be too hard to find.
Dave was a Marine, and was injured severely during his service. I don't feel I have the right to tell his full story, but it's one of courage and hope and even humor. I met him at San Diego Comic Con. Comedian Brian Posehn had met this group of vets who gather geek and gaming culture things and send them to vets and active service personnel all around the world, and they had asked to meet me. We became good friends and they now feel like family.
Please check them out at Stackup.org. What they do brings normalcy and joy to soldiers and vets and I am very grateful to Dave for allowing me to use his story and likeness.
For the connection to the story, it's to remind us of a time when superheroes fought more like soldiers, particularly during WWII.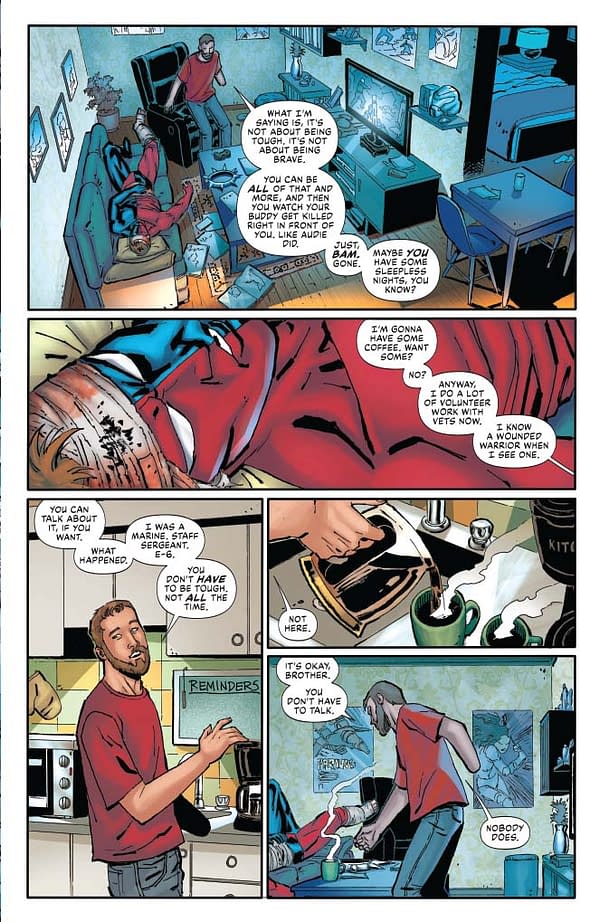 PAGE THREE:
We play a bit of a trick here, in many stories, Daredevil, later called the Death-Defying 'Devil, could not or would not speak. So we have him not speak for almost the entire book, so when he does utter a sentence, it has a lot of impact.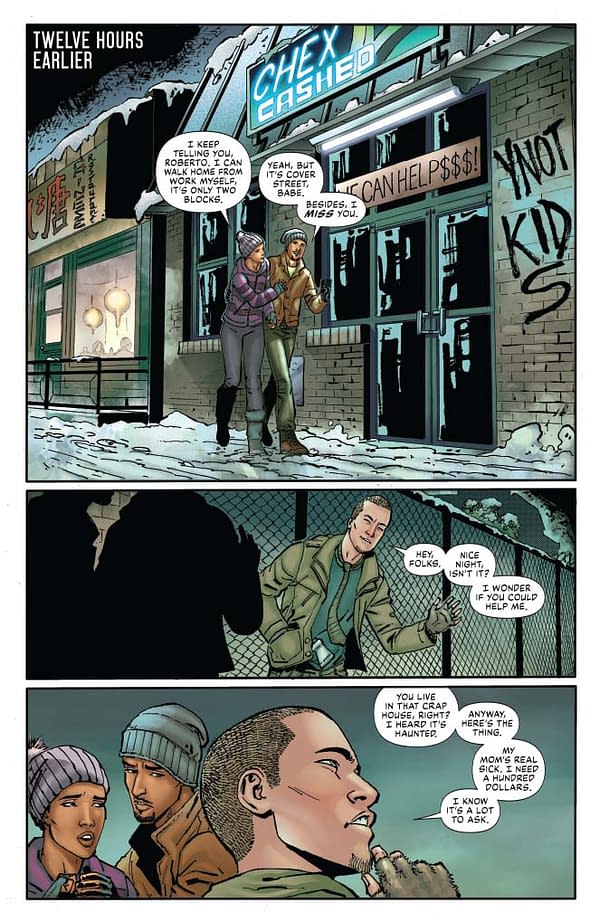 PAGE FOUR:
I am always fascinated by neighborhoods that USED to be elegant, and are now like this one. I don't know what the answer is, gentrification just seems to uproot families who can't afford trendy new bistros and condominiums. But some of these beautiful communities seem just abandoned by all the good things that can happen in a city, and we end up with this…predatory loan companies and pawn shops.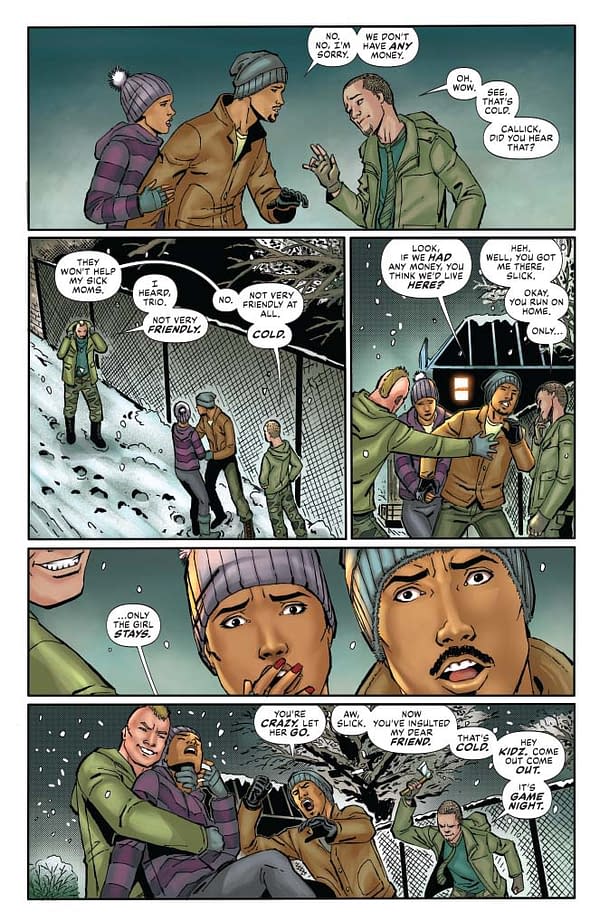 PAGE SIX:
I love this outfit. I seriously didn't want to update it at all.
PAGE SEVEN:
It's a weird thing, but I'm friends with Canadian comic legend Ed the Sock, and he wrote and told me, "This comic is more brutal than your usual stuff, Gail." And I gave that a lot of thought. It's a brutal fight for sure, but I THINK the roughness is heightened because no one's talking or telling jokes, it's just silence from the protagonist.
PAGE ELEVEN:
This is Bedlam. He's bad news. And he only gets worse.
PAGE THIRTEEN:
I say it a lot, but I don't want a hero who is never in danger. I need heroes that get knocked down. I want the odds to be overwhelming. In short, I like them to lose, sometimes.
Heroes who are never in jeopardy, how do we know they're heroes at all?
PAGE FIFTEEN:
These are the tenants of Winslow House. We wanted a pulp hero to be thrown into the Twilight Zone, and every issue, we see more of what that means.
But basically, they represent different people I've known who were struggling, who were just trying to keep their heads above water.
PAGE SEVENTEEN:
It's a funny thing, but if I'm known for anything, it's probably my dialogue, and for injecting a bit of humor, black or otherwise, into dire situations. In this story, we do almost none of that, it's exceptionally straightforward. Which was interesting for me. Hopefully it achieved that kind of velocity.
He's certainly the least talkative hero I've written!
PAGE EIGHTEEN:
No spoilers, but keep an eye on that girl.
PAGE TWENTY-ONE:
I have to say, this is one of my favorite moments in any action/hero story, where the garbage people are about to bully some innocent people…
…but they forgot about the guy with the razor boomerangs, or spider-webbing, or repulsor rays.
I can't get enough of it. I think we would all love to see that look of "Oh, my god, I messed up BAD" on the faces of some of these villains.
PAGE TWENTY-TWO:
"Tell him to come FIND ME."
Oh, man, did I mention I love pulpy heroes?
Enjoyed this article? Share it!