By Tim Hanley
Well this is a surprising turn of events. After posting 16 straight months with the highest overall percentage of female creators, Marvel has been toppled. DC rose considerably while Marvel fell, and it was enough to tip the balance. It's a holiday miracle! Except that it happened back in October.
DC COMICS
The long drought is finally over. There will be high fives all around in the DC offices when this article hits the internet. Maybe a banner! I kid, of course; DC doesn't particularly care about female creators. Nonetheless, their numbers have improved. In October 2013, DC Comics released 85 new comics featuring 760 credited creators, 653 men and 107 women. Here are their stats: DC's never hit 13% before, so breaking 14% is rather impressive. Comparisons to last month are a bit tricky, given that Villains Month gave us a slew of different creators, but cover artists, writers, colorists, and editors were up by several percentage points each. Pencillers and inkers were down, but only because last month was wonky with so many artists in Dial E. Compared to an average month, the art numbers are pretty good. Only assistant editors had a bad October, dropping 5%. The gains far outweighed the losses, and overall DC had their best month yet.
Compared To A Year Ago: In October 2012, DC was at 10.9%, so they're up 3.2% since then.
MARVEL COMICS
It wasn't a terrible month for Marvel, but it was one of the weaker showings in their recent history and several categories were noticeably down. In October 2013, Marvel put out 75 new comic books with 673 credited creators, 584 men and 89 women. Let's look at the stats:

They're down a full percentage point overall from last month, which is a sizeable drop given that the numbers aren't that big to begin with. Pencillers and inkers were actually up slightly, and colorists had a nice gain, but cover artists and writers both fell. Editors and assistant editors had the worst showing, falling roughly 5% and 8%, respectively; there's been some editorial shuffling at Marvel lately that hasn't benefitted the numbers. Overall, Marvel's sub-par month was enough to sink them below DC for the first time in a long time.
Compared To A Year Ago: Marvel was at 12.4% overall last October, and have gained 0.8% since then.
ENDING THE STREAK
Marvel's sixteen straight months with the highest percentage of female creators was a ridiculously impressive streak. Doubly so considering how poorly they started. When this statistics project began in January 2011, Marvel couldn't even break double digits and was regularly topped by DC. Then in September 2011 they suddenly improved, and things only got better from there. DC fluctuated and had some bad months, but stayed firmly in the 10-12% range; Marvel just did better, and for sixteen straight months. Until now.
Looking back at the past seventeen months, until October things weren't even that close: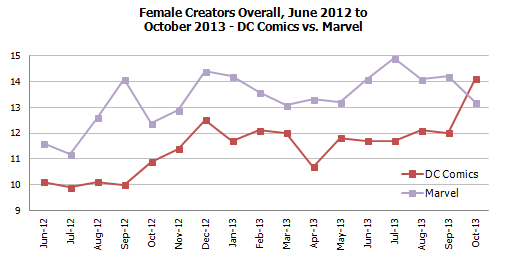 Not only was Marvel on a roll, they were leading handily. DC never got more than a percentage point near them. The closest was a 1.1% gap in March 2013. On average, Marvel's overall percentage of female creators was 2.1% higher than DC's for the sixteen months of their streak.
The big question is whether DC taking the top spot in October was a fluke or if it will be a permanent shift. There's no doubt that DC had some extra help that won't be back in October: Vertigo's Witching Hour anthology. That added a considerable number of female creators to the mix. For example, there were 5 female writers in Witching Hour, which bumped up the writing numbers significantly.
At the same time, though, DC's writing numbers were strong without that added bonus. There were 12 female writing credits overall, with Gail Simone, Ann Nocenti, Karen Traviss, and Christy Marx making up the other 7 credits. In October, Marvel only had 3 female writers credits, and 2 of those were from their own special anthology, Marvel NOW What? Not only did Marvel only have ONE female writer on a regular title in October, Marjorie Liu on Astonishing X-Men, but it was also the book's final issue! This is how your numbers fall.
As we saw above, editorial was rough for Marvel as well. Part of this is due to the departure of Jennifer M. Smith, an assistant editor on several X-books who left Marvel in August. October was the first month her departure was reflected in the credits. Losing female editors is often a double whammy: First, the female credits go down, and second, the female editor is usually replaced by a male editor, so the male credits go up. Marvel seems set for yet another double whammy in the months to come, with the departure of Lauren Sankovitch and the hiring of Wil Moss.
Marvel's also in a chickens coming home to roost situation. A lot of the books they've cancelled recently featured female creators in prominent and behind the scenes roles. The end of Kathryn Immonen's Journey Into Mystery removed one of Marvel's few female writers, while the cancellation of Morbius: The Living Vampire removed a book from editor Sana Amanat's stable. On the one hand you can say, "Well, if those books had sold better than those female creator credits would still be around." Fair enough. But consider this: The representation for female creators at Marvel (and DC) is so low that a couple of cancellations can noticeably affect the overall numbers.
So DC isn't necessarily killing it, but they're doing okay. They've slowly amassed a decent team of female writers, their editorial numbers are pretty steady, and they're doing well enough that a female-heavy one-shot can propel them to a new record high for the company. (They also hire female letterers, which gives them a few credits where Marvel perpetually logs a zero.) Marvel is trending downward; not precipitously, but enough that it's noticeable, and the light at the end of the tunnel seems far away. Editorial numbers are dropping, their art numbers are low/non-existent some months, and Marvel doesn't have more than one female writer with a regular gig solicited until February 2014. Marvel's streak is over, and I think it's going to be a regular back and forth for the Big Two from now on, barring some big changes at either publisher.
To learn more about this statistics project and its methodology click here, and to see the previous stats click here. You can visit Tim at Straitened Circumstances and follow him on Twitter@timhanley01.
Enjoyed this article? Share it!