The House That Trump Built
By Mark Bertolini
Well, maybe not quite, but the dystopian future represented in my new graphic novel, SLEEP INERTIA PILOT SLICING THROUGH THE FOAM OF THE DAYS LIKE A RADIAL SAW ON A STONE HEART, could be the end result of the kind of politics the new President-elect espouses.
But we're not here to talk politics, we're here to talk something much more important – COMICS. Specifically, SLEEP INERTIA PILOT, a brand new original graphic novel created by Valentin Ramon, the dynamic artist and co-creator of the IDW series' D4VE and Hot Damn, which is currently up on Kickstarter.
I'm lucky enough to be co-writing this masterpiece with Valentin, and along with letterer extraordinaire Micah Myers, we're very excited to create this book. Sleep Inertia Pilot, or SIP for short, is the story of a future that is just around the corner, a sci-fi/cyberpunkian story about a 100-year-old woman who is trying to decide on the right time, and right way, to die. In a future where everyone drifts through their days with no real thought, this one lady wants her death to mean something.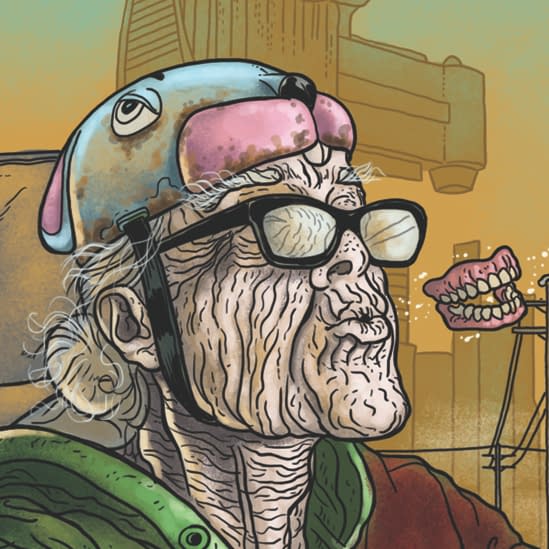 You should see it, the art on this book is mind-blowing. Valentin Ramon's art is like if Geof Darrow and Frank Quitely had a baby and gave it a pencil. But don't believe me, see for yourself, go and check out the Kickstarter, where you can read the first 6 pages of the story right now.
Our campaign took a bit of a hit as the election results came down, we lost a lot of momentum and we really want to pick it back up. If we can get to $5000 in pre-orders by the end of this coming weekend, every backer will get a PDF copy of the first issue of my Markosia series KNOWLEDGE, a brain-twisting sci-fi thriller in its own right.
This graphic novel will live and die on the strength of the pre-orders, but there are some incredible rewards available, including an exclusive print, one-of-a-kind ink sketches from Valentin Ramon, custom-drawn Facebook head shots, retailer bundles, and the once-in-a-lifetime opportunity to get a cover drawn for your own creator-owned comic by Valentin as well.
Here's an example of a customer head shot: Thanks for your time, support and love!