Image Solicitations For March 2013 Include Five New Issue Ones. Four If You Don't Include Savage Skullkickers.
It's December, it's Friday, it must be time to look to Image Comics'solicitations for 2013. With Previews getting Jonathan Hickman and Nick Dragotta's East Of West on the cover, this is the new comic book that retailers won't order enough of… but there's also Frank J. Barbiere and Chris Mooneyham's Five Ghosts Hunting Of Fabian Gray, Jim McCann and Janet Lee's Lost Vegas, Joe Casey and Piotr Kowalski's Sex (and you know retailers can't get enough of that!). Oh yeah and Savage Skullkickers is playing the number one game…
And also a complete hardcover collection of Bob Fingerman's Maximum Wage! What an even more delightful treat!
Also I understand that your chances of pitching a new comic to Eric Stephenson are heightened by wearing the Nowhere Men T-shirt…
EAST OF WEST #1
(W) Jonathan Hickman (A/CA) Nick Dragotta
"OUT OF THE WASTELAND"
The things that divide us are stronger than the things that unite us. A Sci-Fi Western set in a dystopian America where all hope for the future rests in the Four Horsemen of the Apocalypse…who just happen to be trying to kill the President of the United States.
One of the most exciting new books of the year, this is EAST OF WEST, a brand new, ongoing, monthly comic from the award-winning team of Marvel's FF, JONATHAN HICKMAN and NICK DRAGOTTA.
In Shops: 3/27/2013
$3.50
FIVE GHOSTS HAUNTING OF FABIAN GRAY #1 (OF 5)
(W) Frank J. Barbiere (A/CA) Chris Mooneyham
A BOLD NEW ERA OF PULP ADVENTURE COMICS BEGINS HERE
After a tragic encounter with an artifact known as "The Dreamstone," infamous treasure hunter Fabian Gray was possessed by five literary ghosts and has been granted access to their unique abilities.
Join writer FRANK J. BARBIERE and artist CHRIS MOONEYHAM for the most exciting debut of 2013 as they introduce you to a unique world full of action, black magic, exotic locales, and literary allusion!
In Shops: 3/20/2013
$3.50
LOST VEGAS #1 (of 4)
(w) JIM McCANN
(A/C) JANET LEE
cover B DAN McDAID
1:10 incentive cover FRANCESCO FRANCAVILLA
MARCH 6
32 PAGES / FC / T+
$3.50
The EISNER AWARD-WINNING team of Jim McCann & Janet Lee reunite to create a universe filled with intrigue as one gambler-turned-slave has 24 hours to go all in and pull off the greatest heist the universe has seen.
WELCOME TO LOST VEGAS!
Aboard this luxurious casino-filled traveling space-station you will find the highest stakes games from every corner of every planet, unheard-of winnings, and the greatest attractions anywhere!*
*the fine print- those who bet it all and lose must work it off as indentured servants to the casino. Escape is not possible. No one is exempt from these rules.
In shops: 3/6/13
$3.50
In Shops: 3/6/2013
$3.50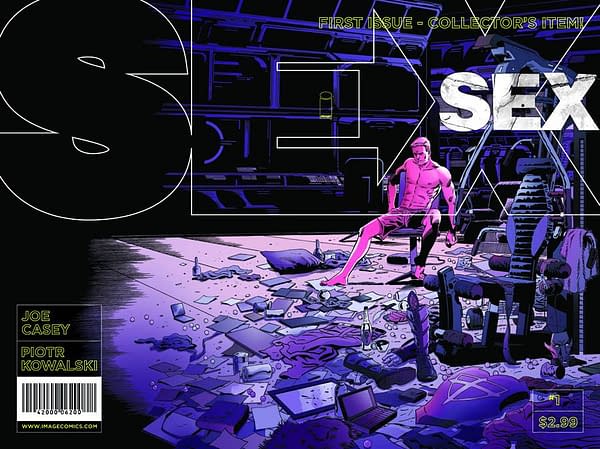 SEX #1 (MR)
(W) Joe Casey (A/CA) Piotr Kowalski
FIRST ISSUE – COLLECTOR'S ITEM! Finally, a good reason for you come in the comicbook store — to buy SEX! Simon Cooke has retired from his own "alternative lifestyle" and returned to the city he'd previously sworn to protect. Now he's just another average citizen — or is he? The term "adult" has never been so appropriate as it is when it applies to SEX.
In Shops: 3/6/2013
$2.99
SAVAGE SKULLKICKERS #1
(W) Jim Zub (A) Edwin Huang (CA) Edwin Huang, Jim Zub
SAVAGE SKULLKICKERS: a modern reinterpretation that gets back to the roots of these timeless characters. It's a bold new direction, a continuing story and a newly added adjective! Our twentieth issue is brand a new #1! Welcome to comic math.
P.S. Retailers: Rack this comic beside other new "Savage" comics you may have hanging around the shop. We won't mind.
In Shops: 3/27/2013
$3.50
WALKING DEAD THE GOVERNOR SPECIAL (MR)
(W) Robert Kirkman (A/CA) Charlie Adlard, Cliff Rathburn
This special Walking Dead issue contains a reprint of THE WALKING DEAD 27, featuring the first appearance of The Governor, as well as the Governor origin story that first appeared in the CBLDF LIBERTY ANNUAL 2012. Find out the origins of the villain from THE WALKING DEAD SEASON 3!
In Shops: 3/6/2013
$2.99
BLOODSTRIKE #35 (MR)
(W/A/CA) Rob Liefeld
"BRIGADE," Part Two
Cabbot and the surviving Bloodstrike team cope with the ramifications of the BRIGADE INITIATIVE! Featuring ROMAN, CYBRID, LETHAL, FREE AGENT, BATTLESTONE, and introducing SOLDIER. BLOODSTRIKE continues to set the stage for EXTREME 2013 EVENT!
In Shops: 3/20/2013
$3.99
YOUNGBLOOD #77
(W) Rob Liefeld (A) Jon Malin (CA) Rob Liefeld
"Rise," Part One-Familiar Youngblood faces return just in time! There is a traitor within as the team is challenged by their greatest nemesis! LORD CHAPEL RISES AGAIN. The destruction of Youngblood sets the stage for EXTREME 2013's biggest event.
In Shops: 3/6/2013
$3.99
MAXIMUM MINIMUM WAGE HC
(W/A/CA) Bob Fingerman
During its original run, MINIMUM WAGE racked up critical acclaim and a devoted following. Why? Because each page of Rob and Sylvia's workaday saga boasted uncomfortable truths drenched in bleak humor, presaging squirmy shows like Louie and Girls. Set in a New York so real you can smell it, this definitive edition also includes a color bonus section featuring the original cover paintings and guest pinups by PETER BAGGE, DAVE COOPER, JOE DATOR, GUY DAVIS, HUNT EMERSON, GLENN FABRY, DEAN HASPIEL, GILBERT HERNANDEZ, JOE INFURNANI, DAVE JOHNSON, JOHN KERSCHBAUM, PETER KUPER, ROGER LANGRIDGE, PAT McEOWN, TED McKEEVER, MIKE MIGNOLA, KEVIN NOWLAN, DAN STEFFAN, JILL THOMPSON, JEFF WONG and BILL WRAY!
In Shops: 3/20/2013
$34.99
TRIGGERGIRL 6 #1
(W) Jimmy Palmiotti, Justin Gray (A/CA) Phil Noto
Who is the deadly assassin Triggergirl 6 and why was she sent out on a mission to kill the president of the United States? Who is behind her creation and what is their end game? All these questions are answered as this unforgettable epic is collected for the first time, with bonus sketch pages featuring the art of award-winning illustrator PHIL NOTO.
In Shops: 3/6/2013
$5.99
NOWHERE MEN SCIENCE I/T NEW ROCK N ROLL
(A) Fonographiks
Celebrate science with this all-new t-shirt from FONOGRAFIKS, the design house behind ERIC STEPHENSON and NATE BELLEGARDE's NOWHERE MEN! Available in red and black.
NOWHERE MEN #1 2ND PTG
(W) Eric Stephenson (A) Nate Bellegarde, Jordie Bellair (CA) Nate Bellegarde, Fonographiks
"SCIENCE IS THE NEW ROCK 'N' ROLL." So said Dade Ellis, Simon Grimshaw, Emerson Strange and Thomas Walker at the dawn of a new age of enlightenment that ushered in a boom in scientific advancement. As the research supergroup World Corp., they became the most celebrated scientists of all time. They changed the world – and we loved them for it. But where did it all go wrong? And when progress is made at any and all cost, who ultimately pays the price?
In Shops: 3/6/2013
$2.99
NOWHERE MEN #2
(W) Eric Stephenson (A) Nate Bellegarde, Jordie Bellair (CA) Nate Bellegarde, Fonographiks
There are fates worse than death.
In Shops: 3/6/2013
$2.99
ACTIVITY #14
(W) Nathan Edmondson (A/CA) Mitch Gerads
"SEA LEVEL"
While Zoe tracks down a lead in Amsterdam that may shed some light on Zeus's involvement with a terrorist cell there, the rest of Omaha is engaged in the Gulf of Mexico where a storm threatens their mission to take stop a heroin shipment.
In Shops: 3/20/2013
$3.50
ARTIFACTS #27 CVR A SEJIC
(W) Ron Marz (A) Marco Turini (CA) Stjepan Sejic
"TRUTHS & DESTINIES"
Tom Judge and Tilly Grimes are not the only ones that know the hidden truths of the universe. The Catholic Church knows dark realities kept secret from the world and they have agents to protect us from those secrets, whether we want them to… or not. RON MARZ and new artist MARCO TURINI re-introduce one of Top Cow's most popular characters into the "Rebirth" universe!
In Shops: 3/27/2013
$3.99
BLACKACRE #4 (MR)
(W) Duffy Boudreau (A) Wendell Cavalcanti (CA) Brian Churilla
After a chain of disastrous events, Hull lands in a remote and unforgiving new territory. As Sinclair scrambles to get a handle on the operation from inside BlackAcre's walls, a powerful rival smells blood.
In Shops: 3/6/2013
$2.99
CHANGE #4 (OF 4) (MR)
(W) Alex Kot (A) Morgan Jeske, Sonia Leong (CA) Morgan Jeske, Jordie Bellair
Everything drowns. Some patients can't be saved.
What if the hardest thing you ever had to do was to look yourself in the eyes?
This is where it ends.
In Shops: 3/13/2013
$2.99
CHEW #33 (MR)
(W) John Layman (A/CA) Rob Guillory
Tony takes on a load of seamen.
In Shops: 3/20/2013
$2.99
CLONE #5
(W) David Schulner (A/CA) Juan Jose Ryp, Felix Serrano
In a war he never knew existed, Luke Taylor stands to lose everything. His wife. His baby. His identity. Even if Luke can lead the rebels to victory, will his life ever be the same? Find out in the conclusion of the first CLONE arc!
In Shops: 3/13/2013
$2.99
COMEBACK #5 (OF 5) (MR)
(W) Ed Brisson (A/CA) Michael Walsh
With half of Reconnect on the run and the other half in the morgue, agent Mark Thomas has to make a deal with the FBI in order to save his own life. However, it may be too late – a former Reconnect agent will not stop until he puts Mark in the ground. The big finale with an ending that will shock you!
In Shops: 3/20/2013
$3.50
DANGER CLUB #7
(W) Landry Quinn Walker (A/CA) Eric Jones
All of reality has been rebooted! A new universe, and new Danger Club, once again stand at the brink of destruction. Is this a bold new direction for the critically acclaimed teenage heroes? Or is this the beginning of the end?
In Shops: 6/26/2013
$2.99
DARKNESS #113 (MR)
(W) David Hine (A/CA) Jeremy Haun, John Rauch
"ALONE IN THE WOODS"
Darkness bearer Jackie Estacado's daughter Hope has wandered beyond the perimeter of her father's vigilantly guarded estate, Erewon. When night falls in the woods and the supernatural begins to stir, Hope is more at home that ever before. Don't miss this twisted fairytale that illustrates firsthand that Hope is truly her father's daughter!
In Shops: 3/27/2013
$2.99
DIA DE LOS MUERTOS #2 (OF 3) (MR)
(W) Joshua Williamson & Various (A/CA) Riley Rossmo
Inspired by the Mexican Day of the Dead, artist extraordinaire, RILEY ROSSMO (DEBRIS, GREEN WAKE, COWBOY NINJA VIKING, REBEL BLOOD) joins forces with nine different writers over three issues to tell tall tales from beyond the grave!
This issue's featured writers are JEFF MARIOTTE (FADE TO BLACK), KURTI WIEBE (PETER PANZERFAUST) and JOSHUA WILLIAMSON (XENOHOLICS).
In this issue: Cartel soldiers visit the pits of Hell, a visitor to Mexico stumbles onto a black mass, and a man heart broken at the loss of his wife is reunited with her beyond the grave.
In Shops: 3/27/2013
$4.99
END TIMES OF BRAM & BEN #3 (OF 4) (MR)
(W) James Asmus, Jim Festante (A) Rem Broo (CA) Jim Mahfood
Bram grows his cult following by throwing Burning Bram – a 66.6 hour festival of Rock, Revelry, & Revelations! But when Ben chooses to side with Heaven, all Hell breaks loose! Plus: the reveal of the true Antichrist, someone gets roofied, and a shock ending you'd least expect!
In Shops: 3/13/2013
$2.99
EPIC KILL #9
(W/A/CA) Raffaele Ienco
To infiltrate a government fortress and rescue her captive uncle, Song must tap into the darkest part of her soul; becoming even more lethal and cold-hearted. A sacrifice and mindset she may never return from!
In Shops: 3/20/2013
$2.99
FATALE #14 (MR)
(W) Ed Brubaker (A) Sean Phillips, Dave Stewart (CA) Sean Phillips
The final standalone FATALE FLASHBACK issue – World War Two! Nazi cultists and monsters are after Jo, as she searches for answers and comes face to face with Mr Bishop for the first time!
And remember each issue of FATALE contains extra content, articles and artwork that are not available anywhere but the printed single issues.
In Shops: 3/27/2013
$3.50
FIVE WEAPONS #2 (OF 5)
(W/A/CA) Jimmie Robinson
Tyler barely escapes the knife club only to become the target of both the stick club and every teacher in the school of Five Weapons. This time the faculty plans to beat Tyler at his own game and embarrass him in front of the whole school.
The latest series from fan-favorite creator, Jimmie Robinson!
In Shops: 3/27/2013
$3.50
GLORY #34
(W) Joe Keatinge (A/CA) Ross Campbell
"THE END"
100 Years Later. Goodbye.
FINAL ISSUE
In Shops: 3/27/2013
$3.99
GREAT PACIFIC #5 (MR)
(W) Joe Harris (A/CA) Martin Morazzo
"TRASHED!" Part Five
The Great Pacific Garbage Patch has attracted hostile natives, mutated sea monsters and billionaire fugitive oil heirs from the Great State of Texas. But when a cache of Soviet-era nuclear warheads is discovered, Chas Worthington has to fend off plundering, modern-day pirates in order to prevent an all-out arms race!
In Shops: 3/6/2013
$2.99
HACK SLASH #25
(W) Tim Seeley (A) Elena Casagrande (CA) Tim Seeley, Dominic Marco
"FINAL," Conclusion
Cassie battles Samhain to the death.
Q: Who will survive and what will be left of them?
A: Not everyone, and very small bits.
The blood spattered, panty-flashing saga of HACK/SLASH comes to an end in this epic issue!
In Shops: 3/27/2013
$3.50
HELL YEAH #8
(W) Joe Keatinge (A) Andre Szymanowicz, Fabio Redivo (CA) Ricken
"THE DEATH OF PLANET EARTH," Part One
ALL-NEW STORYLINE! ALL-NEW DYING!
Everything has gone horribly, horribly wrong.
In Shops: 3/13/2013
$3.50
HOAX HUNTERS #8
(W) Michael Moreci, Steve Seeley (A) Axel Medellin, Dove
"HAUNCHYVILLE," Part Conclusion
Recent revelations leave the Hoax Hunters searching for answers as they confront the strange terror of Haunchyville.
In Shops: 3/13/2013
$2.99
I LOVE TROUBLE #4 (MR)
(W) Kel Symons (A/CA) Mark A. Robinson
"OWE MY SOUL TO THE COMPANY STORE"
Felicia hones her little teleportation trick, and picks up a few new ones, while training with Mars to become a cold-blooded assassin. At least, that's what they expect her to be. But Felicia learns that while it might be no trouble for her to get next to her target, pulling the trigger isn't as easy. And living with her conscience afterwards is even tougher.
In Shops: 3/6/2013
$2.99
INVINCIBLE #101
(W) Robert Kirkman (A/CA) Ryan Ottley, John Rauch
The Aftermath.
In Shops: 3/20/2013
$2.99
IT GIRL & THE ATOMICS #8
(W) Jamie S. Rich (A) Mike Norton (CA) Laura Allred, Mike Allred
"THE WORLD IS FLAT," Conclusion
It Girl is trapped in the alps trying to rescue a kidnapped scientist from a slippery supervillain, a scary gangster lady, and her two giant robot sons. Is the scientist's coveted device the secret to getting out alive? It Girl's just going to have to turn it on and find out!
In Shops: 3/20/2013
$2.99
LEGEND OF LUTHER STRODE #4 (OF 6) (MR)
(W) Justin Jordan (A/CA) Tradd Moore
Luther versus…..Jack the Ripper?!
In Shops: 3/27/2013
$3.50
MANHATTAN PROJECTS #12
(W) Jonathan Hickman (A/CA) Nick Pitarra
"THE FERMI PARADOX"
Learn the secret history of Enrico Fermi and, more importantly, "if someone is out there" why we haven't "found them yet."
The thrilling FEEL GOOD, BAD SCIENCE series continues in THE MANHATTAN PROJECTS #12: THE FERMI PARADOX!
In Shops: 3/20/2013
$3.50
MARA #4 (OF 6) (MR)
(W) Brian Wood (A) Ming Doyle, Jordie Bellair (CA) Ming Doyle
The military is keen to co-opt Mara, now that her abilities are maturing, and they aren't above using her soldier brother to convince her. They offer to "accept" her again, and she rightly rejects it for the crap that it is. Cut off not only from friends and family, but now from her country, where can she go now? Brian, Ming, and Jordie raise the stakes.
In Shops: 3/27/2013
$2.99
MIND THE GAP #10 CVR A ESQUEJO
(W) Jim McAnn (A/CA) Rodin Esquejo
"WISH YOU WERE HERE," Part Five
Life. Death. Rebirth. All of this and more await Elle when she faces her newest challenge. And it wouldn't be the conclusion of an arc without twists, turns, shocks, and revelations! A new memory leads Elle to turn on one of her "allies", and finally – HOODIE IS REVEALED! And no one will be prepared for what happens when they find out who it is!
In Shops: 3/27/2013
$2.99
PROPHET #35
(W) Simon Roy, Brandon Graham (A) Simon Roy (CA) Zachary Baldus
With the help of an ancient force, New father Prophet searches for a weapon to fight a deadly threat to the Empire.
In Shops: 3/20/2013
$3.99
REPOSSESSED #3 (OF 4)
(W/A/CA) JM Ringuet
In this roller-coaster ride of an issue the crew heads to the swamps of Florida to finally repossess Sarah from a mysterious Demon. But they have to deal with more than redneck survivalists and gators: a surprise guest makes an explosive entrance and an old friend reappears. Demons galore!
In Shops: 3/6/2013
$2.99
REVIVAL #8
(W) Tim Seeley (A) Mike Norton (CA) Jenny Frison
Mayor Dillisch deals with body parts littering his highways. May Tao investigates Lester while Lester invesigates May Tao. Em gets an invite to an unusual Church meeting.
In Shops: 3/20/2013
$2.99
SAGA #11 (MR)
(W) Brian K. Vaughan (A/CA) Fiona Staples
It's an intergalactic family reunion, as Hazel's parents and grandparents join forces to escape a dying world.
In Shops: 3/20/2013
$2.99
SAVAGE DRAGON #186
(W/A/CA) Erik Larsen
"THE LONG GOODBYE"
The next generation of the Vicious Circle is rising. The city of Chicago sits on the brink of destruction. With his world crashing around him, Malcolm Dragon loses the one person he needs the most: his adopted sister Angel. Now Malcolm Dragon faces his greatest challenge ever – alone.
In Shops: 3/13/2013
$3.99
SNAPSHOT #2 (OF 4)
738 Image
(W) Andy Diggle (A/CA) Jock
Jake's life spirals into nightmare as he finds himself hunted by the very hit-man who has framed him for murder. Maybe the victim's daughter can give Jake the key to the mystery… if he lives that long! Continuing the new thriller from the creators of The Losers and Green Arrow: Year One!
In Shops: 3/6/2013
$2.99
SON OF MERLIN #2
(W) Robert Place Napton (A/CA) Zid
THE BATTLE BEGINS ANEW
Morgana and her Black Knights will stop at nothing to thwart Merlin and obtain the Stone of Giramphiel. With Merlin out of the picture, the only person who can stop Morgana is a young MIT professor – Simon Ambrose. But Simon is a scientist and a man of reason. Will Simon accept his magical heritage? Or will his rigid understanding of the universe get in his way?
In Shops: 3/6/2013
$2.99
SPAWN #229
(W) Todd McFarlane (A) Szymon Kudranski (CA) Todd McFarlane
"COMPLEX MESSIAH," Part One
All-New Story Arc!
No longer haunted by his past, Jim Downing looks to begin a new life – as a hero, a healer… a savior?
But the Hell-born evil at the heart of his incredible powers is growing stronger, threatening to take control.
In Shops: 3/6/2013
$2.99
STORM DOGS #5 (OF 6) (MR)
(W) David Hine (A) Doug Braithwaite, Ulises Arreola (CA) Doug Braithwaite
What are the Wireheads? And why is a godforsaken frontier planet so important to the future of the human race? The stakes are raised as the murder team heads into the forbidden lands of the Elohi.
In Shops: 3/27/2013
$3.50
SUPER DINOSAUR #19
742 Image
(W) Robert Kirkman (A) Jason Howard, Cliff Rathburn (CA) Jason Howard
Who or WHAT is TYRANNOSAURUS X – and HOW can Derek Dynamo and Super Dinosaur ever hope to defeat him?! EEK!
JAN130612
In Shops: 3/27/2013
$2.99
THINK TANK #7 (MR)
(W) Matt Hawkins (A) Rahsan Ekedal (CA) Brian Reber, Rahsan Ekedal
Dr. David Loren's work on the 36 barrel/600 rounds per minute Metalstorm led to an epiphany that he no longer wanted to create inventions of destruction for the military. But David has lived a sheltered life behind the barricades of a government-contracted think tank and has never directly been forced to come face to face with the deadly consequences of his actions… until now.
In Shops: 3/20/2013
$3.99
TODD THE UGLIEST KID ON EARTH #3 (OF 4)
(W) Ken Kristensen, M. K. Perker (A/CA) M. K. Perker
"CANDY WITH STRANGERS," Part Two
Todd's new prison mentor metes out some ugly justice on the convict that stole Todd's stuff. Meanwhile, Chief Hargrave stumbles into the clutches of the Maniac Killer; Todd's mother tries to raise bail money the old-fashioned way; and Todd's dad learns there's a dark side to his celebrity crush.
In Shops: 3/13/2013
$2.99
WALKING DEAD #108 (MR)
(W) Robert Kirkman (A/CA) Charlie Adlard, Cliff Rathburn
Ezekiel has a tiger.
In Shops: 3/6/2013
$2.99
WHERE IS JAKE ELLIS #5 (OF 5)
(W) Nathan Edmondson (A/CA) Tonci Zonjic
"CHAPTER TEN"
The game has been changed. Jon and Jake have passed the point of no return, and now they are faced with one word: EVERGREEN.
In Shops: 3/13/2013
$3.50
WITCHBLADE #165
(W) Tim Seeley (A) Diego Bernard, Fred Benes (CA) John Tyler Christopher
"CRUMBLING"
Sara Pezzini is no longer in the dark. She remembers her life the way it used to be, the family she used to have. A mother without a daughter, Sara also feels the full guilt for her actions committed during a different life. All she wants to do is hole up and grieve. But her investigation into the Chicago underbelly is catching up to her, and it's not concerned with the personal time she wants to take for herself.
In Shops: 3/27/2013
$2.99
WITCHBLADE #161 STORE EXCLUSIVE VAR CVR CHRISTOPHER
(W) Tim Seeley (A) Diego Bernard, Fred Benes (CA) John Tyler Christopher
Limited quantities available. Allocations may occur.
In Shops: 3/6/2013
$10.00
WITCH DOCTOR MALPRACTICE #5 (OF 6)
(W) Brandon Seifert (A/CA) Lukas Ketner, Andy Troy
In one corner: Dr. Vincent Morrow, the Witch Doctor. In the other: the parasite he's been infected with. And you won't believe where the battlefield is! Physician, heal thyself – or else!
"A superbly smart and riveting medical thriller filled with off-the-wall characters" – Fangoria
In Shops: 3/27/2013
$2.99
68 TP VOL 02 SCARS
(W) Mark Kidwell (A/CA) Nat Jones, Jay Fotos
THE GATES OF HELL ARE OPEN…AND THE DEAD WILL LEAVE THEIR MARK!
Continuing the epic story of the rise of the living dead in the 1960's, "'68 SCARS" picks up right where the original sold-out comics mini-series left off. From a blood bath atop the US Embassy in Saigon to the churning waters of the Mekong Delta, the surviving US forces fight for their lives against the malicious guerilla tactics of the Viet Cong and the endless surge of the cannibalistic dead. And within the enemy-surrounded perimeter of Saigon's TAN SON NHAT airport, the scars of war reveal themselves as a festering evil tightens its grip.
The war is over, but the battle for humanity's survival has just begun…and some wounds never heal.
Presenting an all-new, 178 page trade paperback collection of the ongoing "Zombies in Vietnam" comics series "'68", from creators Mark Kidwell, Nat Jones and Jay Fotos. This deluxe volume contains tons of specially selected extras from behind-the-scenes as well as the bonus award-winning '68 one-shot comic: '68 HARDSHIP with stunning artwork by Jeff Zornow.
COLLECTS '68 SCARS ISSUES 1-4 and includes ONE SHOT release of '68 HARDSHIP.
In Shops: 3/27/2013
$19.99
CHEW OMNIVORE ED HC VOL 03 (MR)
(W) John Layman (A/CA) Rob Guillory
Anthony and Antonelle Chu are fraternal twins. Tony and Toni. Each with their an extraordinary, albeit diametrically opposed, ability. Tony is Cibopathic, able to get psychic sensations of the past of anything he bites into or ingests. Toni is Cibovoyant, able to flash onto a vision of the future of any living thing she bites into or ingests. They are both federal investigators, and this is the story of some of their strangest, sickest and most bizarre cases.
Collects CHEW 21-30 plus CHEW: SECRET AGENT POYO
In Shops: 3/13/2013
$34.99
CYBER FORCE REBIRTH TP VOL 01
(W) Marc Silvestri, Matt Hawkins (A) Khoi Pham, Sunny Gho (CA) Marc Silvestri, Sunny Gho
COLLECTING THE RETURN TOP COW'S TOP-SELLING SERIES
Carin Taylor, codenamed Velocity, has escaped from the CDI controlled Millennium City and is desperately trying to find the one man she believes can help her prevent the end of the world. When she runs a group of other CDI escapees, will they help her… or turn their backs?
Top Cow founder MARC SILVESTRI (THE DARKNESS, Incredible Hulk) returns to his first Image series to bring you a contemporary re-imagining rooted in cutting-edge, real world technology!
Collects CYBER FORCE #1-5
In Shops: 3/13/2013
$14.99
GUARDING THE GLOBE TP VOL 02
(W) Phil Hester (A/CA) Todd Nauck, John Rauch
The Guardians of the Globe are BACK in an all-new, all-exciting series! Your favorite heroes – Brit, Invincible, Best Tiger, Robot, Yeti, Kaboomerang and more – face new challenges of epic proportions. Catch up just in time for the debut of an all new Invincible Universe series!
Collects GUARDING THE GLOBE, VOL. 2 #1-6
In Shops: 3/20/2013
$16.99
IT GIRL & ATOMICS ROUND ONE DARK STREETS SNAP CITY TP
(W) Jamie S. Rich (A) Mike Norton, Chynna Clugston Flores (CA) Mike Allred & Various
Snap City is under new guardianship, but no sooner has It Girl decided that the streets are hers to protect then she and the other Atomics become embroiled in an inter-dimensional revenge plot. All-new adventures of MICHAEL ALLRED 's kookiest creations, with art from the Eisner-winning team behind Battlepug.
Collects IT GIRL & THE ATOMICS 1-6
In Shops: 3/27/2013
$14.99
MANHATTAN PROJECTS TP VOL 02
(W) Jonathan Hickman (A) Nick Pitarra, Jordie Bellair
"THEY RULE"
The second amazing volume of the SCIENCE, BAD book of the new millennium. The battle for global supremacy is underway and the bad men of the Manhattan Projects will only accept one outcome: World domination
Collecting the coolest new series of the year into one super science package.
In Shops: 3/20/2013
$14.99
MICE TEMPLAR TP VOL 03
(W) Bryan J. L. Glass, Michael Avon Oeming (A) Michael Avon Oeming, Victor Santos (CA) Michael Avon Oeming
"A MIDWINTER NIGHT'S DREAM"
Karic was the prophesied "Chosen One," yet now all the Dark Lands will suffer for his audacious actions against King Icarus and the snake god of the druids. Winter has come to the Shadow Time. The Druid High Priest claims the vacant throne and unleashes a wave of tyranny. Civil war looms between rats and weasels. The legend of "Karic Lives" sparks open rebellion. While the hero Karic lies in a feverish coma, unable to wake: yet his dreams are a portal to the Outer Darkness, where the accursed evil of Donas the Nathair lays claim to Karic's very soul.
The two-time Harvey Award-winning collection continues, from the acclaimed writer of THOR: FIRST THUNDER and the co-creator of POWERS and THE VICTORIES!
In Shops: 3/6/2013
$17.99
MORNING GLORIES TP VOL 04 TRUANTS
(W) Nick Spencer (A) Joe Eisma (CA) Rodin Esquejo
Still reeling from the climactic events of "P.E." the Glories find themselves lost in time and space, confronted by a new group of students who might be even more dangerous than the faculty themselves– the truants! Questions are answered and new mysteries emerge as Season One comes to a shocking end!
Collects MORNING GLORIES #20-25
In Shops: 3/27/2013
$14.99
PETER PANZERFAUST TP VOL 02 HOOKED
(W) Kurtis J. Wiebe (A/CA) Tyler Jenkins
All the major players of the Peter Pan mythology come to new life in this action packed second volume, with new allies in Tiger Lily, Big Chief and the Braves. Combining forces with the French Resistance, Peter and the boys lead a deadly game of espionage to locate and free their lost brother, Felix. All that's stopping them is the combined might of the Nazi army led by a cunning and ruthless adversary, Kapitan Haken himself!
Collects PETER PANZERFAUST 6-10
In Shops: 3/13/2013
$14.99
SEVERED TP
(W) Scott Snyder, Scott Tuft (A/CA) Attila Futaki
The hit horror comic of 2012 will be released as a complete trade paperback. 12-year-old Jack Garron runs away from home to find his biological father, a wayward minstrel. Along the way he meets up with a traveling salesman whose winning smile is fake, beneath which hide his real teeth… jagged spikes that he uses to eat children. Eisner Award Winning Writer SCOTT SNYDER (BATMAN, SWAMP THING, AMERICAN VAMPIRE), SCOTT TUFT & NY Times Best Selling Artist ATTILA FUTAKI (THE LIGHTNING THIEF) bring you the collected paperback that everyone has been talking about. SEVERED.
Collects SEVERED #1-7
SPAWN ORIGINS HC VOL 08
(W) Todd McFarlane (A) Greg Capullo (CA) Clayton Crain
In 1992, legendary writer and artist TODD MCFARLANE unleashed his iconic antihero, Spawn, on the world. In so doing, he launched the most successful independent comic book in history – and the world would never be the same.
SPAWN: ORIGINS BOOK 8 features the stories and artwork that helped cement the Spawn legacy. Relive the excitement of this groundbreaking series – collected in an oversized hardcover format with exclusive bonus content, including cover galleries, behind-the-scenes art and an exclusive digitally painted wraparound cover by CLAYTON CRAIN. Includes landmark double-sized issue #100!
Collects SPAWN #88-100
In Shops: 3/20/2013
$29.99
THIEF OF THIEVES TP VOL 02
(W) Robert Kirkman, James Asmus (A/CA) Shawn Martinbrough, Felix Serrano
Conrad Paulson lives a secret double life as master thief Redmond. There is nothing he can't steal, nothing he can't have… except for the life he left behind. But when his big heist doesn't go as planned… the aftermath shows that every action has an equal – and equally violent – reaction.
In Shops: 3/6/2013
$14.99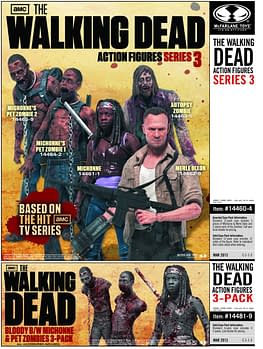 WALKING DEAD TV SERIES 3 AF ASST (Net) (C: 0-1-1)
Michonne (#14461-1)
Merle Dixon (#14462-8)
Autopsy Zombie (#14463-5)
Michonne's Pet Zombie 1 (#14464-2)
Michonne's Pet Zombie 2 (#14465-9)
(#14460-4) (C:1-1-2)
Assorted Case Pack Information: Standard 12-pack case includes 3 pieces of Michonne & Merle Dixon and 2 pieces each of the Zombies. Call your local retailer for pricing.
Solid Case Pack Information: Standard 12-pack case includes 12 solids of the figure. Refer to individual item codes above when ordering.
In Shops: 3/27/2013