By Jared Cornelius
Welcome back to Live(ish) From The Games Shop. It's that time of the year again, where fandom's attention migrates to the west coast for the annual San Diego Comic Convention, so this week the same rules as E3 apply, no big publishers want to get lost in the news cycle and the retail releases remain at zero. If you've been paying attention to this column indies have been the savior of the summer and this week is no different. Bear with me because next week the drought ends with an actual big box retail game, but for now let's look at the smaller release gems. I've been patiently waiting for Gods Will Be Watching by developer Deconstruction. The pixelated point and click adventure is set during an interstellar war where you and your crew are tasked with difficult decisions that impact the people and environment around you, as well as how you are perceived. Choices range from hostage situations, to food rationing and everything from torture to genocide challenges your comfort as a player. The pixelated art style looks amazing and takes you through 6 chapters of moral dilemmas, with "epic" narration. Gods Will Be Watching looks great and reminds me of a cross between Children of Men, Sophie's Choice, mashed up with an Aliens Sci-Fi setting. One of the bullet points that makes me really excited is Gods Will Be Watching has you make choices not unlike a Mass Effect style morality system, but no choice is good or bad, it works more on shades of grey which is a feature I think game with morality systems have been completely glossing over for years. I'm real excited for the release of Gods Will Be Watching on Steam and Deconstruction's website on the 24th and I hope you are too! Are you upset that Tony Hawk Pro Skater progenitors Neversoft were shut down last week? Well maybe OlliOlli by developer Roll 7 can fill that hole in your heart. The 2D skateboarding game is one part Tony Hawk, one part endless runner, as you're tasked with getting a high score while making it to the end of the level. Heavy on perfect timing and judgment of your environment, OlliOlli's authentic skater attitude and one more try gameplay make for a skateboarding experience fans' of the Tony Hawk series will gel well with. Bullet points include over 120 skateboarding tricks, 50 levels, 250 challenges, as well as a daily challenge and medal awards for the various levels and difficulties. OlliOlli released on Steam Tuesday and is already available on PlayStation 3 and PlayStation Vita as a cross buy game.

One of the PlayStation's first big hits returns to the platform this week with Oddworld New & Tasty! by developer Just Add Water. The 2D platformer is a 2014 update of the original Oddworld Abe's Oddysee puts you back into the subservient role of 1st class floor-waxer Abe the Mudokon. Abe falls face first into danger when he finds plans to have his race used for processed food and begins an adventure to bring down Molluck the Glukkon and the Magog Cartel. With a heavy emphasis on puzzle solving and a crisp clean remade art style to accompany it, Just Add Water looks poised to add another great port after having released Oddworld Munch's Oddysee, and my personal favorite the fantastic Oddworld Stranger's Wrath. Oddworld New & Tasty! is available on PlayStation 4 on Tuesday.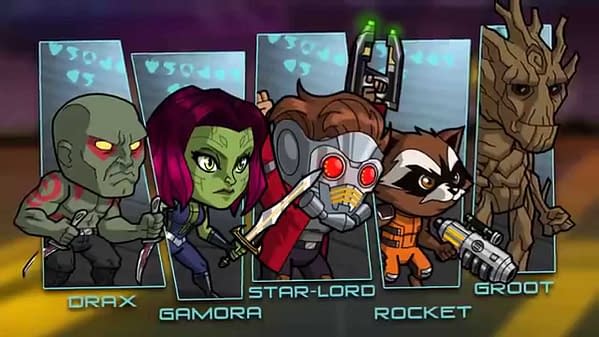 In housekeeping news for the week, the season 3 content for Pinball Arcade is available on PlayStation 4 on Tuesday. For our Xbox Live friends, Games With Gold has Battleblock Theater free until the end of the month and Marvel released a Guardians of The Galaxy I0S game that isn't free to play with tiny cute guardians! I think the big news about that is it's not free to play, so I'd encourage everyone to go check that out if you want to see non-free to play games from Marvel.
That's all for me this week, remember to check out my other regular column Typing on The Dead: Bleeding Cool's Walking Dead recap, where I'll go into great length about the newest issue. You can also find my other articles like Hyperbole Theater, where I'll tell you why GameStop is the greatest company ever, and other pieces by following me @John_Laryngitis on Twitter. I respond to every tweet I get, so come tell me I'm great or awful, whichever. Next week a retail game, so until next time, Stay Gold!
Jared Cornelius is some guy from New Jersey's coast who's ready to make some bleak gaming decisions. Tell him about your broken inner soul on Twitter @John_Laryngitis.
Enjoyed this article? Share it!