Emma Stone and Jonah Hill Form a 'Connection' in Latest 'Maniac' Teaser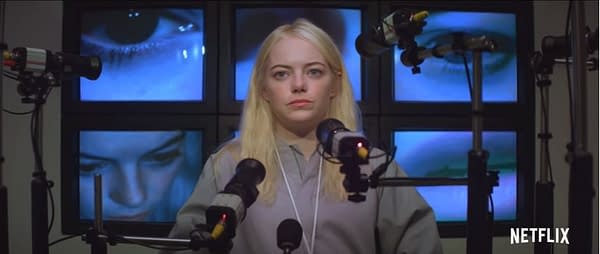 Following up on the release of the official trailer in early August that gave us a "big picure" view of what the series was about, Netflix has released a new teaser entitled 'Connection' for Maniac, the streaming service's new half-hour dramedy series from director Cary Fukunaga (Beasts of No Nation, True Detective). Jonah Hill (The Wolf of Wall Street) and Emma Stone (La-La Land) star as two strangers who meet – and keep meeting – in some very unexpected ways. Fukunaga directed the first season from a script by series creator Patrick Somerville (The Leftovers), with Fukunaga, Somerville, Stone, and Hill serving as executive producers.
As much as the official trailer gave viewers an overview of what to expect – and for fans of the original series, an appreciation for the differences – the teaser below establishes the emotional undercurrent flowing throughout the 10-episode season. Best way to describe it? Think Michel Gondry's Eternal Sunshine of the Spotless Mind (and if you're not watching Showtime's Kidding, you should) – except here, both people somehow keep finding their way back to each other: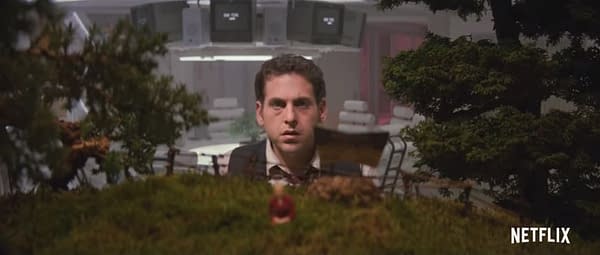 Based on the original 2014 Norwegian series, Netflix's Maniac premieres September 21st and also stars Sally Field (Dr. Greta Mantleray), Sonoya Mizuno (Dr. Fujita), Aaralyn Anderson (Belle Milgrim), Geoffrey Cantor (Frank), Julia Garner (Ellie), Josh Pais (Andy), Justin Theroux (James Mantleray), Jemima Kirke, and Rob Yang (Matt Ming). Michael Sugar and Doug Wald of Anonymous Content, Kruke Kristiansen and Anne Kolbjornsen, Espen PA Lervaag and Kjetil Indegard, and Ashley Zalta also serve as executive producers.
Annie's disaffected and aimless, fixated on broken relationships with her mother and her sister; Owen, the fifth son of wealthy New York industrialists, has struggled his whole life with a disputed diagnosis of schizophrenia.

Neither of their lives have turned out quite right, and the promise of a new, radical kind of pharmaceutical treatment—a sequence of pills its inventor, Dr. James K. Mantleray, claims can repair anything about the mind, be it mental illness or heartbreak—draws them and ten other strangers to the facilities of Neberdine Pharmaceutical and Biotech for a three-day drug trial that will, they're assured, with no complications or side-effects whatsoever, solve all of their problems, permanently. Things do not go as planned.