Dangerous Dan Hart is our embedded NYCC panelist in the field:
Marvel's Avengers panel held few surprises but did show us, among other things: Interior pencils from Jerome Opena, Bryan Lee O'Malley's variant for Young Avengers and gave us confirmation that the books will be crossing over at a preplanned- point in the future.
Tom Brevoort said that Uncanny Avengers and New Avengers are already planned out 3-4 years in advance and that the new Illuminati (including Namor AND Black Panther) in New Avengers will clash with the other teams eventually. I smell crossover!
On the subject of whether the new Avenger teams will face serious opposition; Remender said that the Red Skull has a lot of new powers in Uncanny Avengers. No word on if this is a result of having (SPOILERS) access to Xavier's brain, or a result of his resurrection.
Hickman & Remender are both using Kang in their Avengers books. He'll definitely be a thorn in the Avengers' collective side and is scheduled to appear in Uncanny Avengers between the Red Skull and Apocalypse arcs. So that's three MAJOR villains lined up for the team right off the bat. Exactly as it should be: big-time major league threats for the biggest team in the Marvel Universe.
Secret Avengers' new creative team was announced, following the EW story last night – Nick Spencer & Luke Ross will launch with a new number 1, and the book features a core team controlled by the same memory implants used in Bendis' Secret War. (nice touch, very Bourne) Hawkeye, Hulk, Taskmaster, Black Widow, Mockingbird are all going to be on the team. The Winter Soldier will also appear but not as a team member….
Young Avengers from Gillen & McKelvie looks like a hit in the making. Bryan Lee O'Malley is providing a variant cover. I suspect that will be much sought-after. Young Avengers isn't trying to be Heinberg's Young Avengers in tone, as the kids are now 18, or thereabouts, and it's more about the realisation that they've become young adults and all that entails rather than teenage rebellion.
Kelly Sue Deconnick's new Avengers Assemble was described as short, sharper, more character focused stories. The initial arc will look at the rivalry between Hulk and Iron Man. The second arc will explore Black Widow's past. Described as very tight and focused. Concentrated Avengers in a shotglass. I'm looking forward to this one.
During the Q&A someone asked if the red-clad Cyclops-looking chap on the Quesada preview art is actually Cyclops, and whether he will be an Avenger or an X-Man? – No comment, somewhat unsurprisingly, so the mystery continues…
Tom Brevoort also put forward a good argument justifying the seemingly endless re-numbering. (Bear in mind this will be Captain America Volume7!) When it's a case of a new writer, &, new direction; being able to say "Here is where Rick Remender's run starts on Cap", or "Here's where Jonathan Hickman's run starts on Avengers" makes the books more accessible. Nothing is being ignored, everything still happened but the new #1s make for clearer jumping on points and delineation between creative teams.
Finally, there seemed to be some confusion over whether Winter Soldier was ending soon. Brevoort insisted that it was continuing. Slip or genuine mistake? You decide. [Mark's note — Jason Latour is scheduled to take over for Ed Brubaker beginning with issue #15 in Feb 2013]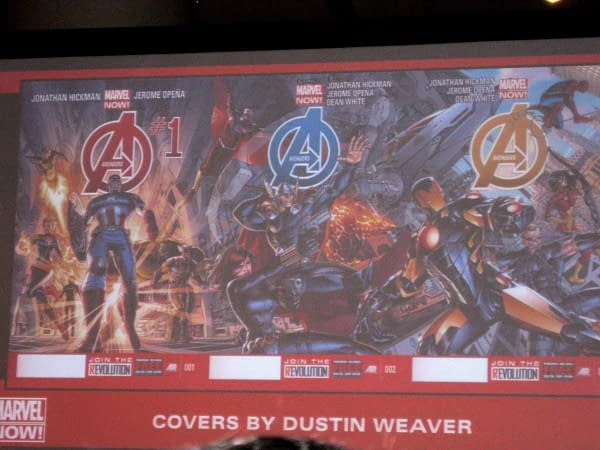 Enjoyed this article? Share it!