You never know what the Monday after a long holiday layoff is gonna be like until you get there that morning. Sometimes, it's a burst of pent up news. Other times, the newsmakers are still making their way home after that last piece of pumpkin pie. Today? Avengers, Speculator Corner, and Ann Nocenti helped us get a fresh start in the post-holiday week.
Most-Read TV/Film Stories Today:
What If The Male Avengers Posed Like The Female One?
Kevin Bolk has painted a reappropriation of an existing Avengers movie promotional image. Now, it's all of the guyvengers turn to go for Brokeback poses.
Allie Haze As Rogue, Evan Stone As Sabretooth And Tommy Gunn In X-Men XXX Porn Parodies
Next month, Vivid Video is set to film two new porn productions to follow up Batman XXX, Spider-Man XXX and Superman XXX… two new films in continuity with each other, X-Men XXX: A Porn Parody and Wolverine XXX: A Porn Parody. The studio has built a reputation in creating pitch perfect porn parodies that could be mistaken for the real thing. And with a button on the menu to watch with the sex turned off – so it really could be the real thing.
New Trailer For JJ Abrams' Alcatraz
Alcatraz is the next TV hopeful from the Bad Robot folk. Here's a trailer that's started doing the rounds.
Most-Read Comic Stories Today:
Speculator Corner: Bottoming Out On The DCU New 52
When DC took the reins of the top slot on the sales charts for the first time in years due to the launch of the New 52, they also took over the back issue market, with sellouts across the board causing a massive rise in prices across the line. How are those prices holding up though as we wind down the third month of the DCnU?
Ann Nocenti On Green Arrow, Typhoid Mary, and Being a Super-Villain
Two weeks ago, we talked about Occupy Wall Street with Ann Nocenti, longtime comic writer and editor who had taken a long hiatus from comics but is returning in 2012 in Green Arrow. We had the chance to continue the conversation, discussing some of her creations and return to comics, and here's how that went
How Writing Birds Of Prey Changed The Way Duane Swierczynski Writes Novels.
In an interview with the Pittsburg Trubune, Duane Swierczynski, talks about his new novel, Hell And Gone. During which he confesses as to how writing the likes of the current Birds Of Prey comic has changed the way he approached his prose work.
Most-Clicked Pics Today: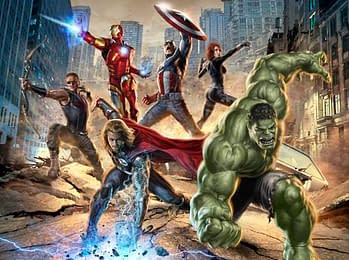 Enjoyed this article? Share it!