Not-So-Live From The Comic Shop – Buzzkill, Never Ending, Saga, Black Science
While you all were heading into your local comic shops on Wednesday, I was gritting my teeth with envy and staring down 15 hours of desolate highway on a road trip, but I can't just not read a few this week's releases at least, and there is such a thing as digital comics (you might have heard of them), so here are some that I found interesting. So this is my "Not-So-Live" report, unlike my usual Live from the Comic Shop column. As per my predilections, there's a lot of Image and Dark Horse catching my attention. Buzzkill comes to a rip-roaring conclusion in its first mini-series arc this week from Dark Horse, written by Donny Cates and Mark Reznicek , and with virtuoso art by Geoff Shaw. It's been one of the most interesting series of the autumn for its themes of addiction and it's wild mash-up of sci-fi and superhero elements, all drawn in a style that has plenty of nuance and colors by Lauren Affe that remain fixed in your mind long after reading. First off, the cover for #5 is impressive for the content of the book—here we have Ruben, defeated looking, below, and his superhero alter-ego above him, underlining the duality of his wills, his natures, and perhaps his failings, too. Fair warning: this is an emotionally brutal issue. I found myself just staring at the first couple of pages that explore Ruben's relationship with his frightening father and trying to process the dialogue. It's a conversation for readers as much as for the characters about what influences our self-image as Ruben is told from an early age that he's not likely to turn out to be a "good guy" because of his dark family history. It explains a lot and suggests some of the roots of his addictive qualities as well.
But this is the close up showdown with a dark father figure from world mythology, as made famous in Star Wars a la Luke and Darth. It's about rejecting the negative aspects of a deterministic future carried over from parental influence, and all about deciding whether one can be a hero, or at least try to be. But Buzzkill goes much further than you usually see comics go in depicting this family struggle—there are fight scenes between Ruben, who is deprived of superpowers because he's "sober" and his father Courtland, who is super-powered, that are incredibly raw and carry overtones of abuse that really set your teeth on edge—and they are supposed to. Cates and Reznicek are never in finer form with their writing than in those moments, and Shaw comes in with perfectly balanced artwork. I don't usually praise comics so universally, but I am so impressed with this issue that I now consider my previous fandom on this book to have been woefully understated. This is one for comics tradition to take note of and learn from, and I hope the book gets the attention and critical praise it deserves.
Of course, these kinds of brutal conflicts only set the stage for determining Ruben's true make up as a hero. He may no longer believe he is, but picking himself up, staying sober, and continuing on his personal mission is a powerful statement. Much of the final sequence in this issue is overlaid with narrative boxes from Ruben, a diary to himself about his thoughts on being a hero, and it's equally powerful stuff. Read this book, but you might want a box of tissues handy.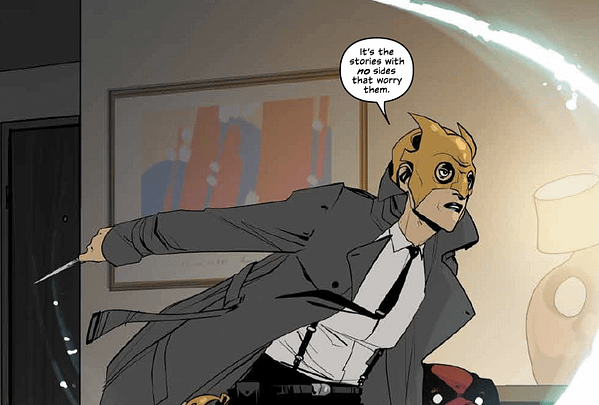 Saga by Brian K. Vaughan and Fiona Staples returns this week from Image, thank the gods, and I'm sure there was much celebrating. This issue promises to engage with some of the binding themes of the series as a whole (well don't they all?).
There's a decided squee factor when the series lets loose and comments on information and how it's handled regarding the ongoing war between Landfall and Wreath, and here that information is perfectly placed when Upssher and Doff are tracked down for silencing by a newly introduced agent, The Brand (as hinted at in the previous issue). The comments embedded in the dialogue are priceless. Doff and Upssher consider themselves fairly neutral journalists, writing on both sides of the conflict, but that's simply not enough in a conflict like this. As The Brand informs them, it's the stories "with no sides" that really worry the powers that be, since that might break down the conflict that's become a whole industry and must be carried forward. Look out for a colorful use of a product called "Embargon". As a journalist myself, I feel like my mind just expanded reading this sequence. It speaks to so much about how information is controlled and handled these days.
Meanwhile, things are heating up at the Lighthouse as our escape party starts to get on each other's nerves while hiding from the newly arrived Prince Robot. But it's not without plenty of discussion about "The Opposite of War", an original working title for the Saga series, and bless Heist for always having pithy ideas for readers to chew on. Peace, he says, isn't the opposite of war, but just a "lull" in action. In fact, the opposite of war is something entirely different, and much more about "action". There are a lot of "meanwhiles" in this issue as lines of action all converge and come to a head. The Will is dying and they need Marco to save him, but bringing all these characters together in one place turns out to be like "crossing the beams" in Ghost Busters. This is a very decisive issue for many reasons, and readers are going to need a deep breath before they realize they are on pins and needles again waiting for the next issue. Just when you think you've got it all figured out, Vaughan and Staples introduce a bunch of new ideas that suddenly recast your previous perceptions. This book's signature feature is turning out to be a sense of recreating the entire Saga universe each issue and making you realize that it probably was a different place than you realized all along.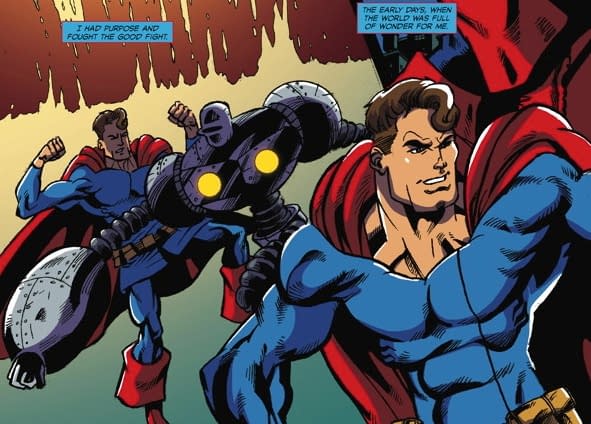 Never Ending, our new superhero book from Dark Horse, undercuts assumptions about hero psychology and riffs on our deeply embedded superhero tropes going back to Superman. Here, issue 2 from Adam P. Knave and D.J. Kirkbride, with art from Robert Love, picks up with mad scientist and nemesis Archibald seemingly getting what he wants—a concerted attempt to try to kill his long-lived hero by any scientific means possible, with Chuck Baxter's consent. You don't see that in hero comics very often, or ever really. It's an opportunity for readers to reflect on the effect of being indestructible, and what that means emotionally for heroes to watch their loved ones age and die, to get worn out from the grind and responsibility of their position. To touch base with a very basic pop culture reference—it's like the premise in the first Highlander movie and many of the TV episodes. These things are bound to affect immortal beings eventually—particularly if they used to be human—and Knave and Kirkbride start off with the strong stuff and the hard issues, which makes you anticipate where they could possibly go with the series in the future.
Issue 2 makes you feel that Baxter may not have a future, to his own relief, but of course things aren't going to go quite according to plan. In fact, the emotional impact of the issue gets ratcheted up a notch as Baxter is confronted with his own empathy for others and his own sense of loss even more fully. Love's artwork is pretty heartbreaking during these key moments, and also does an excellent job contrasting Baxter's flashbacks to youthful vitality and happiness with present confusion and alarm over his condition. Never Ending is turning into a Greek tragedy on a superheroic scale, and the connections it establishes between the reader and the central character are solid enough to make sure that you're fully engaged to find out how Baxter's suffering could ever possibly end, or what kind of resolution he could possibly achieve. Black Science returns for its second issue from Image this week. The science fiction illustration homage with modern accents on the book captured my imagination in issue 1, so I'm back to see if the characters and plot hold up in what appeared to be a very promising series written by Rick Remender, with art by Matteo Scalero and painted art and colors by Dean White. This team-up on art is a refreshing and appealing thing for readers, and gives the book its own distinctive visual accent. Grant McKay and his family are stuck in their inter-dimensional travel in an excessively hostile environment, framed by the idiom "from pillar to post" for readers. In many ways, this is an issue 0 that explains what readers saw in terms of chaotic, frenetic struggles for survival in a strange world in issue 1. Here we have an explanation about "The Pillar", an experimental device enabling inter-dimensional travel, and also a blow-by-blow view of explosive arguments and struggles between McKay's team members leading which help explain the dynamics and events of issue 1. And there are very significant elements here that we simply need to know in order to understand Black Science.
If we thought this was going to be a book simply about struggle to survive in a scary alien wilderness, we were only partly correct. This seems, in the context of issue 2, to be instead a morality tale about human nature, and the inequality and competition between the two creators of "The Pillar", one who "works" and one who, egomaniacally, wants to take the credit. Firstly, this basis for tragedy and trouble, a touchstone for the series, has strong precedent with other sci-fi traditions, and is also all-too-recognizable in our modern day heroes like controversies surrounding credit due for Steve Jobs and Steve Wozniak. Jealousy and competition are believable roots for terrible outcomes, and this helps explain the dark tone of the book so far.
This issue also expands the crazy potential of the series where each issue could, episodically, present us with entirely different realities and worlds, and if that's intense for us as readers, imagine the intensity for a team who already don't get along and for McKay's family who are entirely unprepared for these extreme pressures. There's bound to be plenty of team members shouting at each other in future episodes, but I personally hope there's a little more exposition about the "science" involved, and also deeper exploration of the dimensional worlds that are being featured. The book needs to keep the human elements strong, but a balance between the compelling sci-fi elements and the human conflicts going on would be ideal and will set things up well for a potentially very long running series.
That's all from me this week as a pondering some of the pretty big ideas contained in these comics and try to find a shop so I can check out even more of this week's releases. Happy reading–you may get there before me this week, and I hope you discover some fresh and exciting developments in your own weekly pics.
Hannah Means-Shannon is EIC at Bleeding Cool, @hannahmenzies on Twitter