Picnic at Hanging Rock: BBC Nabs U.K. Rights to Natalie Dormer Series Following up on news that Amazon has acquired the U.S. streaming rights to the crime thriller, the BBC has acquired Natalie Dormer-led Picnic at Hanging Rock from FremantleMedia. A re-imagining of Joan Lindsay's classic 1967 Australian novel, the series is directed by Larysa Kondracki (The Whistleblower), Michael Rymer and Amanda Brotchie; from a script by Alice Addison. Picnic at Hanging Rock will premiere on Foxtel in Australia in 2018 before moving to international broadcasting waters.
Dormer (Game of Thrones) portrays Mrs. Hester Appleyard, an English Headmistress whose dead husband still instructs her daily life and whose "peculiarities" appear to be hiding some darker secrets. Here's the official overview of the upcoming series:
Picnic at Hanging Rock chronicles the mysterious disappearances of three schoolgirls and one teacher on Valentine's Day 1900. The complex, interwoven narrative follows the subsequent investigation and the event's far-reaching impact on the students, families and staff of Appleyard College and on the nearby township.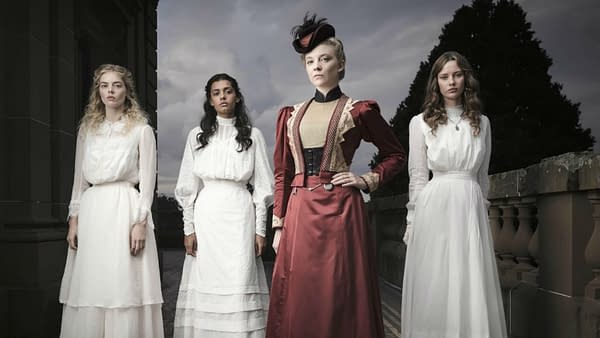 Joining Dormer are fellow cast members Yael Stone as Miss Dora Lumley, one of Appleyard's instructors; and college students Lily Sullivan (Camp) as Miranda Reid, Madeleine Madden (Tomorrow When the War Began) as Marion Quade, Samara Weaving (Monster Trucks) as Irma Leopold, Ruby Rees (Miss Fisher's Murder Mysteries) as Edith Horton and newcomer Inez Curro as Sara Waybourne.
Shot in Victoria, Australia, with the assistance and cooperation of the Victorian Government through Film Victoria, Picnic at Hanging Rock is the latest Australian series to be picked up by the BBC; following deals for shows such as The Slap and sci-fi thriller Cleverman. FremantleMedia Australia's Jo Porter and Anthony Ellis are set to serve as executive producers, alongside Foxtel's Penny Win. Beatrix Christian is on board as script producer and establishing writer, with Brett Popplewell as producer. Production was made possible by FremantleMedia Australia and through a key production investment from Screen Australia.