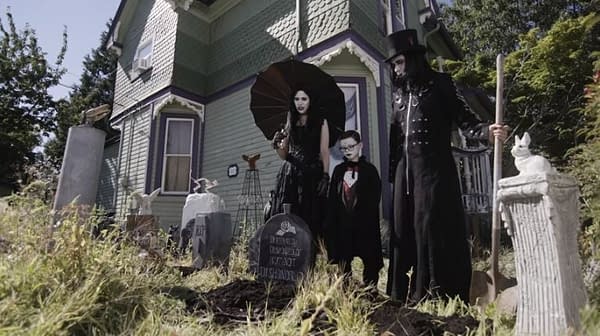 All good things must naturally come to an end (which has still in no way, shape, or form ever made me feel good about the process), and that's where IFC finds itself with their Portland-set hipster satire series Portlandia.
With their eighth and final season only a few months away, co-creators Fred Armisen and Carrie Brownstein will be spending the final ten episodes bringing back old favorites Ed Begley Jr., Jeff Goldblum, Natasha Lyonne, Kyle MacLachlan and Kumail Nanjiani. Joining them on this "final tour" are Rachel Bloom, Aidy Bryant, Terry Crews, Rashida Jones and Tracee Ellis Ross.
You can check out the first official trailer for Portlandia's swan song below, where things seem to be taking an interesting turn for a number townsfolk:
Portlandia Season 8 premieres on IFC on January 18th, 2018 at 10 p.m.
IFC President Jennifer Caserta spoke on behalf of the network to express their appreciation and gratitude for the series that brought so much to the network over the previous seven seasons:
"There are very few shows can be credited with both establishing and helping to define a television network, and that's exactly what Portlandia has done for IFC. It has been at the heart of our 'slightly-off' comedy programming strategy since its inception. It is a joy and a privilege to work with Fred, Carrie, Jon, [executive producer] Lorne Michaels, and everyone at Broadway Video to create a show that was prescient in its satirization of modern culture while having a sensibility and state of mind that has only become more prevalent across its run. Only table dining, binge-watching, a TSA red carpet or the pitiful plight of men would have on society. But all good things must come to an end, and we very much look forward to season 8 or as Bryce Shivers and Lisa Eversman might say… put a bird on it!" – Jennifer Caserta, President, IFC
Source: Entertainment Weekly
Enjoyed this article? Share it!