REVIEW: Black Panther And The Agents Of Wakanda #5 — "This Very Fun Issue Makes All The Right Moves"
(Marvel Comics, creative team: Jim Zub, Scot Eaton, Sean Parsons, Marcio Menyz, Erick Arcienega, Joe Sabino)
Acting as perfect counterbalances for each other, the King of Wakanda stands ideologically opposite to Deadpool, the Merc with a Mouth. Desperate to beat Deadpool to the punch, T'challa brings his "expendable" team of "misfits and monsters" to recover an abandoned SHIELD facility full of old spy secrets. Just starting there, the premise for this is already super fun. Then let's add a layer: Okoye very smartly (but very respectfully) questions the king's unwillingness to use Wakandan assets while risking himself in the field instead of letting her run the team. The real answers to "why" may be more marketing-related, but writer Jim Zub has a masterful command of characters and motivations here, including some delightfully gonzo Deadpool moments. That makes Black Panther's brooding and decisions logical. Not enough? Let's kick it up another notch: the dialogue sparkles with timely quips from decently developed antagonists as the fantastic action scenes from Eaton, Parsons, Menyz, Arcienega and Sabino make everybody competent while providing room for each sides to make in-character mistakes. Go over your checklist again if you'd like, but this very fun issue makes all the right moves. This is a super enjoyable science and superhero adventure to kick the year off right. RATING: BUY.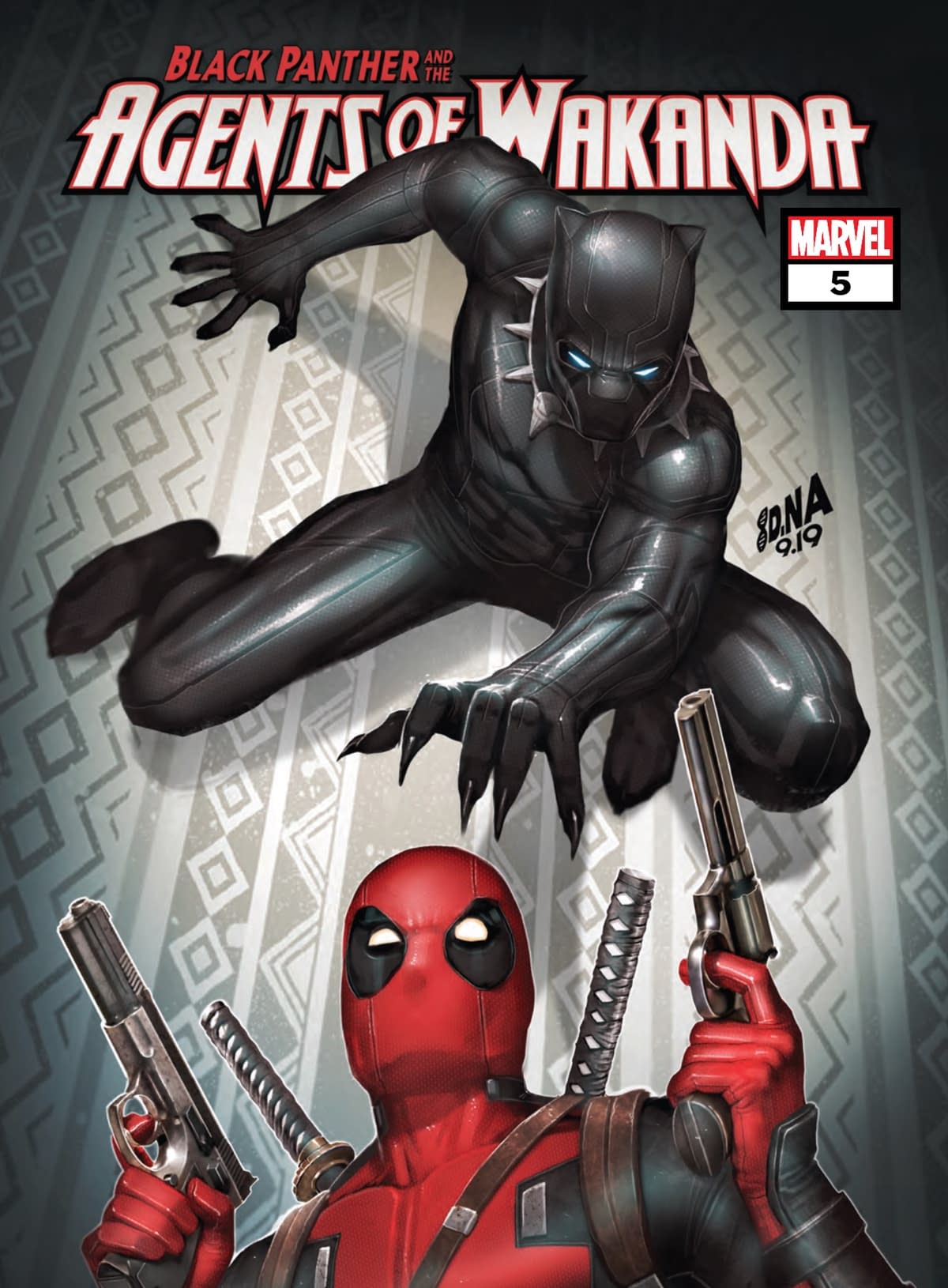 BLACK PANTHER AND THE AGENTS OF WAKANDA #5
JIM ZUB (W) • SCOTT EATON (A) • Cover by DAVID NAKAYAMA AUG198980
Variant cover by ADAM WARREN AUG198982
MARVELS X VARIANT COVER BY MICO SUAYAN AUG198981
An old S.H.I.E.L.D. cache of experimental technology is a ticking time bomb the Agents of Wakanda need to defuse — but only if they get there before DEADPOOL! Time for a rematch between the King of Wakanda and the Merc with a Mouth! And adding more fuel to fire — the return of the Livewires!