Richard Howell, longstanding comic book industry figure, writer, producer and Editor-in-Chief of publisher Claypool Comics, had a story to tell about Steve Ditko. And it is making a number of people uneasy.
He posted his story publicly on Facebook, writing:
Anyone who's attempted to procure original art by Steve Ditko–and succeeded–probably didn't get it directly from him. Steve had an odd notion of ownership/collecting/etc. that when he was asked (fifteen years ago or more; and the Marvel Warehouse was being de-commissioned), no matter what anybody offered to him in return for a page (or in the five-page Monster stories; more than a page), Steve would always turn down the request. I only have an outsider's knowledge of why he was so stubborn, but *I* managed to obtain one page of "The Djinn." Why? (One might ask.) Because I was in charge of certain aspects of New Media, and I informed Steve Ditko that it was "company policy" for one page of each job to go to the editor. (I don't recall using that line on anyone else (Amanda, maybe), but it was a once-in-a-lifetime situation…and I knew that Steve Leialoha was going to be buried in situ with his share. It's possible that I misused my authority (and was the only comics editor to ever do so…!), but Ditko acquiesced (with a minimum of grumbling), and, well–for dealing with Steve Ditko for about twenty-three pages, I thought that I deserved some sort of reward. Here's a few panels from the page (that I have secretly secreted somewhere in my house) and for all the tomb-robbers out there: Most of the time, I can't find what I'm looking for around here, so why should you even bother?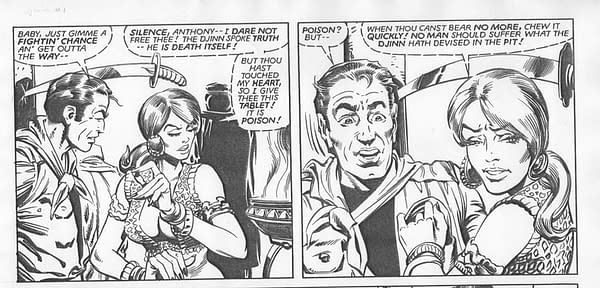 This was for the magazine Fantasy Illustrated, published briefly by NMPS. The Djinn only had its first chapter published in the first issue before the magazine went away, and writer Steve Englehart later published all four stories in Englehart's creator-owned title Coyote, published by Marvel's Epic line.
Barbara Kesel replied to Howell, saying:
Richard, your story makes me very uncomfortable. It seems that you got your piece of Ditko art through fraud. (If dealing with troublesome creators was grounds for "deserving" art, my collection would be a whole lot bigger! I'd have all of Dan Barry's Young Indy art, for starters…) Was it kind of like a "wink-wink" situation where Steve (D, not L) was in on it?
Inker of the story, Steve Leialoha, added:
So THAT's where that page went! Actually, I've hung on to the pages I got as the inker except for one I was willing to let go (talked out of).
So… what do you think?
Enjoyed this article? Share it!