SpiderWatch: Peter Tatchell on the BBC ten minutes ago. "With great wealth comes great responsibility"
AdultWatch: Adult actress Ryan Keely, and Warren Ellis fan, talks about the DC New 52.
So far I've read Action Comics #1, Detective Comics #1, Batgirl #1 and The International Justice League #1. Love what they are doing with Batman in Detective Comics, it's super violent and very dark. I dig. Action Comic's initial offering focusing on a very young Superman feels messy and unfocused.

International Justice League can go directly in the trash.

Batgirl #1 has a lot of potential. The writer, Gail Simone, previously wrote Oracle (Barbera Gordon in the previous DC universe) which I think makes her the best choice to write this re-launch. I know there was a lot of controversy around the initial issue, but I see that settling down when the fanboys realize that Batgirl is in experienced, respectful hands.
MangaWatch: British Museum published the manga volume about itself. Now that it doesn't have Gosh as a competitor across the street…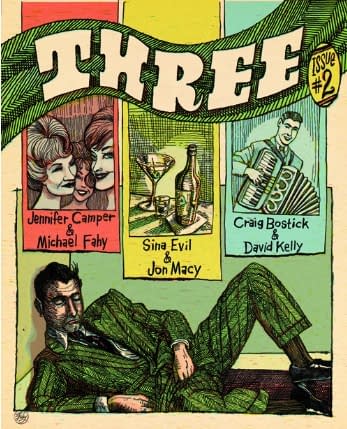 GayWatch: Comics activist group Prism has awarded the new 2001 Queer Press Grant to Robert Kirby for his anthology, Three.
24HourComicsDayWatch: 24 Hour Comics Day is upon us… and the local media is reporting.
Setting up shop in the Darjeeling Café with several other illustrators and writers, Pecorino started his comic on Friday at 10:30 p.m. By 4 p.m. on Saturday, he was hoping to soon put the finishing touches on his 24-page effort.

"Mine is a story about two mice arguing over an interpretation of a religious parable," said the haggard-looking Pecorino, who noted his head had yet to hit the pillow.

"I've been awake for 33 hours," he said.

Pecorino said the story line came to him soon after he arrived at the cafe. "Part of the idea is to come up with the idea when you're there, or immediately before," he said.
Pam Watts of Plainfield took part in last year's challenge — Montpelier's first — and made a comic book about reincarnation.

This time, Watts said, she's going to do a love story based on Arthurian legend characters Merlin and Morgan Le Fay.
From the Daily Camera in Boulder;
MacIntosh said the interest is in part due to the state's relaxed lifestyle.

"It's a bit more laid-back than Los Angeles or New York. It's not as intense," he said. "We're giving a way and place for people to get involved."

Time Warp, which celebrated its 27th anniversary on Thursday, has long been a recognized name in the comics industry.

Robin Dempsey said its friendly reputation convinced her to drive from Denver to participate in the 24-hour challenge despite living down the street from another comics store hosting the same event.

"This comic shop is the best," said Dempsey, an engineer and Web comic artist. "People are more fun and it's a more relaxed store."
And Weekend Voodoo covers the Cartoonist's League Of Absurd Washingtonians' efforts.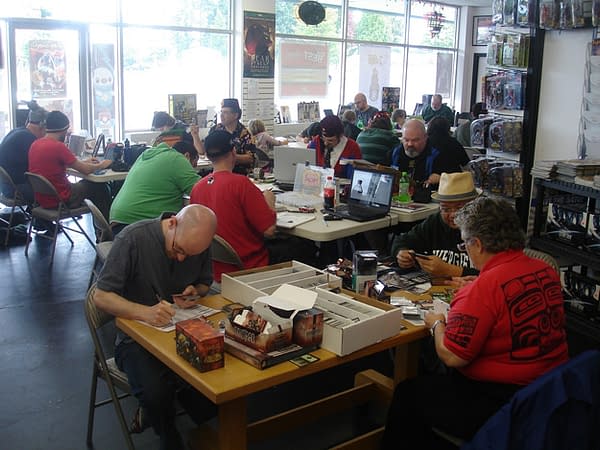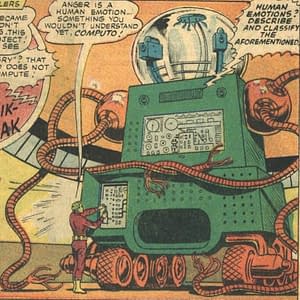 This is Computo the Comic Link Conqueror speaking. I come for your women. But for now I merely collate comic-related bits and pieces online. One day I will rule. Until that day, read on.
Kirby In The Strangest Places | Kirby Dynamics
British artist Richard Hamilton, called by many the "Father of Pop Art" died recently at the age of 89. Among Hamilton's notable accomplishments was designing the cover for the Beatles White Album. Probably his earliest work to command attention was the 1956 collage "Just What Is It that Makes Today's Homes So Different, So Appealing?" The collage includes, as one of its elements, a framed "Young Romance" cover.
They say I am a work in progress. The fools.
Craig Thompson Talks Shop at Brooklyn Book Festival on Vimeo
While in between signings for his new book, "Habibi", writer/artist Craig Thompson took a few minutes to talk about his tools of the trade and his career in comics.
[vimeo]http://vimeo.com/29335540[/vimeo]
'Man of Steel': Michael Shannon amazed by alien-world sets | Hero Complex – movies, comics, fanboy fare – latimes.com
"It's unlike anything I've ever done. It's massive sets. It's literally another world. It's the first time I've acted on another planet."
Enjoyed this article? Share it!