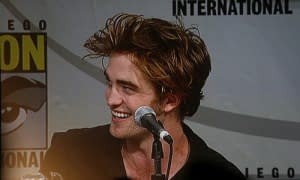 So I'm sitting here, drinking Gaynors cider, the children are asleep, watching Man On Wire. The night is drawing in, the last of the sun's rays stroking the Norfolk countryside. It's twilight. And it's Twilight.
They changed the schedules around. They shifted panels about. But still there has been major criticism of the handling of the Twilight Saga: New Moon panel at San Diego. With a very specific crowd desperate to see advance footage of the film as well as cast members. and willing to queue days before, then fill up the hall sitting through panels they had little interest in for that once chance at a close encounter with Twilight, there was going to be confrontation. The "Twilight ruines Comic Con" and booing of people in Twilight T-shirts at the show was a black mark on the show. And for some people, given that this will have been their first San Diego Comic con, an indelible impression. There must be a better way to handle things?
User CFLRider of the View Askewniverse board asked the convention organisers about what some are calling Twilight Panel: The New Fuckup, and got a response. He writes;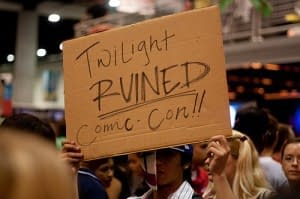 I ask why not have the Twilight panel the first panel of the day. Get them out of the way so other people could get into Hall H. Because they sat through the first two panels of the day and could have cared less about them. While people like me wanted to get into the first panel on Thursday but couldn't because the Twilight people were camping out waiting for their panel which wasn't until 1:45. I suggested they might want to sell tickets to Hall H since all the biggest panels are in there. If you assured the Twilight people they would get in because they had a ticket. Maybe they wouldn't start camping out two days before the event. I suggested clearing Hall H out after each event. If The Twilight people knew they would have to leave after the first panel. They wouldn't line up until their thing started.

Here's what they said: As far as scheduling the next Twilight panel first (because they will be back next year people) They said "No". The reason was the talent and studios are the ones who tell the Comic-Con what time they can come down. The Con will not tell them they have to be the 1st panel of any day. Most of the Studios work with each other scheduling their talent, not with the Con.

As far as charging for tickets to Hall H. They said "NO". They fear that people will just scalp tickets if this is done. My response to them was "So What" people are already paying other people to stand in line for them. So why would this be any different? Furthermore, I told them the only thing worse than not getting into a panel you want. Is standing in line for three or four hours BEFORE finding out your not getting in. If they went to a ticketing system and I couldn't obtain a ticket. At least I wouldn't waste 4 hours of my day standing in line.

As far as clearing the room out to give other people a chance of getting into Hall H (I wasn't able to get into Hall H the entire convention) They said "NO'. If they did this it would take fiftee to twenty minutes in between panels to clear the room. Over the entire day those minutes would add up. Which would result in two or three less panels per day. This was actually the only logically answer I heard during this entire panel.

I really think they don't care about peoples complaints for Hall H. After going to this panel I strongly believe Comic-Con is moving to Vegas in 2013. Many people kept complaining about the number of people at the con and how packed it is and how hard it is to move around. The response from the panel was "We have no more room here at the San Diego Convention Center. We have used up all the space and they cannot build any more" So someone ask them about the rumors of the Comic-Con moving to Vegas. They said they would not comment on that issues and the Con would continue to be in San Diego until 2012. That's a big change from last year when we were told the Comic-Con would never leave San Diego. So maybe they don't care about the complaints because they already know their moving in 2013.

They hope price increases will cut down on the number of attendees. But I doubt it. They will always be enough people willing to pay whatever price they decide to charge.
Apparently not then. And while the prospects for Twilight are exciting studios, the sales of graphic novels are down. ICV2 reports that
Nielsen BookScan numbers show an 8% decline in piece sales in bookstores in the Adult Fiction/Graphic Novels category in the first 25 weeks of 2009, according to the article. The Bookscan figures do not include graphic novels racked in Kids and YA departments in bookstores, which probably means that the decline is less than 8% over-all.
That's still pretty rubbish in a time when graphic novels have all all-time high awareness and Watchmen single-handedly drove sales to new markets, with its recent two million print run reaching more people than any graphic novel before, over twenty years after its initial publication.
Could everything be hanging on the performance of the Twilight manga?
Meanwhile, in India, Professor Karline McLain from Bucknell University has been browsing through the street markets in Mumbai looking for old issues of the popular comic imprint Amar Chitra Katha, telling historical and mythological tales that has been running since the sixties.
What McLain repeatedly heard from ACK readers is that the comic books seemed to almost radiate a spiritual force. In many households, other comics were seen as a waste of time and discarded, but ACK was preserved carefully. Grandmothers covered them with those brown wrappers used to cover school textbooks to keep them clean. Nieces and nephews inherited bound volumes from uncles and aunts. Some even confessed to seeing the images of the gods and goddesses as pictured in the comics when they closed their eyes to worship.
Nice to see the equivalent of bagging and boarding isn't a completely Western invention. CGC: India any time soon?
Enjoyed this article? Share it!