The Buzzkill Universe Is Returning – Talking With Eliot Rahal About DHP, Archer & Armstrong, And More
By Alex Wilson Eliot Rahal has been featured in Dark Horse Presents and will be featured in the upcoming 25th issue of Archer & Armstrong from Valiant. I had a chance to sit down and talk with him about his past Dark Horse work, his upcoming Valiant story, and a spinoff from the Dark Horse series Buzzkill along with a brief mention of his work as a stand-up comic.
Alex Wilson: So Eliot, how did you get into writing comics?
Eliot Rahal: That's a whole long story that involves a lot of drinking and dad disappointing, but here's the long-short of it… I fell in love with comic books in high school. Specifically, it was Garth Ennis's run on The Punisher. Once I was bitten by the bug, even the threat of Post-Bachelor's-Degree-Poverty couldn't stop me from reading them. In college, I got into writing, in a more general sense, by doing stand-up comedy. Then, through a series of very fortunate events, I landed an editorial internship for the Amazing Spider-Man at Marvel. While there I met my writing partner/BFF, Donny Cates. Don and I teamed up on an IP called Hunter Quaid. Hunter landed in Dark Horse Presents, and I just haven't stopped since then! AW: Hunter Quaid is a time traveling all-in-one bad ass detective with a noir flair. How did you come up with this character?

ER: Friendship, a lot of late nights, shared misery, a mutual love for Jack Burton, laughing…non stop laughing, all of which was fueled by cheap gin. We built Hunter day-by-day. Whatever we thought was cool was thrown into the pot. Eventually we got to develop Hunter even more as the years rolled on by. We have so much to tell about this character, and I'm pretty excited for his next appearance in DHP. Courtesy of our incredibly tall editor, Jim Gibbons, here's a little taste of his next adventure.
AW: I'm not sure you can talk about this, but from what you sent me it looks like you're doing a Buzzkill spin off book that includes Doctor Blaqk. Will it hold the same serious tones as its predecessor or will it take on Blaqk's more whimsical attitude?
ER: I CAN SAY NOTHING!!!! Except for these very informative facts: Yes Don and I created together a new story that falls inside the BuzzKill Universe. Yes, Geoff Shaw is the artist. Yes, Lauren Affe is our colorist supreme. And…Yes, as you can see, Doctor Blaqk will be involved. However, don't be deceived! This story isn't like anything you've ever really seen. And yes, I realize people say that all the time. But this time I am super-duper-mega-serious when I say that we are going to melt all of your collective minds when this thing drops next year. Our Editor, Patrick Thorpe, allowed me to tease you with this fun little teaser. Hope you enjoy it! *Also let me take this opportunity to promote our upcoming stories in the Archer & Armstrong #25 Celebration issue over at Valiant. Also, buy Donny's new book at Dark Horse entitled GhostFleet!
AW: Can you tell us any more about what's going on with Valiant? What are these rumors about you taking over for Archer & Armstrong? Is it true that Donny is taking over for Quantum and Woody?
ER: Alex…listen man….say no to drugs. What I can tell you, aside from showing some of our killer pages illustrated by the amazing Khari Evans, is that lots of things are in the works. Also, Dinesh Shamdasani is currently holding a Bacheloresque competition, and the winner gets the keys to his heart! Not to brag or nothing…but I'm currently holding a rose. It's a pretty big deal.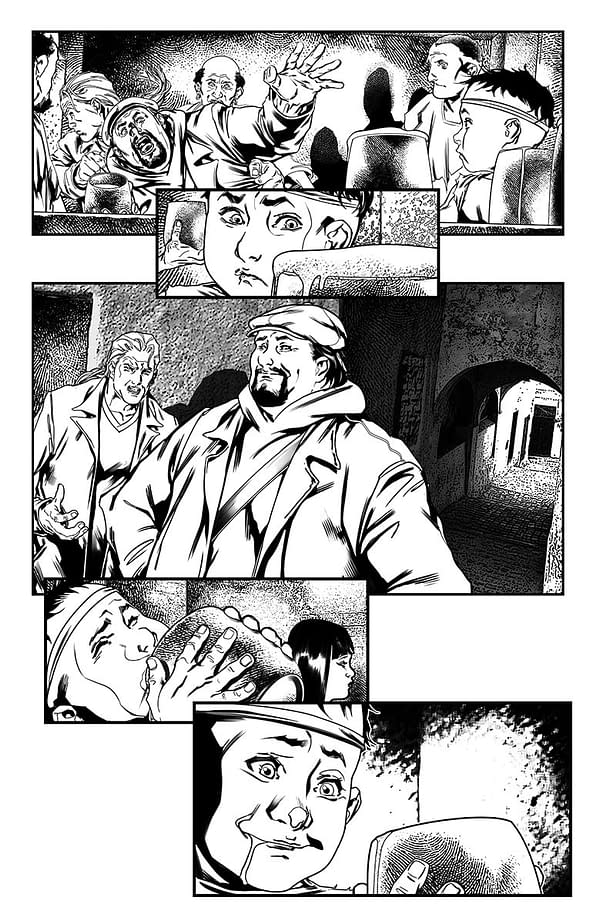 AW: What else can we expect from you?
ER: A whole bunch of things that I'm very excited about. Namely the fact that I am currently teaming up with Daniel Kibblesmith, the co-author of How To Win At Everything and the former Associate Editor of the Onion's ClickHole. Pretty excited about that project actually. It might be one the funniest things I've ever done. It's essentially Bill and Ted's Bogus Journey meets the Plot of Sixth Sense times 1,000. Then I'm working on a project about a guy with Reverse Longshot powers, and how he fails at becoming a hero but succeeds in becoming the greatest villain the world has ever known! ​​​​​​​​​​​​​​​​​​
AW:Last questions. Do you still do stand-up?
ER: Yes.
AW: Can you tell us a comic book joke?
ER: Go fuck yourself.
Follow Eliot Rahal on Twitter: @EliotJamesRahal
Alex Wilson dropped out of cub scouts at an early age after he refused to sell popcorn for "the man." Since then his life has entered into a downward spiral. He lives in the sinful world of comic books, folk punk, and seedy tattoo shops. You can find him bare knuckle boxing to pay his rent or tweeting about Teen Wolf on his Twitter, @mralexwilson.