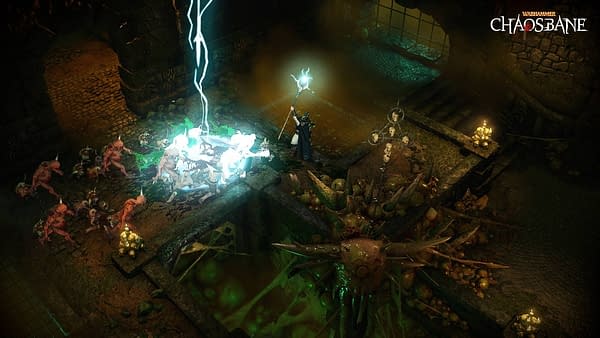 Bigben Interactive and Eko Software announced the start of Warhammer: Chaosbane's closed beta on PS4, Xbox One, and Steam today. The first phase of the closed beta test will end on March 13th at 9am GMT. Both closed beta phases are accessible by all players who pre-ordered the game, regardless of whether they purchased the Standard, Magnus, or Digital Deluxe edition.
If you pre-order the game during the beta phases, you'll get access to the beta tests, so you still have time to hop into the closed beta.
Content available in the first closed beta phase includes:
Playable campaign: Act 1 – The sewers of Nuln, infested by Nurgle daemons
2 available classes: the Imperial soldier and the High-Elf mage
Maximum level cap: 20
Local and online co-op with up to 4 players
Warhammer: Chaosbane will be available on PlayStation 4, Xbox One, and PC on June 4, 2019. Owners of the Magnus and Digital Deluxe Editions will get early access to the game starting May 31, 2019.
You can find more information on the game over at the official Chaosbane webpage.
You can take a look at the beta launch trailer below.
Enjoyed this article? Share it!