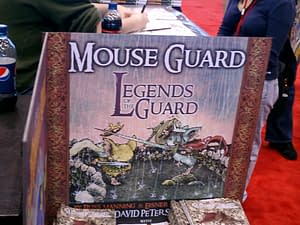 From the floor of C2E2, it's Greg Baldino reporting for Bleeding Cool
The fashionable comic fan will want to stop by the Oni Press booth to pick up a plethora of Scott Pilgrim swag, including a new t-shirt premiering here at C2E2.

Also premiering are Jamie S. Rich's new graphic novel Spellcheckers and Possession by Ray Fawkes. Stop by and you can also take a sneak peak at the upcoming Free Comic Book Day release The Sixth Gun, a wild west horror-show by Cullen Bunn and Brian Hurtt.

The Archaia Entertainment booth is easy to spot thanks to an enormous banner haning over their talent like the sword of Damocles. The first hush-hush tip of the con comes from Awakening creator Nick Tapalansky, who's got two secret projects coming out next year. "I can't tell you anything right now," said Tapalansky, who recently produced a story with his Awakening collaborator for Image's Popgun, "I'm just starting to see the art work now and it's phenomenal."

Also at the Archaia booth is Jason Becker, the writer of Killing Pickman, signing posters for the same. Becker has two project coming out next year, the fantastically named Escape From Splatter Island and the exclamatory Captain Bludgeon HATES!

Over on the fuzzier side of the booth, Mouse Guard creator David Petersen and Fraggle Rock writer Sam Humphries have a lot to be excited about. Petersen's series following the adventures of medieval mice with teeny swords sees a new volume, Black Axe, coming out in September. In the meantime, fans of the series can pick up Mouse Guard: Legends of the Guard, a four-issue anthology comic due out in May with stories by Gene Ha, Terry Moore, Katie Cook, Guy Davis, and others. You can also pick up a free Fraggle Rock poster from Humphries, who has a Fraggle Rock comic coming out for FCBD with Bayou's Jeremy Love.

The Swedes are taking Chicago by storm, as Mats Johnson (Hey Princess), Kolbein Karlsson (The Troll King), and Simon Gardenfors (The 120 Days of Simon) are signing at the Top Shelf booth where you can pick up all three of their books for a convention special of thirty dollars. They'll also be performing at Nerd City on the 17th; doors open at the Double Door at 8pm with a cover of ten bucks to see the Swedish Invasion along with the Jai Alai Savant, The Flaming Dames burlesque show, and Dj sets by Genghis Won and Major Taylor.

Also out at the Top Shelf booth are the just released Super Spy Lost Dossier by Matt Kindt and Nate Powell's new book Swallow Me Whole.

If you like crazy occult scientists you'll want to stop by the Cellar Door and check out Richard Carboneau's The Marvel, a graphic novel about legendary NASA scientist and Aleister Crowley disciple John Whiteside Parsons. It's the perfect fit between your copies of Warren Ellis' Doktor Sleepless and Matt Fraction's Five Fists of Science.

"Are you Rich's familiar?" asked Choker artist Ben Templesmith when I told him who I was. Once he confirmed that I was not a magical creature by guarding himself with iron nails and a ring of salt around his chair, he confided in me about his upcoming announcement at the Halo-8 panel at 7:45 "I can only tell you this," he said in whispers, "it's like Band of Brothers, only with more squid."
Greg Baldino lives and writes in Chicago, where he watches over the local comics scene like a posthuman autocrat. His fiction and journalism has appeared in many publications internationally. He can be contacted at greg.baldino@gmail.com
Enjoyed this article? Share it!