The Man Of Action Team In Action At Long Beach Comic Con
By Jason Strangis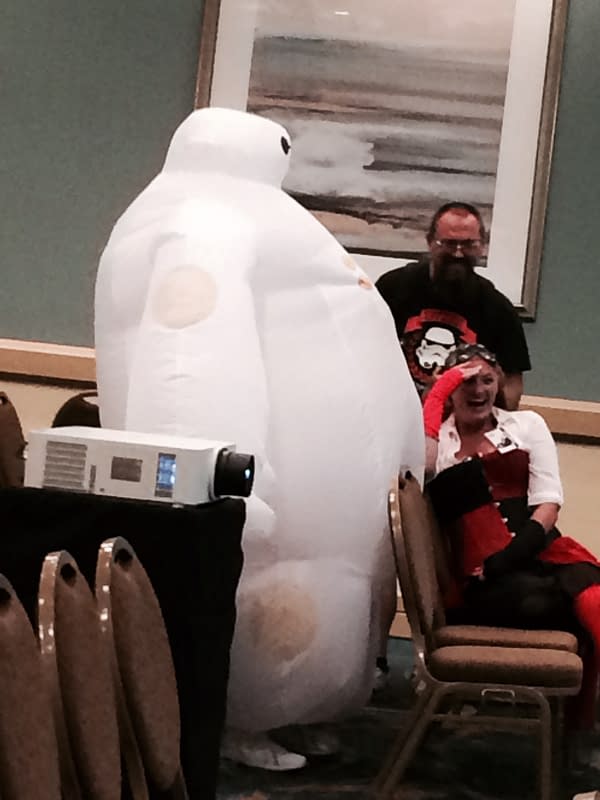 In case comic book fans didn't know, "Man of Action" is really composed of four men – Joe Casey, Joe Kelly, Duncan Rouleau, and Steven T. Seagle are creators/writers/producers who translate their work ("Ben 10," "Generation Rex") into hit TV shows and for comic books.
On Saturday, September 12th, these men of action spoke about upcoming projects and gave tips to aspiring writers and artists during the Long Beach Comic Con in California.
One highly-anticipated movie project is I Kill Giants, from the graphic novel written by Joe Kelly. The movie is scheduled to begin filming next year and will star Zoe Saldana and Madison Wolfe, to be directed by Anders Walter and screenplay by Kelly.
Kelly has high hopes for the film version that will be coming out.
"It's really been a positive experience since day one with really good people involved," Kelly said at the Long Beach Comic Con.
Kelly also talked about his current comic book project working on the Spider-Man/Deadpool comic book with artist Ed McGuinness.
"Spider-Man is my favorite character," Kelly disclosed. "It's very exciting."
Casey is excited that his graphic novel Officer Downe – about an L.A. cop who is resurrected — is expected to be released next year or soon after.
Meanwhile, Steven Seagle talked about his graphic novel Camp Midnight among other things.
Besides focusing on their comics and movie projects, Man of Action also gave advice to audience members at the LBCC panel.
"You have to keep working," Kelly said. "If you are a writer and an artist you have to be doing this every day… Surround yourself with good critics who want to support you."
Seagle noted that talent might not be the most important part of success. He emphasized that "likeability" is also a big factor in getting hired. But he emphasized that it's important to do great work.
Casey said that he was obsessed with comic books when he was a youngster, and knew it would be his career path.
"I had to do it," he said. "I had to make comics all the time."
Making a special appearance at the panel was Big Hero 6. Disney's Academy Award winning animated feature utilized the characters and team created by Man of Action.
Jason Strangis is a freelance writer who enjoys superheroes, sci-fi, and attending comic book conventions. He can be reached at jwstrangis@gmail.com