With Andrew Lincoln's final turn as Rick Grimes set for this Sunday's episode of AMC's The Walking Dead, all eyes are on cast members past and present as the momentous and heart-breaking event looms near. Having played one of Rick's most skilled and trusted confidant, Steven Yeun's Glenn Rhee was the heart and soul of the Walking Dead universe for the series' first six seasons. Though Glenn would meet his fatal fate at the end of Negan's (Jeffrey Dean Morgan) "Lucille," his death – and the life he led – continue to impact the series to this day.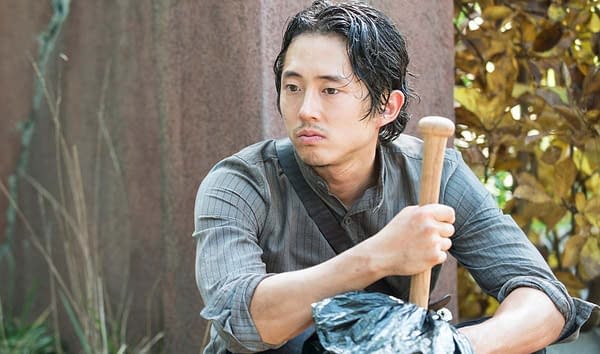 To promote new South Korean art-house thriller Burning, Yuen sat down with Slate to discuss his thoughts on what American audiences expect from him as an Asian-American actor; and how that reflected in his time on The Walking Dead:
● For Yuen, the choice of roles available to him as an actor because he feels like he's constantly living under the expecations of the "American white gaze" and why Burning was such a different experience:
"I won't speak for other Asian American actors, because I don't know what they're being offered. But for me, it's like: nice guy, dependable, supportive, benign. Beige. And as a Korean man, I am not beige. And I felt that when I was over there [shooting Burning]."
● That feeling of "beige" – the need to be "family friendly" – extended to his turn as Glenn: "Yeah, I felt beige with Glenn. That was a little bit of the frustration that I could never explain to the wider society, to fans of the show."
● Yuen doesn't take for granted the experiences and friendships he gained over six seasons, but found the role limiting over time:
"Am I incredibly grateful, and did I have a wonderful time on that show? Yeah! I wouldn't take that experience back at all. I made lifelong friendships. I got to learn so much. But I will say that I felt cramped. I felt like there wasn't space for me to fully spread all of who I was, and that was partly due to me, too, because when I started, all I was trying to do was to work within the parameters that they were giving me. And then, over time, I just outgrew it."
● For Yuen, it came down to his desire to play characters who are real – not held to a "perfect" standard, but allowed to be the imperfect creature we all are:
"That's why it was beige. Because he was meant to be the heart of that show. When you look back, you go, "That's great, everyone wants to be represented that way. Why wouldn't you want to be a perfect being?" But I don't wanna [play] perfect, because we're not perfect. And that's a thing that I wasn't able to feel for a while, because I was holding up this ideal that was way bigger than me, way larger than any single human can possibly do. I became less and less interested in doing that."
Enjoyed this article? Share it!