Sleepy Hollow's Tom Mison, Frances Fisher, Jacob Ming-Trent Join HBO's 'Watchmen' Universe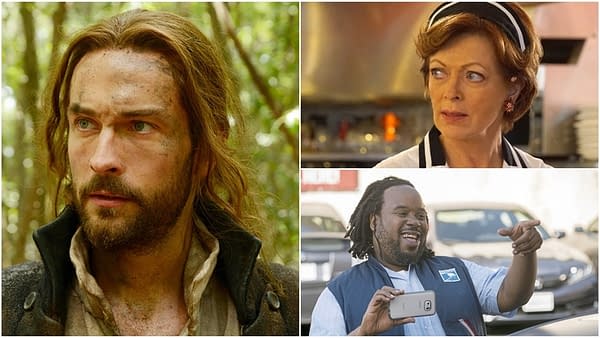 The list of who watches the Watchmen continues to grow, with Sleepy Hollow alum Tom Mison, Frances Fisher (The Lincoln Lawyer) and Jacob Ming-Trent (Superfly) joining Damon Lindelof's HBO pilot "remix" of Alan Moore and Dave Gibbons' comic book series. Written by Lindelof and directed by Nicole Kassell, the project also stars Jeremy Irons, Regina King, Don Johnson, Tim Blake Nelson, Louis Gossett Jr., Adelaide Clemens and Andrew Howard.
Executive produced by Lindelof, Kassell, Tom Spezialy, and Joseph Iberti, the HBO pilot is set in an alternate history where "superheroes" are treated as outlaws; and is described as embracing "the nostalgia of the original ground-breaking graphic novel while attempting to break new ground of its own." Watchmen is produced by White Rabbit in conjunction with Warner Bros Television.
Consistant with previous Watchmen casting announcements, no details about the actors' roles were provided.
Along with his lead role on Fox's Sleepy Hollow, Mison's past credits include Lost In Austen, Parade's End, Salmon Fishing in the Yemen, and One Day. Fisher has appeared in series Masters of Sex, Fargo, and Criminal Minds; and stars in the upcoming films Run The Race, Someone Else's Wedding, and Shrimp. Ming-Trent recently appeared in Showtime's White Famous; with credits that also include Feed the Beast, Law & Order and more. Though clearly a fan of the original 12-issue series, Lindelof stated that the series would not be a direct adaptation of the famed limited series:
"I've been very vocal about my love for those twelve issues that eventually became a graphic novel; that they were completely and totally inspiring for all the storytelling that I did subsequently, and that I owe a debt to it. So, is that piece of material something that's really interesting to me? Yes, but I do feel like I have to weigh the balance of 'Should it exist?' before I decide to take it on, and I'm sort of in that process now. I hold the source material in such high regard; it would literally be the worst feeling in the world to screw it up."