Marvel MIA in Hall H, Simpsons Makes History, a 'Thrones' Conspiracy and More! [The Weekly Static s01e37] We're staying all night, we never slow down. I think we better do it like we're doing it now. It's been a long time since we've been around. So come on, let's keep doing it like we're doing…The Weekly Static!
With all sorts of love for Charli XCX and Rita Ora, here's a little reminder of a comedian who was taken from us way too soon – but left us a body of work that continues to influence new generations to this day – in this week's: The Weekly Static is Bleeding Cool's look at the past week in the land of the networks, cable, streaming, smoke signals, cloud formations, and shadow puppets from an interesting and entertaining perspective. So The Weekly Static's "League of Moderately Evil Exes" (myself, Rocky, Trejo, Bat-Murr and Margo Staten) makes you these three promises… because we can:
● Offer blunt, honest perspectives on five TV topics from the past week covered by Bleeding Cool's team of news-thirsty writers. Just to be clear? My views are my views and don't reflect on the writers. We own what we say 110%.
● Spotlight a news item that we missed when it first hit, but we're pretty sure you'll want to know about.
● Feed my insatiable-yet-fragile ego with buckets of praise, adulation, social media shares, pizza, Superman Funkos, Eisner Awards, write-in votes for the 2020 U.S. Presidential Election… and a talking penguin, chicken and pig to go on zany adventures with.
Goldberg Thinks Hulk Hogan Deserves a Chance to Be Given a Chance to Return to WWE
The Simpsons Parodies Gunsmoke Opening as it Moves in to Record Books
George R. R. Martin WILL Be Publishing in 2018- But Not The Thing We Want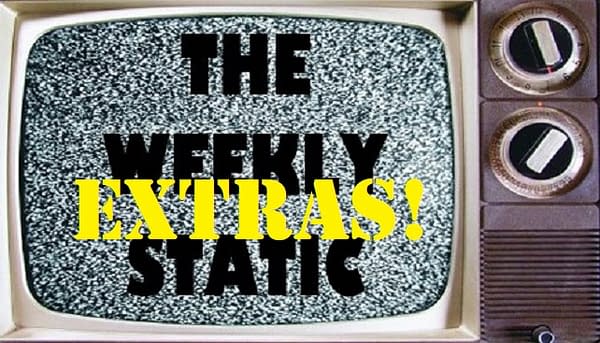 Comedy Central Developing 'Living The Dream' From Aaron Karo & Dillon Francis
"Comedy Central is developing Living the Dream, from Aaron Karo (Aaron Karo: The Rest is History) and DJ Dillon Francis, Deadline has learned.

Written by Karo and Francis who also will star, Living the Dream follows Quincy Hart (Francis), an internet personality who realizes his career is shallow and tries to reconnect with the most important people in his life. All he wants is love but all he gets are likes. Francis, whose new album is expected later this year, will also contribute original music."

And here's a look back at last week's edition of The Weekly Static: