Weinsteins Planning Musical Versions Of Peter Pan, Crouching Tiger, Hidden Dragon And More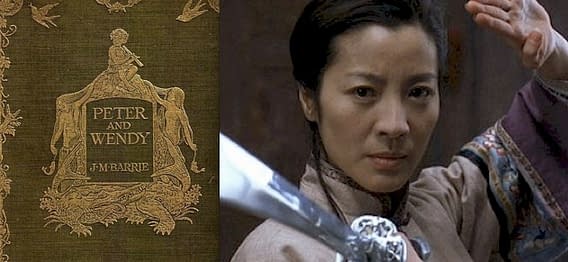 Kate Atherton writes for Bleeding Cool:
Some stories never grow old. Back in 2004, Bob and Harvey Weinstein told the story of J.M. Barrie in Finding Neverland with Johnny Depp in the role. But now the Weinstein's have turned their attention to Barrie's most famous and much-loved creation, Peter Pan. But this Peter Pan will sing and dance on Broadway.
The New York Observer has reported that:
Screen queen Peggy Siegal, who typically arranges lavish movie premieres for the Weinstein Company and other studios, recently sent out a note to would-be investors inviting them to a special reading of the musical, which features music by Scott Frankel and lyrics by Michael Korie, the team behind Grey Gardens.
However, Peter Pan is not the only musical in the works. It appears that the Weinsteins have other conversions in mind including Chocolat, Cinema Paradiso and Crouching Tiger, Hidden Dragon. One might argue that the latter in particular is just as unlikely to lend itself to the stage musical format as, say, Spider-man for example.
The BBC also announced yesterday that Vanilla Ice has just signed on to appear as Captain Hook in Peter Pan in Kent this Christmas. The news is not believed to be related…