Twenty-Three Thoughts About Twenty-Three Comics – It Came, Astonishing X-Men, Black Manta, The Riddler, Mongul, Mister Freeze, The Walking Dead, Adventure Time: Candy Capers, Court Of Owls, Solomon Grundy, Avengers, Fantastic Four, Harley Quinn, Avengers Arena, Kick Ass 3, Trigon, Sidekick, Killer Frost, Prophet, Manhattan Projects, Indestructible Hulk, Hit List And Robocop
Another look through a bunch of this week's comics! The Carry On team debut in It Came, as official British Army soldiers to provide some much needed sexism and incompetence as a counter to… the existing sexism and incompetence of Dr Brett. Book of the week, by a long way. Dan Boultwood must be looking at some award coverage for this comic…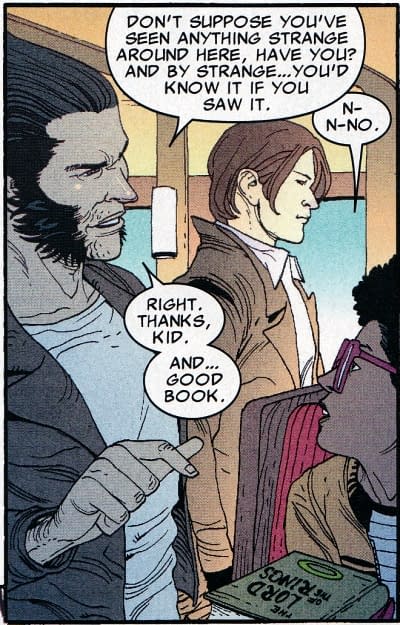 Although moment of the week, may be Wolverine coming out as a Lord Of The Rings fan in Astonishing X-Men. Hell, he probably went drinking with Tolkein. Someone should totally put this on Reddit. So Ultraman did that "moving the moon to blot out the sun" thing. I thought that might have had more of an impact than just turning a bit of America dark. Black Manta goes for gravitational effects. And also reveals that supervillain prisons keep their costumes in a handy locker, ready for any escapes. The Riddler gives us a story of a man carrying out his plan to the letter… but his hat does seem to turn a sound effect into a question… Mongul revisits the very special flowers introduced by Alan Moore. Even if Moore seems rather ashamed by the whole thing now.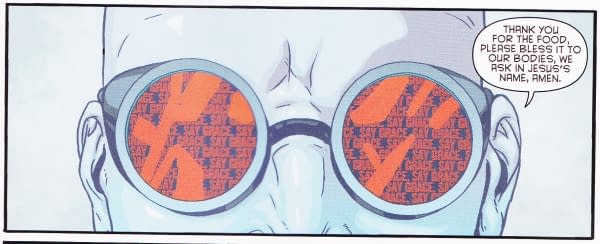 Mr Freeze gives us a little grace. And, thanks to a certain film, I feel forced to hear it being said in an Austrian accent. Whereas for Negan in the new Walking Dead, I am only hearing Samuel Jackson.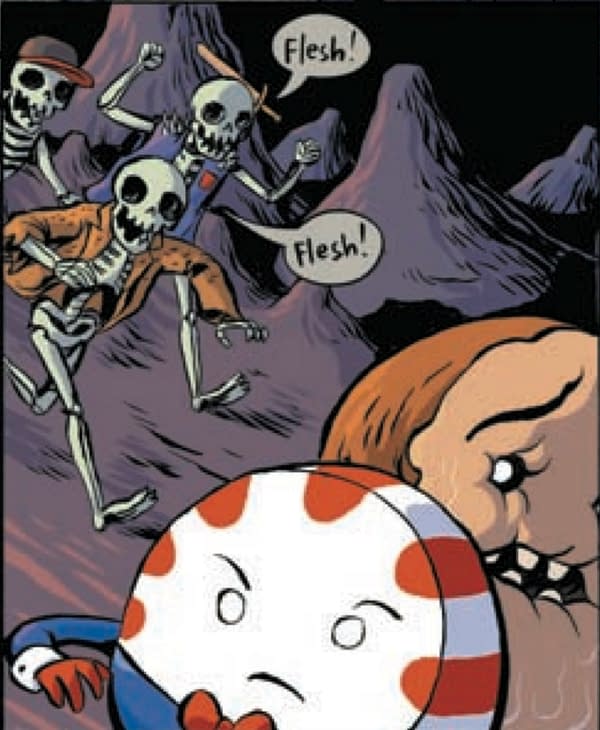 It is also true that this week's Adventure Time: Candy Capers has more scenes of flesh eaten undead than The Walking Dead. Hey, so in 1975, Court Owls had Etrigan locked up in their hotel? What else can be seen here? Just as in Court Of Owls, Solomon Grundy is there to remind us that nursery rhymes never end well in comic books. Avengers, gets all Infinity, and emphasises the importance of the New Universe folk… who I notice don't seem to be mentioned in upcoming Avengers books. Are they to be sacrificed so soon?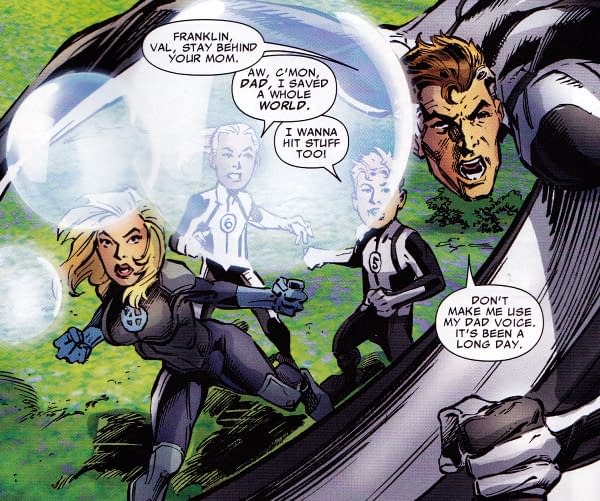 Is it just me or does "Dad voice" feel like something Matt Fraction would totally say to his kids? Even if it's being co-written by Christopher Sebela… But there's nothing quite like having a father saying things like this, to obviously turn a young woman into Harley Quinn. Seriously, what father would ever say that? Dad's voice or not? What could be worse?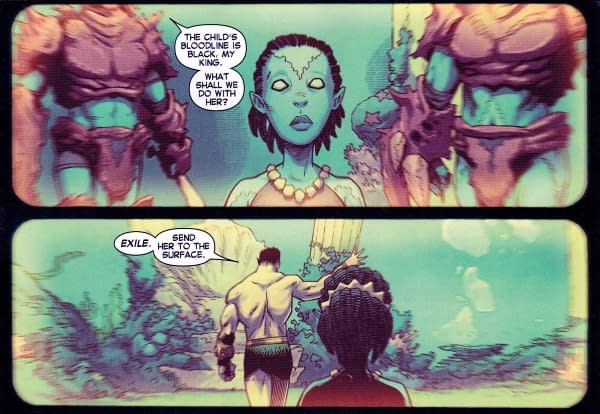 Okay, not exactly Dad, but the next best thing in Avengers Arena. And, yes, that's probably worse. Oh, you're not going to like this issue… I don't think Dad's Voice would work here any more. By the way, can you even get Hello kitty cards? I suppose Hit Girl can…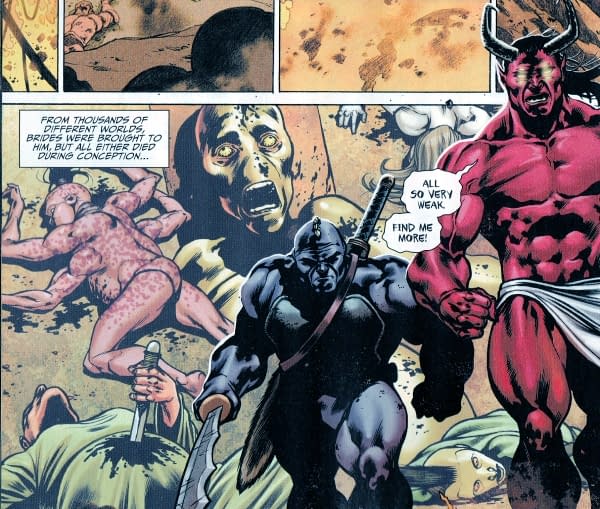 And Trigon goes far more Mark Millar on us, than Kick Ass did this week. And with DC Villains Month getting all obsessed with parental issues, Sidekick goes for the jugular. And everything other vein it seems. Killer Frost deals with some rather odd temperatures. I'm just wondering, did someone miss out a minus figure? Or mix up figures? "sixty degrees below farenheit" or "minus sixty degrees farenheit" is very cold. "Below sixty degrees farenheit", well that's me right now. (UPDATE: Body temperatures, not temperatures. Sigh. I am a numpty.)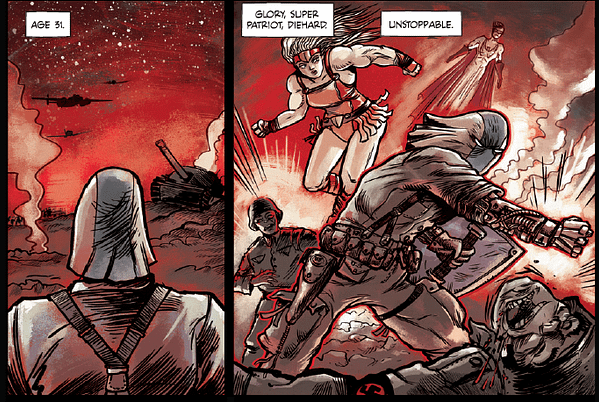 In today's Prophet, we focus on Youngblood founding character Diehard. And get his history from birth, through ten thousand years. And a whole bunch of artists giving their interpretations of the various different eras… including the one Rob Liefeld write and drew back in the day. As well as so much other strangeness….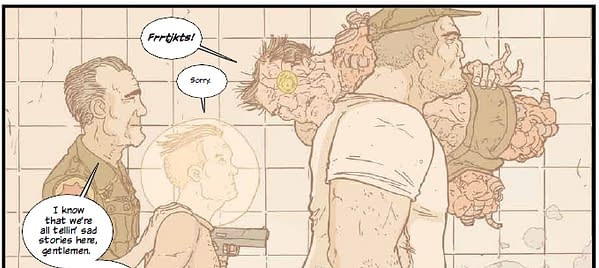 And seriously, I reckon The Manhattan Projects is giving us a good idea of how Jonathan Hickman might see Wolverine in the future. And Mark Waid gives us a little nostalgia with some time hijinks letting us revisit a certain Maestro, the Hulk of the future, even if momentarily. Hit List #1 belies its title. No tasers please, I want people to hit things! And that's the end of another run through a bunch of today's comic books. What did you think, Robocop? Can't please everyone.
Comics courtesy of Orbital Comics, London. Currently exhibiting Sophie's World, digitally manipulated photos of Sophie Alred by Steve Cook.