Whenever a new year rolls around, comic book readers are faced with the unavoidable question: will this finally be the year that everyone just gives up on making comics? With the 2017 that Marvel had, we can't say we'd blame them, but fear not — comics will continue to be created and published in 2018.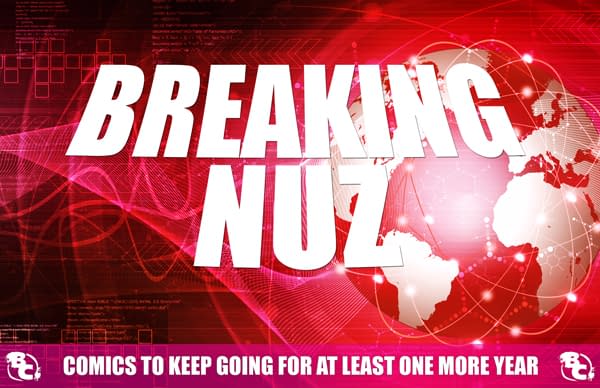 This shocking revelation comes via a series of investigative reports at Newsarama, who have been studying the year-end blog posts from creators for clues as to whether they'll be hanging up their pencils and getting real jobs, or continuing to create comic book projects, and in the case of at least three prominent creators, it looks like they'll be making new projects in 2018.
For example, there's Jim Zub, who, according to Newsarama, is "taking over a mystery Marvel ongoing" in April. This report comes from a blog post by Zub in which he writes:
On the creative front, I made deeper strides at Marvel, wrapping up Uncanny Avengers and plugging away on Avengers: No Surrender, a special weekly story line that starts January 10th, co-written by industry superstars Mark Waid and Al Ewing, with art by Pepe Larraz, Kim Jacinto, and Paco Medina, with editors Tom Brevoort and Alanna Smith keeping the whole thing running smooth. It's the biggest project of my career so far and, with the extra attention being shown to the Avengers leading up to the May release of the Avengers: Infinity War movie, I'm hoping No Surrender does well with new fans and old. Beyond that, I have a new monthly Marvel series I'm taking over in April that should be announced soon. Exciting times!
So it looks like, rather than disappearing in a puff of Jim Zub-shaped smoke, never to be seen or heard from again, after Avengers: No Surrender wraps up in April, Zub will instead take on a new ongoing series at Marvel, though we don't know anything else about it. We can't thank Newsarama enough for getting to the bottom of this mystery.
Next up is Charles Soule, who, as it turns out, is also working on a "big Marvel thing freshening up a character" this year according to a separate Newsarama report. This comes once again from a year-end blog post by Soule, in which Soule writes:
Yes, there's a big Marvel thing in the works. I think you will like it. Trying to take an existing character and let them be seen in a fresh way. Not easy, but definitely wonderful. Very very excited to work with the artists on this.
As you can see, not only have we learned that Soule will be working on another Marvel project in addition to the seventeen existing Marvel projects he currently writes, but also he will be working on the project with artists. That is great to know, because who knows how a comic would turn out without artists? You could make a comic with HVAC technicians, for instance, but while it might do a good job at heating and cooling your home, there's no telling what the quality of the artwork would be like. It's good to see that Soule is sticking with the traditional method of using artists to make comic book art in 2018.
Speaking of artists, Newsarama also has the scoop on one of those who will continue to do art in 2018. That's right, Declan Shalvey took to Facebook to reveal that he too will continue to make comics in 2018, reportedly writing:
Goals for 2018; well after some time off, I'm about to start a brand new [work-for-hire] project with a favorite writer on a favorite character. Will move straight onto Injection Vol. 4 after that, really excited about it. Would also be pitching a writing project to come out in 2018 too.
So who will Shalvey be working with in 2018? As of now, the only writers we know of who are planning to work in comics are Jim Zub and Charles Soule. That could change, obviously, after Newsarama reads more creator year-end blog and social media posts, but for now, it's literally all we have to go on. Could Soule or Zub be one of Shalvey's favorite writers, or is there an unprecedented third, completely separate project being produced by the comic book industry in 2018?
Truly, these are exciting times. We'll continue to keep you updated on any more breaking reports of comic book creators who will continue to make comics in 2018.
Enjoyed this article? Share it!