Retailers, Put Your Comic Store Logo in the World of Blade Runner
Okay, so the Diamond Retail Summit 2019 in Las Vegas kick off tomorrow, where comic book publishers, creators, activist groups and Diamond Comic Distributors all pitch up to talk about the comics industry with comic book retailers from around the world (but mostly North America). So today, and all weekend long, expect a lot of comics book industry news, announcements and hot takes from the people on the front line, comic book store owners, managers and employees. You can use the vegas2019 tag to catch up with any other stories on Bleeding Cool.
So let's kick off with this one. Titan Comics are launching a new Blade Runner comic book, written by the writers of the recent movie, but set in the period of the original movie, which also happens to be this year, with Blade Runner 2019. A world which is riven with suspicion of artificial intelligence, lots of neon and intrusive advertising, but also an uptick in street markets. Which pretty much seems to be now.
And Titan Comics is launching a now-impact retailer exclusive variant cover, from series artist, Andres Guinaldo, in which retailers can order 500 copies with their own stores logo as one of the Blade Runer adverts. This can then be used for promotional purposes within the store and may receive outside interest for dedicated Blade Runner collectors. Here's how the cover will look.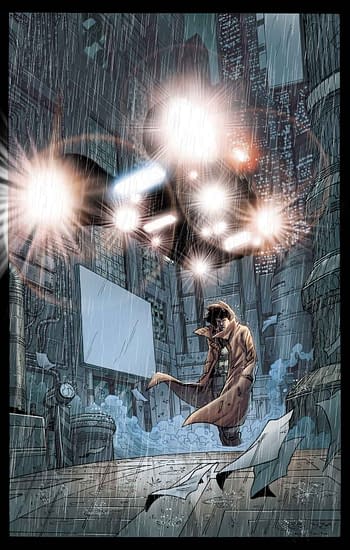 And here's how it might look with a Bleeding Cool neon logo.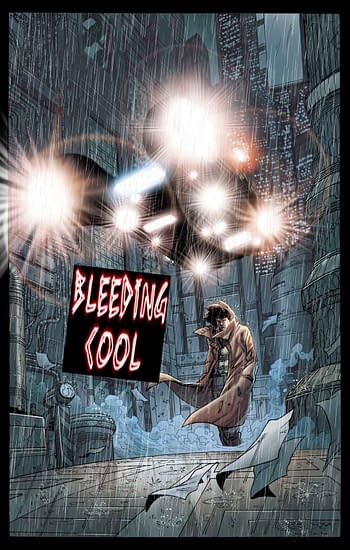 The cut-off date is this weekend for any interested retailers, who want to get in touch with Titan Comics. Happy to pass your details across…
BLADE RUNNER 2019 #1 (MR)
(W) Michael Green, Mike Johnson (A) Andres Guinaldo (CA) Artgerm
In the neo-noir city of Los Angeles, 2019, Ash, a veteran Blade Runner, is grappling with a new case: a billionaire's wife and child, apparently kidnapped by Replicants for dark purposes… An all-new ongoing comic series from the pen of Academy Award-nominated screenwriter Michael Green (Blade Runner 2049, Logan, American Gods), with longtime co-writer Mike Johnson (Batman/Superman, Supergirl, Star Trek), illustrated by Andres Guinaldo (Justice League Dark, Captain America). The first comic to tell original, in-canon stories set in the Blade Runner universe!In Shops: Jul 17, 2019
SRP: $3.99