REVIEW: Terrifics #25 — "Both Good And Bad"
(DC Comics, creative team: Gene Luen Yang, Dan Mora, Ivan Plascencia, Tom Napolitano)
A giant plant-like growth threatens the city and the team has a choice to make in order to stay alive and save everyone. That's where it gets sort of interesting: almost as if Mr. Terrific has been studying dunamancy, he utilizes a new technological toy he's invented to simultaneously explore multiple possible timelines springing from, ultimately, reader decisions. That's where the "story" turns into a choose your own adventure book like the ones popularized during the 1970s and 1980s. That's both good and bad. It's good if you love the nostalgic feeling of whipping back and forth between iterations of the narrative, bad if you realize it shortcuts the storytelling in each, giving limited space for characterization. Some truly offbeat guest appearances are, ultimately, unimportant as the true storyline is a head scratcher that'd even make Grant Morrison shrug in hypertime-ness. Also, fair warning, almost none of the characters on the cover are in this actual issue. It wasn't bad, but it wasn't good either, so … RATING: MEH.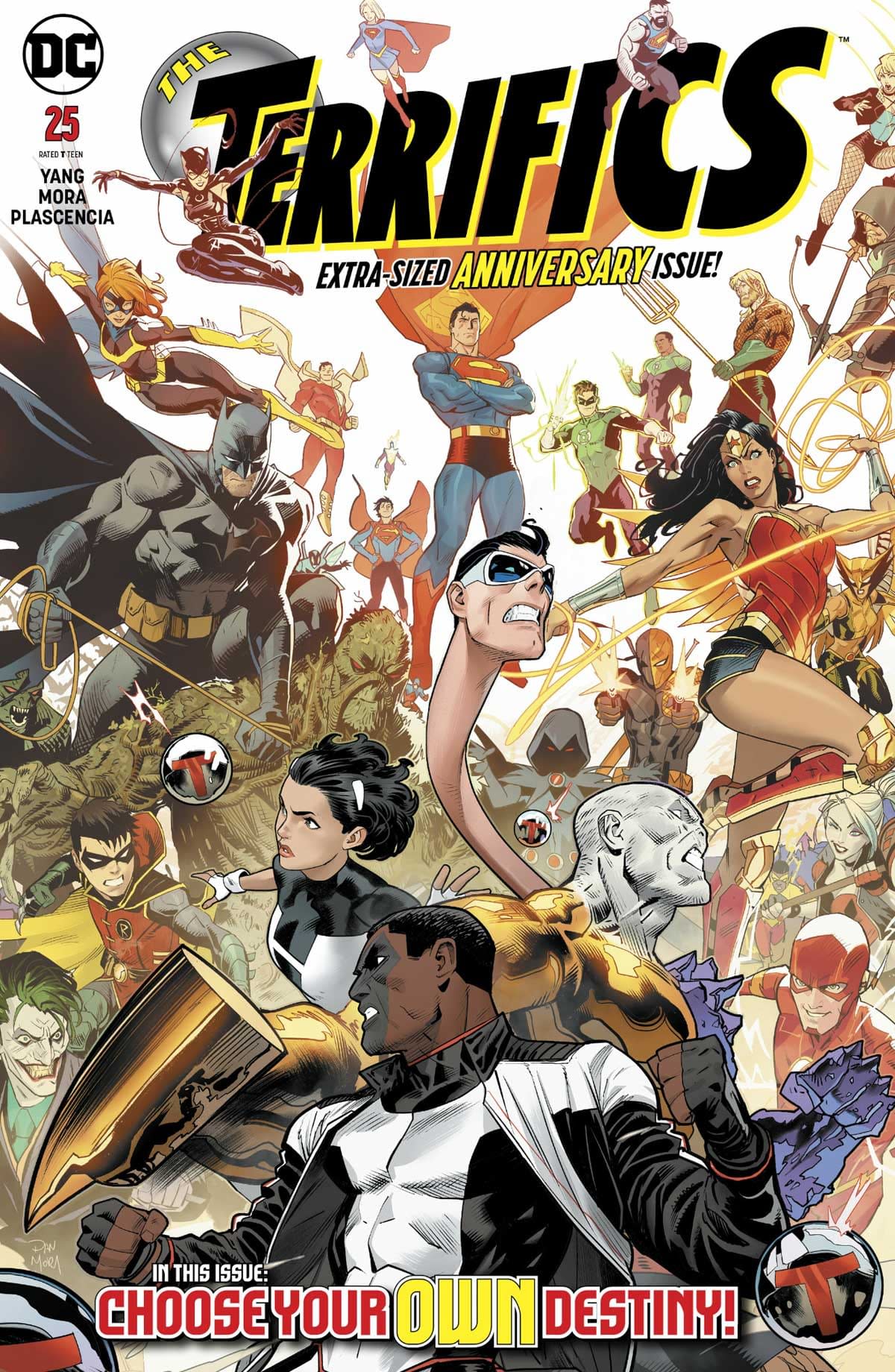 THE TERRIFICS #25
written by GENE LUEN YANG
art and cover by DAN MORA
Choose your fate, choose your action, choose your destiny! In this special extra-sized 25th issue, Michael Holt has dis-covered a deadly hidden enemy, and only a series of life-or-death simulations can bring the threat to the forefront! But when Mr. Terrific lies to his team, how can they trust him again? Don't miss this epic multi-path journey that puts you, the reader, in charge of the story! Pick your ending, but choose wisely! The Terrifics team hangs in the balance!