The organizers behind the 19th International Book Biennial in Rio de Janeiro, Brazil, have taken their battle over the right to display and sell books featuring LGBTQ content to the courts. In an official statement released on Instagram, the largest book festival in Brazil noted:
The Rio Book Biennial filed for a preventive injunction with the Court of Justice of Rio de Janeiro, this Friday (6/9), to ensure the full operation of the event and the right of exhibitors to market literary works. on the most diverse themes – as foreseen by Brazilian legislation.

Consecrated as the largest literary event in the country, the Book Biennial keeps its schedule for the weekend, giving voice to all audiences, without distinction, as a democracy should be. This is a plural festival where everyone is welcome and represented.

Between Friday (6/9) and Sunday (8/9) – the last day of the event – the Biennial welcomes authors, artists, thinkers and academics from Brazil and abroad to participate in 39 panels on various topics, such as fake News, happiness , science, motherhood, theater, trans literature, LGBTQA + and more.

In addition to a whole pavilion dedicated to children, with storytelling, book release and circus shows.
The festival, which concludes tomorrow, hit the global news cycle following a video statement posted to Twitter by Rio's mayor, Marcello Crivella, demanding that trade paperbacks of the 2010 Marvel Comics series Avengers: The Children's Crusade, by Allan Heinberg and Jim Cheung, be censored in black plastic with a content warning because they feature a romantic relationship and kiss between two male teenage characters, Wiccan and Hulkling.
"Guys, we need to protect our children," Crivella, a bishop in the controversial evangelical megachurch Universal Church of the Kingdom of God, said on Twitter. "Therefore, we have determined that the organizers of the biennial collect the books with content unsuitable for minors. It is not correct that they have early access to matters that do not conform to their ages."
Pessoal, precisamos proteger as nossas crianças. Por isso, determinamos que os organizadores da Bienal recolhessem os livros com conteúdos impróprios para menores. Não é correto que elas tenham acesso precoce a assuntos que não estão de acordo com suas idades. pic.twitter.com/sFw82bqmOx

— Marcelo Crivella (@MCrivella) September 5, 2019
An hour after Crivella posted his message, the book had reportedly sold out across the festival. However, Crivella, who called homosexuality a "terrible evil" in his book, Evangelizing Africa, soon escalated the matter, dispatching 15 government officials to scour the festival for inappropriate and "pornographic" material and either confiscate it or place it inside sealed bags.
"The decision to collect comic books at the Biennale had only one goal: to comply with the law and defend the family," Crivella said on Twitter. "According to ECA, the works should be sealed and identified as to their content. In the case in question, there was no warning about the subject matter."
A decisão de recolher os gibis na Bienal teve apenas um objetivo: cumprir a lei e defender a família. De acordo com o ECA, as obras deveriam estar lacradas e identificadas quanto ao seu conteúdo. No caso em questão, não havia nenhuma advertência sobre o assunto abordado. pic.twitter.com/7tePvvM8ab

— Marcelo Crivella (@MCrivella) September 6, 2019
Though Crivella framed his crusade as an innocent effort to protect children from age-inappropriate content, he has not called for books featuring heterosexual romance and kissing to be censored, making it clear that his real target is only LGBTQ content. Crivella's actions were met with widespread embarrassment and condemnation by Brazillian comic book fans on social media in response to the story, many of whom wanted to make clear that his position does not represent the people of Brazil.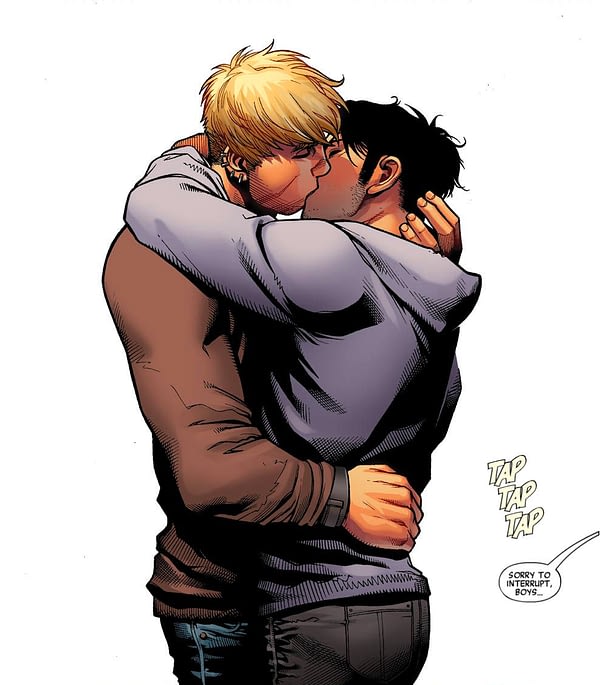 Enjoyed this article? Share it!