Robert Kirkman Makes The Walking Dead a Part of 80s Nostalgia
It hasn't been that long since Robert Kirkman decided to surprise-end The Walking Dead, has it? It seems like it was just a few months ago, but a new tweet from Kirkman, the fourth most famous Kentuckian behind Billy Ray Cyrus, Patty Loveless, and Colonel Sanders is making us question everything we thought we knew.
Kirkman tweeted about the final edition of the Walking Dead Omnibus, writing, "Finally got my copy of the Walking Dead Omnibus Volume 8! In stores soon! Look at this beauty!!" But in addition to the omnibus, the photo Kirkman posted is chock full of wonderful 80s items.
We're seeing a Transformers G1 Jetfire, G1 Springer, M.U.S.C.L.E. men, and toys from MASK, Centurion, Captain Power, and Spiral Zone, a Super Powers Lex Luthor figure, and a pack each of Garbage Pail kids and Alf trading cards. And, if you look closely, also that Walking Dead Omnibus.
Side note: Transformers expert Jesse of Robots With Coffee tells us Kirkman's G1 Frenzy and Laserbeak may be counterfeits, telling us that the colors of the bots in the pack don't look right, and after consulting with fellow expert Peter Chavez IV, suggests it could be a knock-off set from the mid-2000s. What are you trying to pull, Kirkman?! Didn't think our Transformers connections went so deep or that anyone would bother to look into your deception, did you?!
But we digress. In any case, what is Kirkman trying to tell us? Is this a message about where The Walking Dead belongs amongst the pantheon of entertainment properties? Or is he just looking for an excuse to show off his sweet nostalgia collection?
Ok, Kirkman, we admit you've got some pretty cool toys and we're totally jealous. But a real man would open up that pack of Alf cards and eat the chewing gum inside. Post a video, please.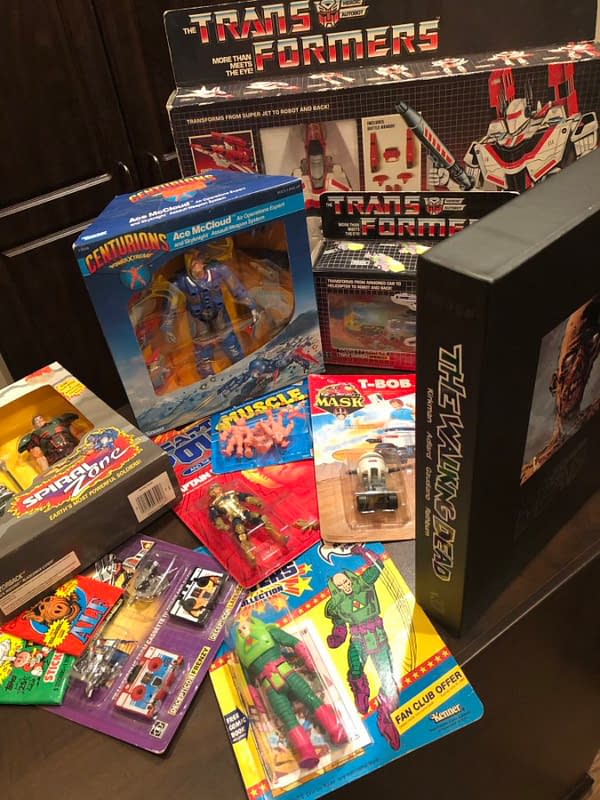 Walking Dead Omnibus Vol. 8 is in stores on November 6th.
WALKING DEAD OMNIBUS HC VOL 08 (MR)
AUG190135
(W) Robert Kirkman (A) Stefano Gaudiano, Cliff Rathburn (CA) Dave Stewart (A/CA) Charlie Adlard
This deluxe hardcover includes 25 issues of the hit series THE WALKING DEAD, along with the covers for the issues, all in one massive, oversized slipcased volume.

Collects THE WALKING DEAD #169-193
In Shops: Nov 06, 2019
SRP: $100.00