Explosive publisher BOOM! Studios has announced a new mini-series set in the world of the fan-favorite Nickelodeon cartoon Rocko's Modern Life, except this time, it's Rocko's Modern Afterlife, as Rocko's hometown has been besieged by a zombie outbreak. Writer Anthony Burch and artist Mattia Di Meo will bring this exciting adventure to unlife, and a press release from BOOM! reveals more details:
Too much screen time was already making O-Town's citizens mindless, but now something is turning them into mindless zombies, and Rocko wants nothing to do with it. He barricades himself and his pup Spunky in their home, determined to outlast the hordes. But desperate times call for desperate measures when Rocko's best friend Heffer becomes infected. Rocko will have to risk everything to save his friends and his city!
Said BOOM! Editor Matthew Levine:
Rocko's Modern Life has always been laced with hilarious social commentary, but now we're taking things up a notch by infusing that humor with a dose of the undead. Anthony and Mattia are crafting a Rocko story like never before and one that can't be missed.
With covers by Ian McGinty and Joey McCormick, Rocko's Modern Afterlife #1 (of 4) hits stores on April 3rd.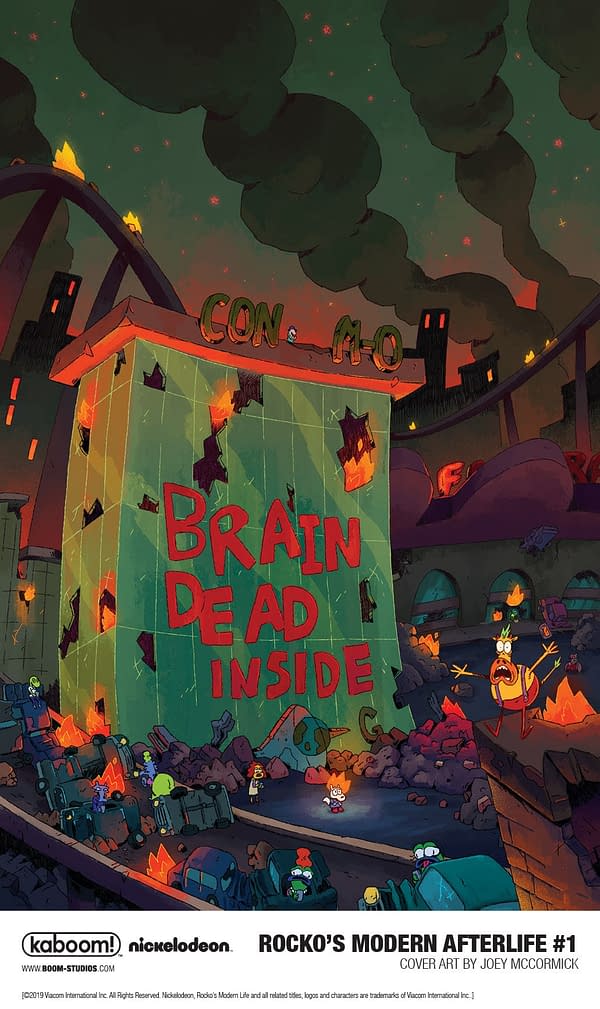 Enjoyed this article? Share it!