Lots of big news announced by David Gabriel of Marvel Comics at London MCM Comic Con 2019's October show, straight from the Diamond retailer meeting. Follow along with our MCMLondon tag for this and many other new stories being announced today.
David Gabriel talked about how the Major X #0 book did very well for them, taking older Rob Liefeld stories and repackaging them inside a new story that tied in with the main series. And it sold like a new comic book, And that's what they are doing with their new series, Savage Avengers. creating a Savage Avengers #0, repackaging older stories as part of a new wraparound that puts them in context with the new series.
So we have classic Uncanny X-Men stories by Chris Claremont and John Romita Jr, featuring wizard Kulan Gath being repackaged with a new story by Gerry Duggan and Greg Smallwood. I mean, it's still not a continuing X-Men series written by Chris Claremont, and Romita is with the other team right now… but who knows where this may lead?
Out in February.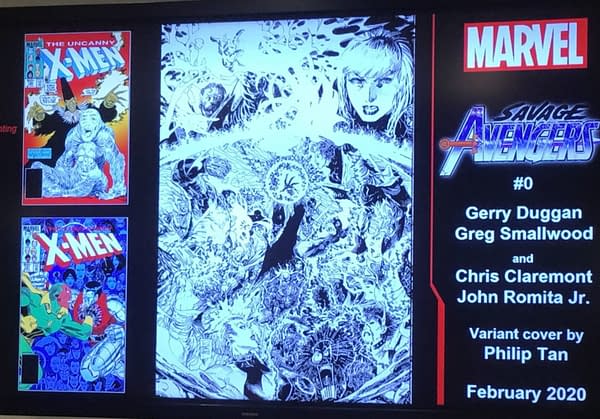 Enjoyed this article? Share it!