Scoundrel #4 Review: A Predictable yet Satisfying Finale
[rwp-review-recap id="0"]
Hector's debauchery reaches an all-time high as his drug use intensifies, he parties every day, and this is all done without the safety net of the family business. Inevitably, he runs out of money, and he must rely on his loyal friend Gus to get him out of this jam, but can even Gus handle where Hector is at in his life?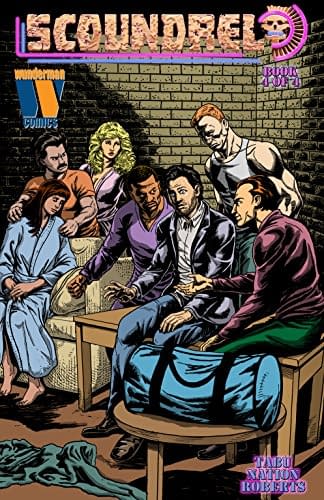 This issue brings Hannibal Tabu and Dug Nation's Scoundrel series to a conclusion. The series ends exactly as one might expect, especially if anyone remembers the foreshadowing opening from the first installment of the miniseries. Hector spins out of control, gets hooked on drugs, runs out of money, and the world collectively punishes him for it.
There is still some tragedy in that. Hector had potential; he is a driven man and far cleverer than he plays. He was born into a successful business, but he still squandered it. It's not a new story, but Scoundrel played it well.
Scoundrel #4 answers one of my criticisms from the first issue. I worried that Gus would play out as a one-dimensional patsy, but he finally gets a moment to stand his ground in defiance of Hector in this issue. This is easily the most satisfying moment of the book and possibly the entire series.
Dug Nation's artwork remains gorgeous. His realistic, detailed, and textured work brings the world of Scoundrel to life excellently. The world still has its own shadowy starkness to it which gives it a distinct visual identity. Josephine Roberts gives the world sharply contrasting colorwork which helps it pop off the page. Both artists do some fine work and give this comic plenty of energy.
Scoundrel #4 has a highly telegraphed ending, but it is well-constructed nonetheless. It still evokes pity and sadness for the place Hector goes in his life, and Gus finally gets a moment to shine. I can recommend this one. Check it out, and, if you haven't been following it, read the whole miniseries. Wunderman Comics aren't as easy to track down as the other publishers, but the entire run of Scoundrel is available digitally on Amazon and Google Books.
[rwp-review-ratings id="0"]
[rwp-review-form id="0"]