SE: NYC'15 – Brian Bendis On Dating Redheads, Making More TV And Killing Hawkeye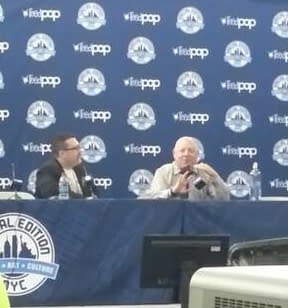 Brian Michael Bendis dropped hints and brags at Special Edition: NYC at his Spotlight Panel, attended by Bleeding Cool reporter Madeline Ricchiuto. She writes,

On announcing that it is Tony in the post-Secret Wars Iron Man book: "We have so many good things coming after Secret Wars we didn't need to pretend it's not Tony."
About the armor itself: "Why do we publish Iron Man? It's a boy and his toys. So this new armor lets him wear all 30 armors at once. And more." The supporting cast will be established Marvel characters from other titles. As will his girlfriend, but Tony will not be dating Kitty Pryde. "Tony really likes Redheads" he hinted.
Powers will get a Season 2. John Wick-ish, faster and darker. "We don't get ratings so it's basically going to be porn", Bendis joked. They are going dark and bawdy, because you can't get dark enough apparently. Bendis was active on production for Season 1, wrote an episode and hung out in the writers room, but will be more involved in production of Season 2. Which will be great if you love Bendis, but in my opinion maybe not so much if you like TV. "Sony wanted me to write more episodes… They want it more like the book and I can do that." Bendis promised it would be different and unique. Which, also in my opinion, is what everyone projects. Like how Marvel will be all new and all different after Secret Wars, but it isn't a reboot and continuity will continue uninterrupted. So. Same old, same old.
"Being at the show, this is the most pants wearing I have done, these last three months." Bendis also bragged about being asked to work on the editorial staff at Marvel. Bendis plans to get to Season 5 of Powers, including the monkey sex storyline. Because of course. A mini-series with Susan is in the works, but Powers the TV show will have a lot more Dean. Susan is the "super power."
Got a plug in for his book on writing, Words for Pictures, which is mostly taken from his lectures as a professor. "It's the class I wish I would have taken and the book I wish I would have had when I started all this." And includes advice from fellow comic writers Matt Fraction, Kelly Sue DeConnick, and others.
Scarlet's latest issues are in the works. Brilliant will be back, and may be a TV show.
Bendis mentioned the honor of writing Spider-Man and Iron Man while discussing the difference between writing for Marvel's mainstream line and writing something like Powers. Apparently his kids' friends think he's cool.
David Fincher almost made a movie based on Torso. Matt Damon, Rachel McAdams, and Gary Oldman would have starred in it and it would have been in black and white, but an argument between Paramount and Fincher canned the project. Apparently.
"At the end of New Avengers #26, what was Clint looking at?" a hopeful fan asked, but got a reply of "Behind the door? And I have a smartass answer for this… I know what is behind the door, but I don't want to tell you… Some things have to be left up to the imagination… I like the conversation that's happening about it."
When asked "Your team books and your solo books seem like different writers to me, so how does your process differ?" he answered "In a solo book, you are following one person, like a novel approach, and you have a confident narrator, one you can rely on… You know they're not lying to you. You can do that with a team book, but you can also do it from an omniscient point of view, or like the reader is an Avenger, and everyone is talking at once. I really like that. One of the challenges is making sure there isn't a character just standing in the background."
He later cautioned a TV-writer attempting to make the switch to comics that while the mediums are similar, they are very different beasts.
When asked "Whats going on with Emma?" he answered "She's here, she and Jean had a great issue just now… Some people want her to just be bitchy, but I like that experience where someone who is bitchy gets knocked down a few pegs… And I know some people like the bustier, but she's more than that to me."
When asked "What would get you to write for DC?" he answered "I look over there to see if there is anything I want to do. And there isn't anything I want to do more than I want to do Iron Man…" And he got into his loyalty to Joe Quesada for putting him on Daredevil. He supposedly turned down working on Star Wars, Indiana Jones, and Batman. Then proceeded to mock Dark Horse for losing Star Wars. "I wouldn't do Batman if I went to DC. I would do Plastic Man. Batman is an asshole." That may be the only thing I have ever agreed with Bendis on.
"The internet kept saying you can't create new mutants, but I kept creating new mutants. Sometimes it's like the internet is full of shit!" Or sometimes the internet knows your continuity better than you do, Bendis.
"I know who is following me on X-Men and I am very pleased. Its very different from what I would do, but I'm very excited. I try not to give the new writers any directions or stories, I just hope for the best."
All we know is that Scott Snyder will NOT be taking over. Which was kind of a no-brainer.
He credited his success in the industry on the creation of Miles Morales. Which is very likely the truest thing said this whole panel.
He also promised to kill Hawkeye every 10 issues.