Seven Secrets #1, The Biggest Creator-Owned Launch Ever From Boom
Ever since Boom Studios announced they were launching the first creator-owned series ever from superstar Tom Taylor – the guy who outsold every comic in the industry with the launch of DCeased – this year to the subsequent Marvel-esque teaser campaign, expectations have been high for this launch – especially after a year with mega-hits for Once & Future (which continues to be hot with speculators), Something is Killing The Children (which is still hot with speculators even at issue #7) and Wynd #1 (which is the company's biggest creator-owned series launch ever). Then we saw two of the biggest names in comics – Scott Snyder and Donny Cates – on the cover of Diamond Previews to talk up Seven Secrets #1, which is a big coup for any publisher.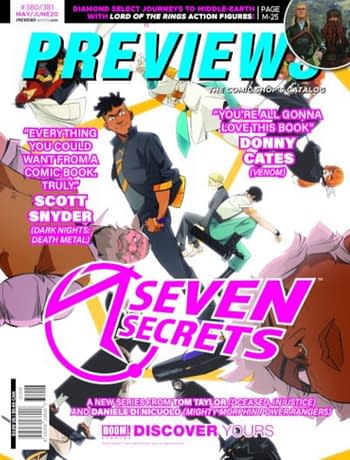 Now I'm hearing that the initial orders for Seven Secrets #1 put it on track to become the biggest creator-owned launch in Boom Studios history – which puts this book potentially in the same sphere as huge Image launches like Hickman & Huddleston's Decorum earlier this year. I'm sure Erik Larsen will have some thoughts on that comparison…
And that information comes on the heels of a lot of buzz from top comics personalities, not unlike what we saw in the lead up to Something is Killing the Children #1 last year – and we know how that turned out.
In fact, Mr. Something Is Killing himself said:
While Dungeon & Dragons' Jim Zub calls it "Saga meets The Invisibles":
DC Comics Editor Andrea Shea joined in with praise:
And The Boys' Darick Robertson is worried you might miss out on something big:
Boom Studios hasn't seen quite a group of creators and comic book people pushing one of their fellow creators' work and is the kind of promotion that Image Comics usually manage to wrangle. And it seems to be working, with preorders looking to top Wynd, Once & Future, Something Is Killing, Faithless and everything else on Boom's creator-owned slate.
Seven Secrets #1 FOCs this Monday with a brand new FOC variant cover by InHyuk Lee and retailers will want to check their orders, as this series has all the signs of selling out multiple times well before it hits comic shops on August 12th.