So Far From Home – The Last Breath Kickstarter
It's funny how a thought can stick with you for years on end only to show itself when you least expect it.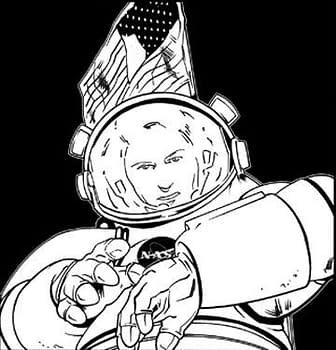 That's what Sam Eggleston thought when he sat down to pen a comic script earlier this year. He knew he wanted to write a one-shot book that he could tell a contained story within and he mulled about several ideas before the idea for LAST BREATH finally popped into mind. With that idea, a script was written, a creative team assembled and a recent Kickstarter launched with the hope of bringing the story to life.
Eggleston was sitting outside of his Little Lake, Michigan home, gazing up at the full moon when the thought of a painting he had once admired in a book came to mind. A painting by award-winning artist Bob Eggleton called "Griffin's Egg" featured two astronauts watching from the lunar surface as the Earth tumbled into war. So far from home. All they could do was watch as their home world tore itself to pieces.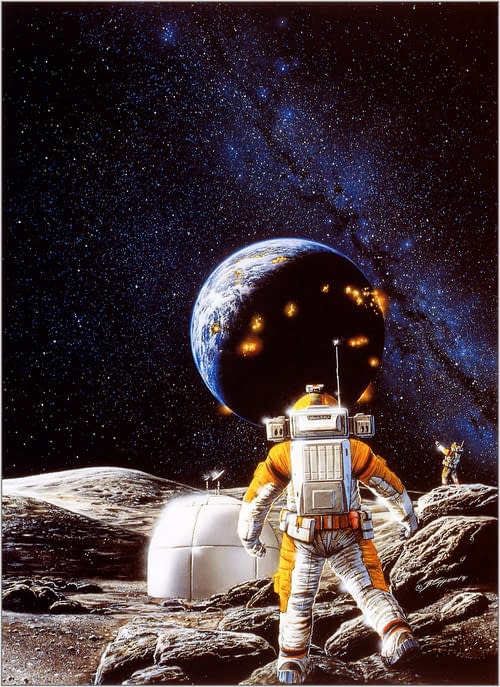 As Eggleston sat and gazed at the moon, the memory of that painting and a thought came to him: What would they even be able to do? Maybe come home, if they had the means, but to what? And what if they didn't have the means? What would their future entail?
And the idea for LAST BREATH was born.
"I just kept wondering what it would be like if you suddenly found yourself trapped on the moon," Eggleston said. "What if you were not only trapped there, a quarter-million miles from Earth, but you were running out of oxygen and your way home was destroyed?"
LAST BREATH is the story of astronaut Jason Gustafson, who finds himself marooned on the lunar surface with no apparent way to return to Earth. His ship home destroyed and his home being lit up from the throes of a nuclear war, Gustafson has to decide if he's going to simply give up, or fight until he can't fight anymore.
LAST BREATH is about fear, anger and, ultimately, hope.
The comic, which features Jason Baroody on pencils, Josh Oakes on interior inks and John Hunt doing letters, is currently raising funds via a Kickstarter campaign. The ultimate goal is $5,000, of which–as of this writing–a total of 36-percent has been pledged.
Hall of Fame inker Mark McKenna has pledge his support to the project and will be doing inks on the cover art.
The creative team is seeking support to complete the pages and send the comic to be printed in order to be sold at local comic shops, online and via the convention scene. The reward tiers run from PDF and hard copies of LAST BREATH to one-of-a-kind commissions, original pages, script writing and editing and custom cover creation and more.
"We have a pretty great group of artists who have helped out on this project and who have put their work up as rewards for the backers of the project," said Eggleston. "There are original sketch covers available as well as commissions by Jason Baroody, Brian Lopez-Santos and Randy 'Rantz' Kintz."
The project runs through August 29 and can be seen here.
For more information about the comic, you can visit the Last Breath Facebook page where you can see some preview art and ask questions of the creative team.