Social Justice, Cosplay, Brief Encounters And Gaming At C2E2 – Plus Photogallery
By Peter G
What's poppin', people? It's Peter G, your favorite Polish manga-ka, and field marshal for the Chicago division of the Bleeding Cool Stud Squad. I have returned from another run through the trenches of C2E2 in Chicago, Illinois. Wondering what you might have missed? Read on, true believer…. HEY HEY WHAT CAN I DO – One of the things that distinguishes C2E2 from, say, Wizard World, is the show's interest in progressive policies. I have a friend who works as a booth babe. One year, while she was in costume, she was heading for the bathroom, and some dipshit grabbed her tits as she passed. A veritable dragnet started, and the guy was found and caught (he didn't resist, which means he didn't win a trip to Area 2, but at least he didn't get away with it). The following year, C2E2 specifically spelled out a zero tolerance policy on sexual harassment. "If it's illegal outside the convention hall, it's illegal inside the convention hall."
C2E2 also features a convention security force that seems to be made of ninjas. Last year, Marvel's booth had giant blow-ups of their upcoming comic covers. Someone decided he wanted the Guardians Of The Galaxy piece and grabbed it off the wall. Security pinched him before he got to the intersection.
This year, C2E2 decided to go for more of a social justice angle by bringing in Carrie Goldman and Chase Masterson, founders of the AntiBullying Coalition. Goldman is a blogger who writes for sites like NPR, ABC Radio, MSNBC, CNN, and Babble. She also has a blog on ChicagoNow, where she chronicles raising her daughter. Three years ago, her daughter, then in the first grade, was bullied in school for being a Star Wars fan because "Star Wars is for boys." Goldman wrote up the whole thing on her blog, and the story went viral with thousands of messages of support for the girl. Among those who reached out to her was Chase Masterson from Star Trek, who said she'd been bullied when she was a kid. Goldman decided to spend the next two years researching bullying in the geek community, and Masterson was one of the first people she talked to. After Goldman's book Bullied: What Every Parent, Teacher, And Kid Needs To Know About Ending The Cycle Of Fear was published, she and Masterson formed an alliance to help spread the word about antibullying measures, what people can do, and to help kids being bullied know they are not alone, a hand reaching out of the darkness. They have appeared at San Diego, New York Comic Con, and now, an appearance in this wonderful city I call home.
Or maybe not so wonderful, for reasons I will get to anon.
The ABC booth was appropriately in the Fan Community area, as fandoms have become ripe breeding grounds for bullying. The booth is where people can basically come and talk about being bullied, participate in their "I Am" campaign where people hold up a markerboard with "I Am" and some personal affirmation (among the celebrities who participated are Hulk Hogan and the forever cool Seth Green), and write messages of support. You wrote some message on this cards about the size of a business envelope, and it was hung on the wall behind them. After the show, they take the cards down and give them away to kids at the schools they talk to, to give them hope that others care and that things get better, that they are not isolated and nothing is wrong with them. Mine was either the second or the third they put up, and I put mine in the top left corner.
They run workshops and hold panels where people share their wisdom and experiences. The panels they did in San Diego and New York had hundreds of people attending.
C2E2? My fellow Chicagoans? Maybe 25 people total. That's pathetic.
I stopped in as the weekend progressed to keep an eye on the board. At least it filled, so enough people cared. They just cared remotely is all. MISSING IN ACTION – Once again, DC Comics didn't have a presence on the floor, ceding a blue ocean to Marvel. I mean, Future Dude had a booth there. Papercutz had a booth there. Boom!, CCP, Devil's Due, but no DC again.
Also missing that was there last year was Chicago-local High Voltage Studios.
One that I didn't notice was missing until after the con was the battalion of massage therapists who set up shop there and at Wizard World. I wasn't as disappointed as my feet were.
STAIRWAY TO HEAVEN – There was something a bit odd about the floor this year. Not the show layout, but where the show was held.
The building C2E2 was held in this year is the one with the McDonald's and Connie's Pizza right underneath the floor. The last time it was held in this building, the staircase in the middle of the floor took you right down to it and back up. But this year, the con was across the walkway, and the ticket booths were there instead. If you didn't feel like running the goofball staircase setup, you could simply go around the back of the ticket area. The staircase was there in the middle of a completely empty convention hall without a soul around, making me wonder if I'd stumbled into The Stanley Parable.
The most curious thing about the setup, however, was the floorspace outside Mickie D's and Connie's. Every time I've been there, there has been a flotilla of tables outside both eateries. This year, the floors were completely open. You sat at a table inside, or you sat on the floor (well, for the most part. The press lounge gracefully let you bring your food inside as long was you didn't get obnoxious). So, on Saturday, not only was the entire downstairs area ringed with people grabbing a snack, but the line for McDonald's stretched out its door and to the staircase atrium. COMMUNICATION BREAKDOWN – The parking ticket validation machine talks like it escaped from the web show Spodermen.
COSPLAY CONFIDENTIAL – According to my highly unscientific observations, there was a sort of tie for most popular male costume. As this is Chicago, there was a huge Doctor Who contingent. But that was pretty much across the board – about half were the Matt Smith Doctor, and the rest combined made up the other half. Especially fun was seeing people as Doctors 5 through 7. Challenging the Doctor for domination was Deadpool. LOTS of Deadpools, some with twists like wearing the sherif's outfit from The Walking Dead, but mostly just straight Deadpool. (Judge's Ruling – I am not counting the guy in the Doctor Whooves fursuit. Grey area, but I'm disallowing it.)
For the women? I think I have to give the edge to characters from Disney's Frozen, although Poison Ivy put up impressive numbers. A good selection of Harley Quinns, but still a lot fewer than I'm used to seeing.
Quite a few Transformers, including one guy who went all out to make a Bumblebee from the Michael Bay movies. Others were more in line with the animated series. There were also a good number of fursuiters there. Temperatures in Chicago plummeted on Saturday and Sunday. Usually, I feel sorry for people in those costumes because they can overheat easily. This time? They were ahead of the curve.
Twentieth anniversary of Sailor Moon, and the Sailor Scouts were represented. Also a fair number of Ariel, The Little Mermaid, one in the outfit after she became human while trying to win over Eric, but lots with mermaid dresses. So as far as I was concerned, it was a pretty good weekend.
I would say this year had a much more diverse crowd of cosplayers. You had the standard Batmans, Black Cats, and such. But I also saw lots of characters including Kiki, Spider-Thor (yes, you read that right), TheGreatest American Hero, Little Mac from Punch-Out, a Slenderman, Teenage Mutant Ninja Turtles, and Axe Cop. There was a marked decrease in humanized ponies and zombies. And I saw only one Slave Girl Leia. Whether that's good or bad is up to you.
I'm still debating if that one guy I saw just dressed casual or was cosplaying as Walter White. NOBODY'S FAULT BUT MINE – On the Random Chat Thread, there was a discussion about Amanda Conner, and one of the little facts that came up was that she was supposedly the model for Bill Sienkiewicz, the guy who did Stray Toasters and whose name just made my spell checker crash, when he was doing the Elektra: Assassin. It was one of those things that I wasn't sure I could buy. I mean, strange stories on the Internet are a dime a dozen.
Conner was there. Identifying myself as a writer for Bleeding Cool, I asked her if she really was the model for Elektra: Assassin.
Her answer? For issue 4 on, yes. Before that, no.
…so I'm not sure if that means I win the bet, lose it, or if it's a draw. BRING IT ON HOME – Vivek Tiwary was there, hanging out at the Dark Horse booth. He was supposedly there to sign copies of the graphic novel of his dream project, The Fifth Beatle. I suspect he was actually there because Dark Horse had a really nice floor – there was an extra bounciness to the carpet there that was Heaven on your feet. I was a bit sad I didn't have a project at Dark Horse so I could stand there all weekend.
Interest in his movie version of The Fifth Beatle is really high. High enough, C2E2 gave him a panel to discuss it. They have started casting, and they are on track to begin shooting in spring of next year. Great guy, I wish him the best of luck.
WHAT IS AND WHAT SHOULD NEVER BE – It was one of those once in a lifetime moments.
One person there was cosplaying as Sho Nuff from the movie Barry Gordie's The Last Dragon. I saw him, and I just froze. As he posed for pictures and played the part, I came up to him.
Excuse me, can I get a certain picture from you?
"What do you have in mind?
You probably aren't going to believe this, but I just happen to have The Last Dragon movie on my tablet. I would like to get a picture of you holding it with it showing one of Sho Nuff's scenes in the movie.
"Sure."
Others taking pictures heard this. As I fired up my tablet, people were looking over my shoulder, probably because they couldn't believe someone just happened to have the movie with them.
It took me a minute to find it (I had filed it under The Last Dragon, not Barry Gordie blah blah blah), but I did. And as he held up the tablet in triumph, lots of people got pictures of this moment of supreme serendipity. I doubt anything like this will happen to me again, unless Rebecca Staab turns up at a show (I have the Corman Fantastic Four on my tablet, also). THE SONG REMAINS THE SAME – I have 27 different game systems, and for some, I have complete collections of every US title released. Every unit Atari ever made, every unit Sega ever made, and lots of others.
I mention this because of a multiplat game called Puzzle Quest. It holds the distinction of the being the only game I have ever sold back to the store. The game cheats like a mother, and I couldn't wait to be rid of it.
Well, Marvel was handing out cards hawking their own custom branded version of Puzzle Quest.
No thank you. TEN YEARS GONE – Video games were well represented at C2E2 this year. Besides massive LANs set up for playing Titanfall, Chicago-based Reading With Pictures was holding a fundraiser where you got to face off against industry pros like Mark Waid and Jimmy Palmiotti in an old school video game tournament. Donkey Kong. Frogger. Pac-Man. (Always remember – the cool kids played Time Pilot.)
Also there was Extra Life, with their special gaming fundraiser for Children's Miracle Network Hospitals. You register at their site, select your local (for Chicago, that would be the Ann And Robert H Lurie Children's Hospital), and ask your friends and family to sponsor you for $1 an hour. Then, on October 25, you game for 24 hours.
My personal record is playing Columns for 27 hours straight. I'm thinking I can do this.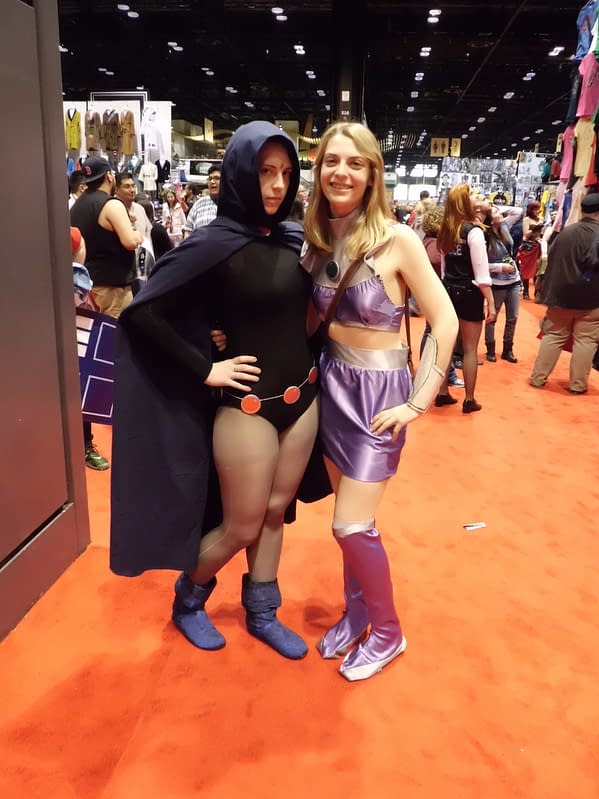 HOUSES OF THE HOLY – A number of podcasts were there to spread the word of their shows, and among them was Radio Free Asgard. Hosted by a couple of great guys who are major Thor fans, the show deals with the character, the history, the mythology/religion, anything Thor. Very nice, very friendly, I wish them well.
Also there was the podcast One Shot. It's a group of comedy folks to role play as characters playing RPG's. For example, one of their AD&D sessions, a guy was in the character of Batman. They are likewise very swell people and a lot of fun.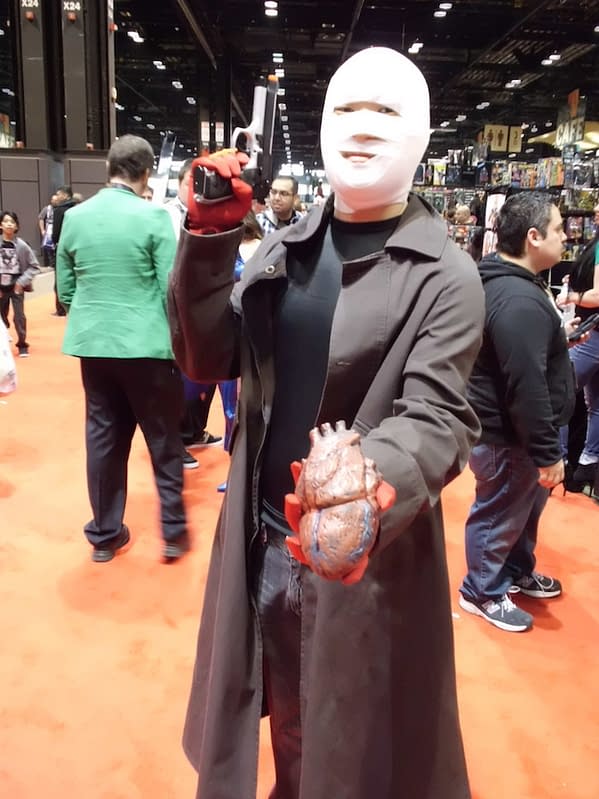 WHEN THE LEVEE BREAKS – Working on expanding awareness of her writing was Lauren Jankowski. She has created a book series called The Shape Shifter Chronicles, following a woman named Isis who discovers she is one of these shape shifting beings and trying to combat the incoming forces of darkness. She has three books in the series so far, Sere From The Green, Through Storm And Night, and From The Ashes, and they are available on Amazon, CreateSpace, and Smashwords. If you like empowered women who can kick ass, you'll want these books.