Steve Rude on the Future of Nexus, Not Working for Marvel or DC, And Starting YouTube Tutorials
Legendary comic book creator of Nexus, Steve Rude, has published a new newsletter, where he lays down his view of the current comic book industry, expectations of him and what he is working on right now.
When it comes to more Nexus, he writes that "the Nexus work I want to be working on doesn't have an acceptable script so far" but also that he is "doing experimental work on the proposed Nexus animated series. Fun and challenging" alongside "working on a You-Tube presence by way of tutorials on how I work."
But as for not working for Marvel and DC Comics, he lays that out too.
"Since my rejection back in July from Marvel, reasons that remain vague and somewhat suspect in accordance with companies' claim to hire the most trusted people for the job, I haven't worked consistently for any major company since."
He notes that "having the rep as a "troublemaker" who refuses to endorse rigid company mandates hasn't helped", specifically "such infringements that I'm guilty of include tiny "copyrightable" in-jokes, or drawing certain "living or dead person" likenesses to help reinforce the point of the story. To the people who now run DC comics, this apparently means anything, including some obscure trademark on the bottom of one's shoes."
Well, DC Comics do have a history when it comes to shoe trademarks. After suing DC Shoes for trademark infringement, losing, being sued back again, losing and having to pay out a hefty sum every year until they changed their own logo…
And he gave one example from his pages for DC's Action Comics #1000, "When I was specifically asked to take over Superman in Action comics by a top DC editor, I was quickly informed never to include anything that violates DC's regulations about copyrighted material–things like my pinky-sized image of Elvis in my recent Man of Steel pages–ever again. The way this editor presented this berating seemed on par with, I swear, blowing up the Empire State building."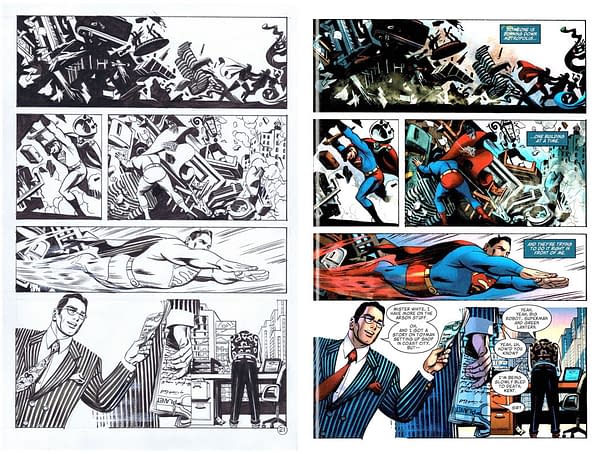 Anyone want to play a game of 'Where's Mighty?'
And he asks "If I was drawing a Civil War story, and wanted to include Abraham Lincoln, would I have to remove his black waste coat, top hat, and trademark facial hair to avoid infringing on his likeness? Since when did the mega world of corporate-backed comic publishing descend into becoming victims of harmless trivialities?"
When the Elvis Estate went had trademarked his likeness, probably. Lincoln just didn't have the lawyers. He also looks to what he sees as "DC and Marvel, in perpetual "reinvention" of classic characters. Why? Rather than deal with the characters as they were meant to be, dutiful writers are required to slash important historical roots and resort to the superficial. In these times, that would most likely mean giving our noble white male heroes a gender-change and cursing like a rapper."
So, Steve is moving on and his first full YouTube tutorial premieres next Friday for free over here, or now if you are on his Patreon.
or see it now on his Patreon for $5.
And you too can sign up to Steve Rude's newsletter right here... and see everything else he is planning.