Superman No Longer In The Justice League? Shazam/Blue & Gold Spoilers
Today sees the publication of Justice League #65, Blue & Gold #1, Shazam #1, and Superman And The Authority #1 – and questions regarding Superman's place in the Justice League are being raised. That's Clark Kent Superman, of course. In the Superman titles, it looks as if Jonathan Kent is going to take over the Superman role while Clark Kent is… elsewhere. Maybe on WarWorld like in Future State? Maybe somewhere else? And different books are reflecting different realities right now.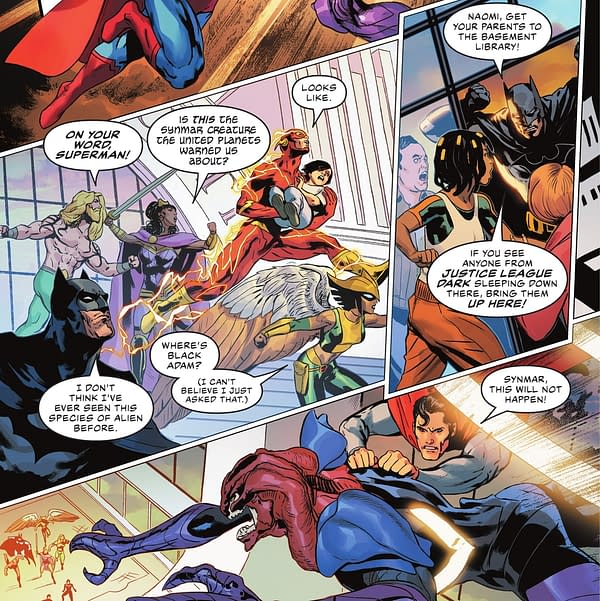 Justice League #65 has Superman front and centre in the new Justice League alongside the new Brian Bendis crew.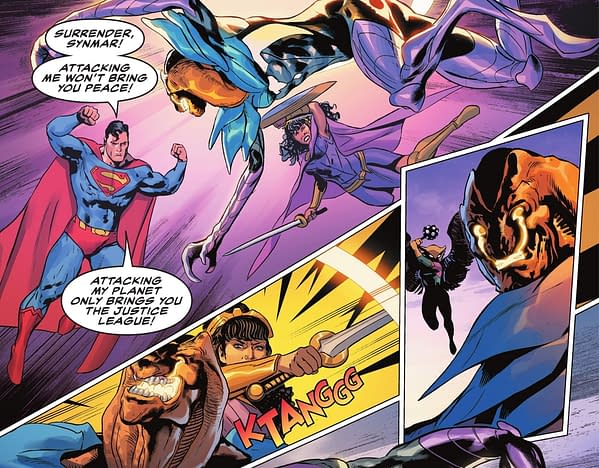 While in Blue & Gold #1, we have the same Justice League team…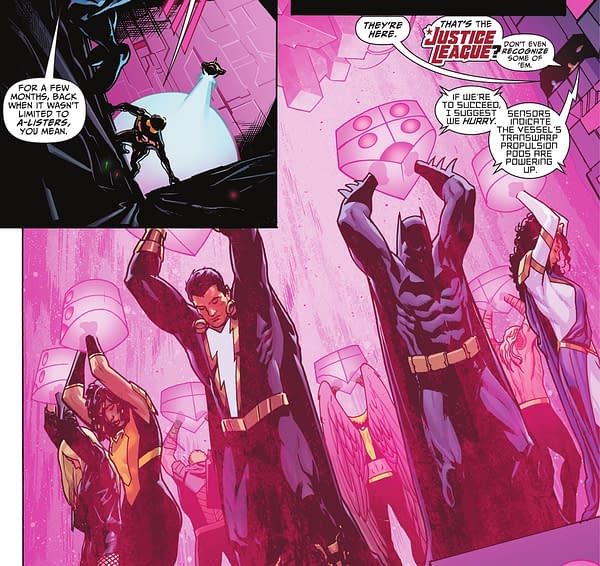 … except there is a specific missing person.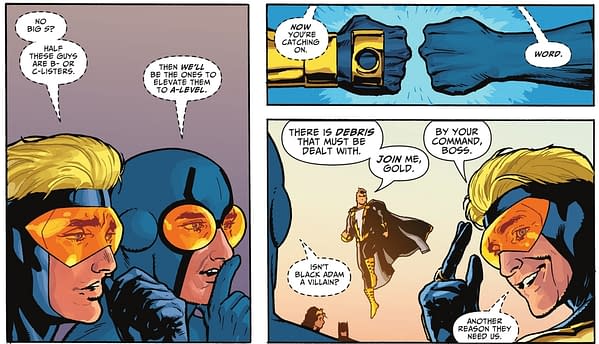 No Superman? Maybe he's busy – or perhaps this will be reflecting an upcoming status change in the DC Universe. Because in Shazam #1, Jonathan Kent is now being referred to as Superman.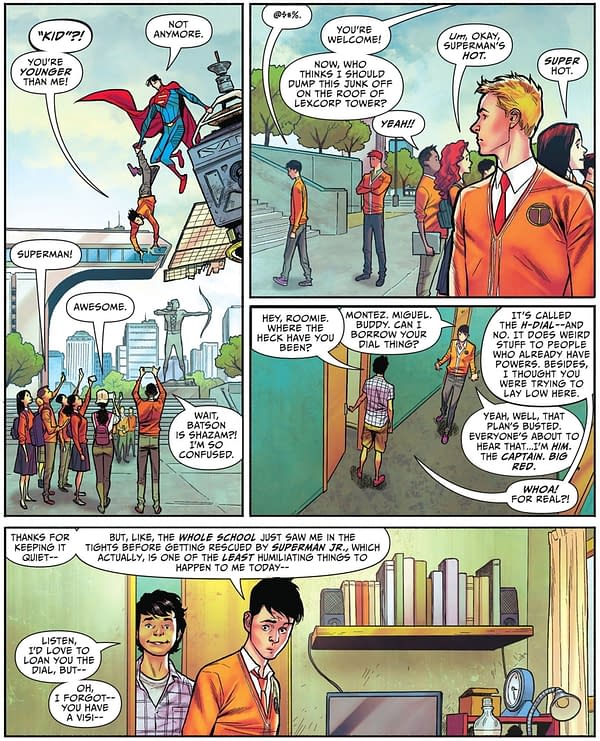 Or, at least, Superman Jr., While the Superman in Superman And The Authority does appear to be a Superman on a different timeline, potentially one with Kingdom Come traits. And a very different relationship with the Justice League.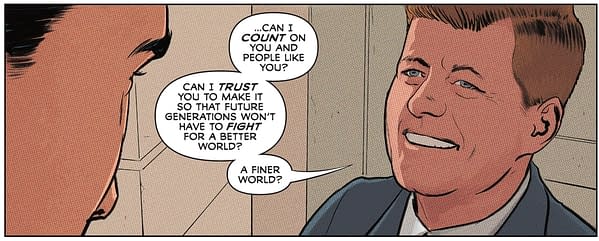 This Superman was inspired to form the League by JFK and following on a promise made.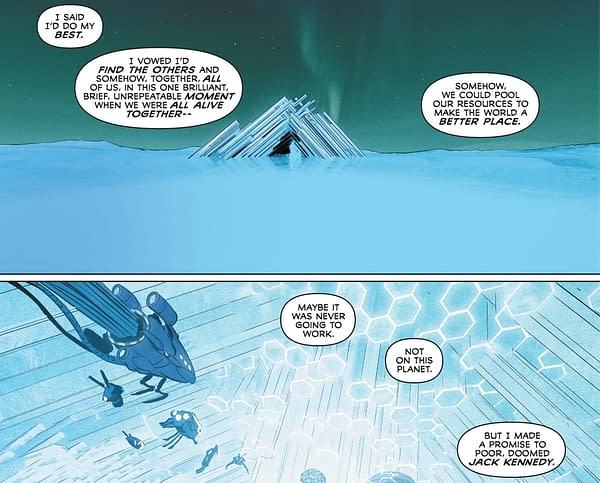 But it didn't seem to work out. It turns out being Superman in a Justice League isn't the be-all-and-end-all.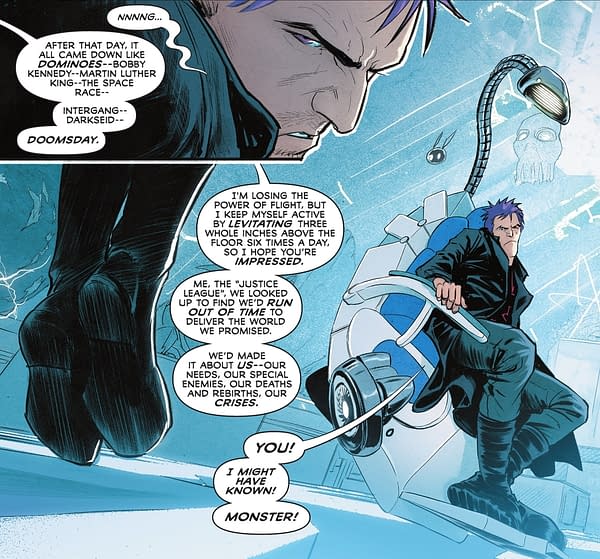 With Manchester Black, created as a parody of Jack Hawksmoor and Jenny Sparks of The Authority combined for Superman comic books, to be defeated by Superman, now being used in a Superman comic book to revive The Authority as a new Justice League by this Superman.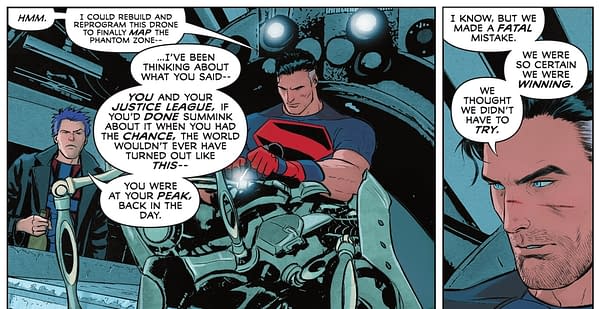 It is weird.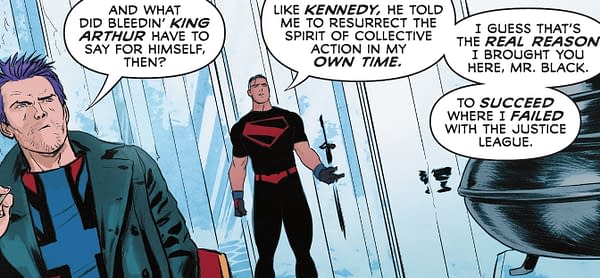 It turns out with lesser power; there must come lesser responsibility.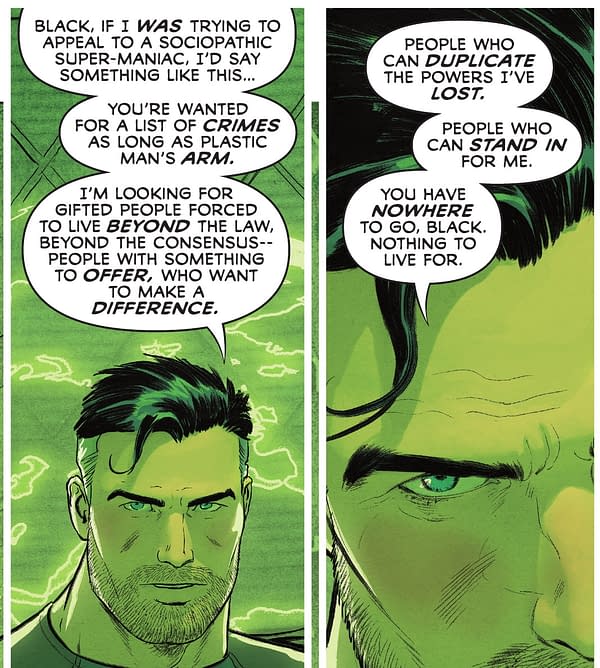 And they're putting the band back together. Those who are available, of course…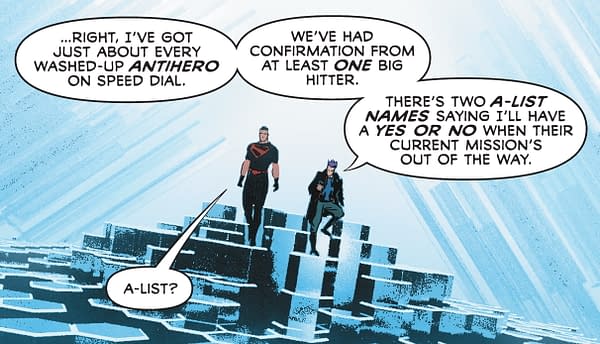 A Justice League without Superman – and a Superman without a Justice League. Welcome to DC Comics' Infinite Frontier…
BLUE & GOLD #1 (OF 8) CVR A RYAN SOOK
(W) Dan Jurgens (A/CA) Ryan Sook
Desperate to regain the spotlight, Booster Gold looks to attract the public's (and Justice League's) attention the same way any washed-up, second-rate hero would—social media. The not-so-tech-savvy hero from the 25th century enlists the help of his best friend, Blue Beetle, who possesses both the money and the brains to help his old pal navigate the scary world of internet influencers. Watch out, evildoers, our heroes are live and online! Don't miss Dan Jurgens's triumphant return to Booster Gold with the help of all-star artist Ryan Sook (Legion of Super-Heroes), telling a tale filled with heart and maybe even redemption for DC's two favorite underdogs!
Retail: $3.99 In-Store Date: 07/20/2021

SHAZAM #1 (OF 4) CVR A CLAYTON HENRY
(W) Tim Sheridan (A/CA) Clayton Henry
Billy Batson came to Titans Academy looking for answers. Why was the rest of his adopted family cut off from the power of Shazam? Why are his own powers becoming increasingly unreliable? The answers send Billy on an outrageous adventure that'll not only change him but have an immense impact on the school and other students on Titans Island.
Retail: $3.99 In-Store Date: 07/20/2021

SUPERMAN AND THE AUTHORITY #1 (OF 4) CVR A MIKEL JANIN
(W) Grant Morrison (A/CA) Mikel Janin
Sometimes even Superman finds a task almost impossible. Sometimes even the Last Son of Krypton needs to enlist help. Some tasks require methods and heroes that don't scream Justice League. So Clark Kent, the Metropolis Marvel, seeks out Manchester Black, the most dastardly of rogues, to form an all-new Authority tasked with taking care of some business on the sly. Not only will Black know the right candidates for the team, but if Superman can make him behave himself and act in service of the greater good, then he'll prove literally anyone can be a hero! They'll have to move quickly, however, as the Ultra-Humanite forms his own team to take out the Man of Steel. This new limited series helps launch an all-new Superman status quo, setting up story elements that reverberate across both Action Comics and Superman: Son of Kal-El in the months to come. And not only is Superman putting together a superstar team, but it takes superstars to tell the tale: Grant Morrison (The Green Lantern, All-Star Superman) and Mikel Janin (Batman, Future State: Superman: Worlds of War)!
Retail: $4.99 In-Store Date: 07/20/2021

JUSTICE LEAGUE #65 CVR A DAVID MARQUEZ
(W) Brian Michael Bendis, Ram V (A) Steve Pugh, Sumit Kumar (CA) David Marquez
The Justice League heads to deep space, on the trail of the most dangerous new criminal in all the galaxy. The biggest threat to the United Planets is on the loose, and no one in the cosmos is safe. Meanwhile, on Earth, Checkmate breaks into the Hall of Justice looking for clues to Black Canary's secret affiliation. What secret affiliation, you ask? It's a secret, duh! All this, and Black Adam declares himself leader of the League. Plus, as the Justice League Dark plans their next move, Batman makes his in Gotham. An ally from Etrigan's past holds the key to saving the present, but to retrieve it, the League and the Eternal Knights must venture deep into his twisted dreams. Little do they know, Randu Singh's mind is a maze that they could end up trapped in for good! Retail: $4.99 In-Store Date: 07/20/2021