Ta-Nehisi Coates to Leave Black Panther After Issue #25
At the Next Big Thing Panel at C2E2 Saturday, Marvel announced that Black Panther #25 will be writer Ta-Nehisi Coates' final issue on the series. It's something we saw coming with the Intergalactic Empire of Wakanda storyline wrapping up, but big news nonetheless. Will Marvel bring a new writer on to pick up with Black Panther #26? Or is it time for a relaunch? Either way, it's big news.
Oh, who are we kidding. It's Marvel in 2020. Definitely a relaunch.
No follow-up creative team was announced at the panel. Bleeding Cool Ace Reporter David Pierce was on hand to send us the big news along with a photo of the cover to Black Panther #25. Stay tuned for more news from the Next Big Thing panel.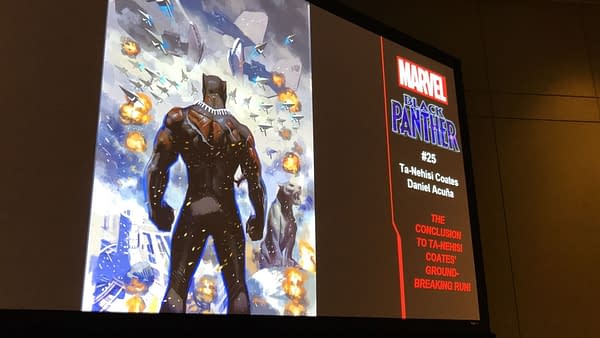 UPDATE: Marvel sent the official solicit out to compliant media partner sites (those are the ones that don't send their con reporters to ask about Wolverine's two dicks).
Black Panther #25
Written by Ta-Nehisi Coates, Art by Daniel Acuna
THE FINAL ISSUE OF TA-NEHISI COATES' LANDMARK RUN!
It's the end of an era for the Black Panther as renowned writer Ta-Nehisi Coates concludes his Wakandan epic! Over four years, Coates has taken the Black Panther to hell and back and expanded Wakanda into the distant stars. Now, in his final issue, he brings T'Challa full circle, back to the home he left behind…and the crown he has never fully accepted. This is the story of a king who sought to be a hero, a hero who was reduced to a slave, a slave who advanced into legend…and the man who has struggled to hold up an empire in his bare hands. The journey will conclude, but the legend remains. Don't miss the close of a historic epoch in comic history!
On sale June 2020