Tales of Suspense #102 Review: Poor Plotting, but the Chemistry Saves it
[rwp-review-recap id="0"]
Tales of Suspense #102 kicks off with the Winter Solider and Hawkeye taking former Black Widow Yelena Belova back to her apartment for interrogation. Once the questioning proves unfruitful, they tail her to her next location. Things don't go as planned, though. Clint and Bucky must chase down other leads to discover if Natasha Romanoff is really alive.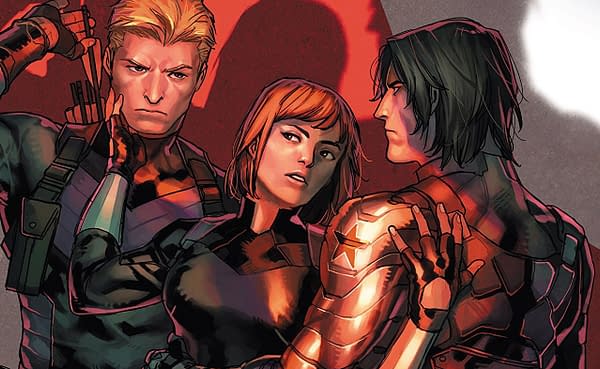 After the dramatic reveal of Yelena Belova, one would hope that Tales of Suspense has something significant planned in the follow-up. Unfortunately, this is far from the case, and any significance this character could bring is cast aside shockingly quickly.
In reality, the plotting of this story is nakedly playing for time. Bucky and Clint chase down lead after lead that go nowhere until the stinger page at the end. It doesn't really go anywhere.
Tales of Suspense #102's saving grace is that the dialogue and chemistry between the Winter Soldier and Hawkeye is phenomenal. Watching these two pick at each other could possible never get old. From Bucky ragging on Clint for stealing Yelena's leftovers, to Clint ragging on Bucky for being less popular than Robin, this book left me grinning throughout.
Plus, despite going effectively nowhere, Tales of Suspense has proven to be very adept at maintaining a brisk pace and decent tension. You don't feel bored, and the stakes feel high, even if you have an idea of how this is all going to end. It's impressive given how asinine the majority of this issue is.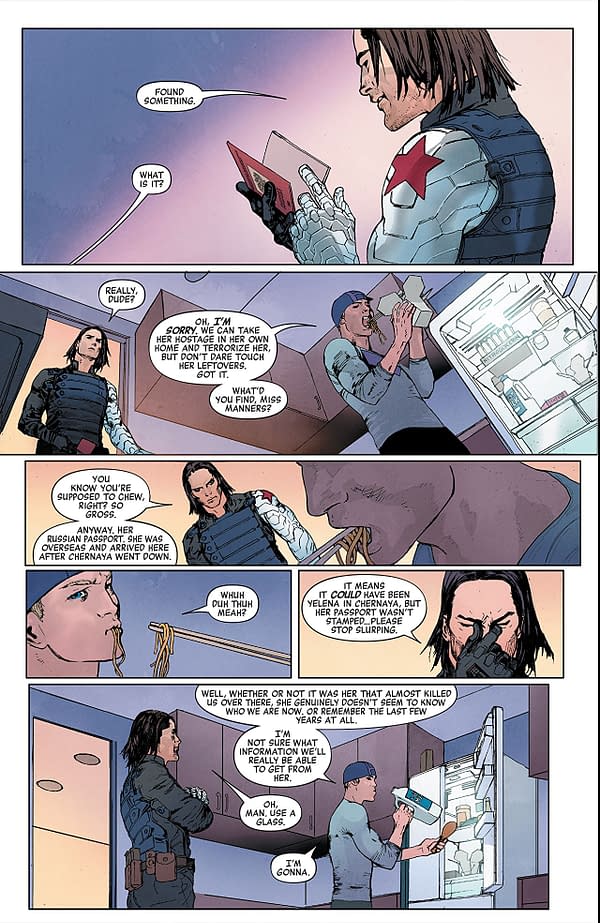 Travel Foreman continues to bring a gritty, realistic, yet fluid world to this comic. He is great at displaying expression and action, and the comic benefits greatly from his presence. Meanwhile, Rachelle Rosenberg's color art gives the world a cold and hostile atmosphere very fitting for the overall story.
While Tales of Suspense #102 goes effectively nowhere until the final page, the interplay between Bucky and Clint keeps the comic highly entertaining, and the art from Foreman and Rosenberg keep the comic visually appealing. The tension and pacing keep the story from dragging, and it still manages to earn a recommendation overall. Pick this one up.
[rwp-review-ratings id="0"]
[rwp-review-form id="0"]