Kieron Gillen is working with Caspar Wijngaard on a new Peter Cannon: Thunderbolt comic book from Dynamite, out in January.
We found ourselves in the restaurant at the Portrait Gallery, just off London's Trafalgar Square. It seemed high enough to symbolise the Himalayas. And there was wine and cheese available…
The character debuted in Peter Cannon … Thunderbolt #1 in 1966, part of Charlton editor Dick Giordano's "Action Heroes" superhero line. Created by Pete Morisi, a New York City Police Department officer, Peter Cannon was inspired by the 1940s Daredevil character – indeed Morisi unsuccessfully tried to buy the rights to Daredevil first – he was, unusually for the time, creator-owned.
"Peter Cannon, orphaned son of an American medical team, was raised in a Himalayan lamasery, where his parents had sacrificed their lives combating the dreaded Black Plague! After attaining the highest degree of mental and physical perfection, he was entrusted with the knowledge of the ancient scrolls that bore the secret writings of past generations of wise men! From them he learned concentration, mind over matter, the art of activating and the harnessing the unused portions of the brain, that made seemingly fantastic feats possible! Then he returned to America with his faithful friend, Tabu, and sought out a new life, in a new land, that required the emergence of Peter Cannon… Thunderbolt."
The character appeared in DC Comics titles, first in Crisis On Infinite Earths in the eighties, and then his own series in the nineties from Mike Collins, it took until 2012 for Dynamite to revive the title. And now in 2019 he is back, from Kieron Gillen and Caspar Wijngaard.
PETER CANNON THUNDERBOLT #1
(W) Kieron Gillen (A) Caspar Wijngaard (CA) Sean Phillips
His level of genius is matched only by his heroics, and in humanity's darkest hour, he's the hero they need the most-alas, poor humanity. Peter Cannon-the man known as Thunderbolt-is only too happy to leave civilization to face its end. Kieron Gillen (The Wicked + the Divine) teams up with powerhouse artist Caspar Wijngaard (Doctor Aphra) as he returns to the superhero genre with a dark, humorous and relentless love song to the genre.
Well, "Love Song" in a Leonard Cohen Love Song kind of way. Peter Cannon, Thunderbolt: saving a world he hates.In Shops: Jan 16, 2019 SRP: $3.99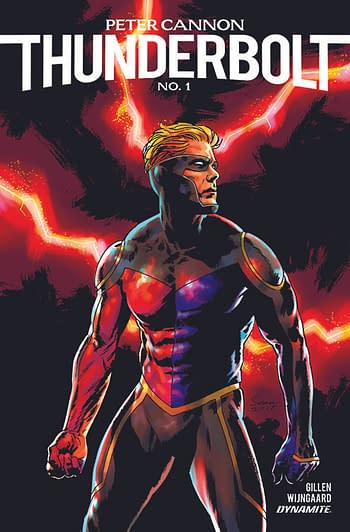 Enjoyed this article? Share it!