Marvel has revealed a new variant cover for July's Infinity Wars Prime #1 by legendary comic book artist George Perez. Perez was the original artist on the Infinity series that started it all, 1991's Infinity Gauntlet, though Perez was unable to complete the project due to various factors and was replaced by Ron Lim. The Infinity Gauntlet has seen many sequels over the years, both from original writer Jim Starlin and from unrelated Marvel rehashes, all trying to capture the magic of the original super-mega-crossover event.
With the smash hit film Avengers: Infinity War currently in theaters, Marvel is riding that wave of popularity with yet another sequel, Infinity Wars Prime. In the variant cover, Perez and colorist Richard Isanove depict Thanos, the villain (or hero?) of the film. Check it out below: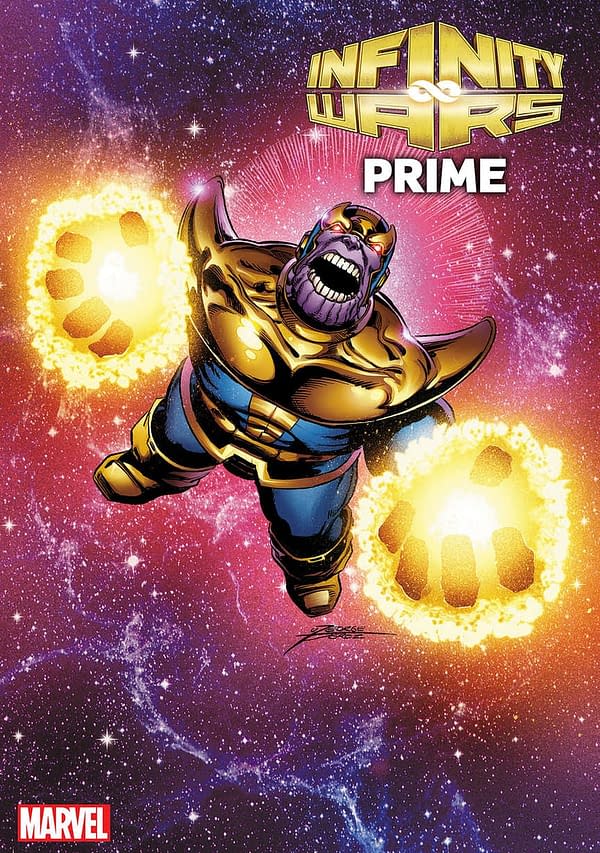 INFINITY WARS PRIME #1
Written by GERRY DUGGAN
Art and Cover by MIKE DEODATO JR.
INFINITY WARS PRIME #1 GEORGE PEREZ VAR (MAR188800)
In INFINITY WARS: PRIME #1, the heroes and villains of the Marvel Universe reap what they sow as their frantic search for the Infinity Stones leads to cosmic madness like never before. The simmering events of recent months spiral into something much, much bigger in this colossal story.
On Sale 7/25/18
via
Enjoyed this article? Share it!