The Atomic Age Drama of Captain Science #6, Up for Auction
In addition to two Captain Science stories, Captain Science #6 features "World War III with Ants" & an obscure photo of Stanisława Popielska
---
Captain Science #6, an intriguing gem from the 1950s Cold War-era science fiction comic book era, has much going for it from cover to cover. Many collectors will focus on the cover by an unknown artist from Adolphe Barreaux's Majestic Studios, which features the titular hero facing off against a villain while attempting to rescue his assistant, Luana, who is bound to a rocket primed for launch. But the interior stories here are just as impressive. Artists Tex Blaisdell and Vince Napoli contribute excellent art on a pair of Captain Science stories. But the final story of the issue, "World War III with the Ants" by unknown creators, is the real stand-out story here. An overlooked issue from the atomic age, there's a VG+ graded copy of Captain Science #6 in the 2023 March 19-21 Sunday, Monday & Tuesday Comic Books Select Auction #122312 at Heritage Auctions.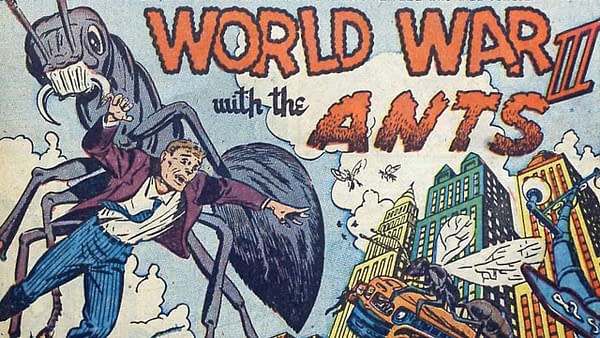 Essentially a space-traveling hero in the Buck Rogers mold, Captain Science was created by Wally Wood, Gustav Schrotter, and Walter Johnson, for his debut in Captain Science #1. Published by Youthful Publications with an October 1951 cover-date, Captain Science #6 is a testament to the company's brief but impactful existence from 1949 to 1954. Youthful Publications was part of a constellation of publishing companies with loose connections to DC Comics founder Harry Donenfeld. One principle of the company, William Friedman, had acted as Donenfeld's lawyer on numerous occasions, while another, Adrian Lopez, had previously co-founded a magazine publisher with Donenfeld. Over the course of its operation, Youthful Publications released 21 comic book titles, amassing a total of 125 issues.
The true gem of this issue is the final story, "World War III with Ants," which pits the humanity of 1952 against an unknown phenomenon that has caused the Earth's ants to grow into giants. The remants of mankind soon retreat into an underground bunker while most of them are placed into suspended animation, while a pair of scientists work on finding a weapon that will allow them to retake the surface world.ience fiction saga "World War III with the Ants." This gripping final tale follows humanity's struggle against giant ants, as survivors seek refuge in an underground bunker and scientists race to find a weapon to reclaim the surface world.
The text story in this issue, "Do You Believe in Ghosts?", provides a fascinating overview of belief in the supernatural in America and the UK during the 20th century, with particular focus on Harry Houdini's efforts to debunk mediums. A photo captioned "Ectoplasm issuing from the mouth of a Medium used by Arthur Conan Doyle to prove existence of spirit world" seems to be a 1913-era image of purported medium Stanisława Popielska.
As a rare and captivating example of 1950s Cold War-era science fiction, Captain Science #6 is a worthy addition to any Pre-Code comic book collection. With only 38 copies on the CGC census, this issue is a tough get for collectors. If you're interested in bidding on this VG+ graded copy of Captain Science #6, don't miss the 2023 March 19-21 Sunday, Monday & Tuesday Comic Books Select Auction #122312 at Heritage Auctions. For prospective bidders new to Heritage Auctions, be sure to check out their FAQ for information on the bidding process and related matters. Also, please note that the weekly Select Auctions have been expanded to three days, with Comic Books (pre-1956), Pulps, Memorabilia, and Magazines Session 1 on Sunday, Comic Books from 1956-1969 Session 2 on Monday, and Comic Books from 1970-Present Session 3 on Tuesday.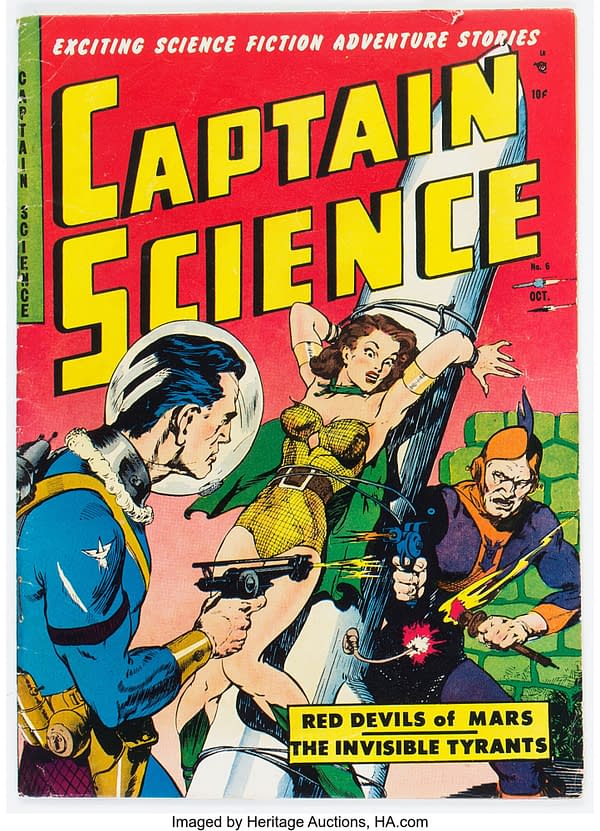 Affiliates of Bleeding Cool buy from and/or consign to Heritage Auctions.