Every week your Local Comic Book Shop, hopefully, gets in a weekly assortment of comics, trades, posters, action figures, and other goodies from Diamond. Now some of these goodies sell out fast from your LCBS, so Tuesday and Wednesday LCBS retailers get on the phone (more often the computer) and let Diamond know they need more. Or sometimes they go to unpack those Diamond boxes and find items missing, or too damaged to sell (it does happen), retailers have to let Diamond know. However, the phrase no retailer likes to hear when they go to report those shortages, damages or reorders is: "Sorry that item is on back-order," which means there are no more copies to send out from the Diamond warehouse in order to replace damages or shortages. The lack on Diamond's end can be because of sell-out at Diamond, tight print order from the publisher, so Diamond only sent out what was on the initial order, or Diamond is waiting for more stock from the publisher. Sometimes items on the Back Order List do end up available from Diamond again, but rarely. So it's time for another edition of the Back Order List.
No New Marvel & DC Weekly Books?
Since the pandemic started, and the Diamond shutdown happened, DC has been the dominant company with titles on the Back Order List because they've had the most titles being released. They didn't seem to be sending Diamond much when it comes to having stock to replace damages and shortages. Marvel, in addition, has only put out new comics every other week, so both companies took this week out, putting out new weekly comics in stores this week. However, both still sent out some trades and hardcovers with DC having one entry on the Back Order List with Absolute Fourth World By Jack Kirby Volume 1 no longer available from Diamond.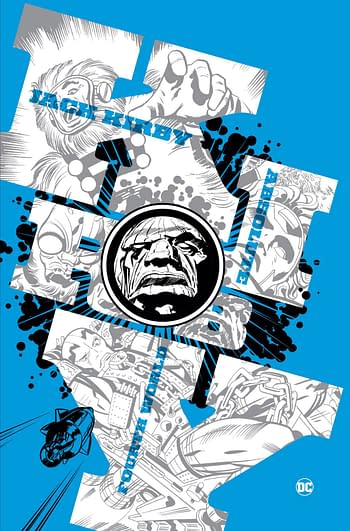 It's a beautiful book, so not surprising.
Marvel through IDW had one book as well go on the Back Order List with the reprint Marvel Action Classics Avengers Starring Iron Man #1.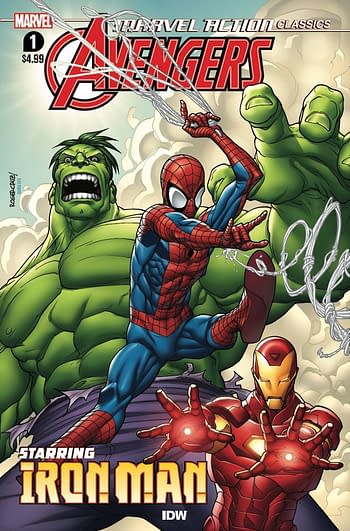 IDW on the Back Order List
So with Marvel and DC mostly MIA, just about everyone had entries on the list with IDW having Star Trek Year Five #12 and Ghostbusters Year One #4 Cover B, following a Year theme, onto the List. Also, the first all-new material issue for Teenage Mutant Ninja Turtles Urban Legends #24 has Cover B also gone.
Boom on the Back Order List with FOC
Following IDW, Boom also has two entries with both FOC covers for Jim Henson Storyteller Ghosts #3 and King of Nowhere #3 joining the Back Order List.
Dark Horse has One Entry on the Back Order List
Dark Horse had a quiet first week of July, but one big entry went on the Back Order List with Berserk Deluxe Edition #5 gone from Diamond. They sent out a lot of copies, though, and Dark Horse is sure to either reprint it or get more copies to Diamond asap.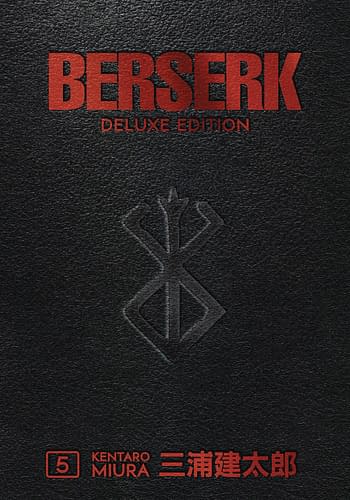 Dynamite on the List with Cover A
Dynamite also had three entries with Red Sonja #16 Cover A, and Vampirella #10 Cover A gone, and Vampirella's Cosplay Cover D no longer available. Usually, Dynamite, like Boom this week, has their FOC covers go to Back Order fast, but apparently this week, the main covers went away.
Zenoscope on the Back Order List with Belle & Monster Planet
Zenoscope has its two titles for the week Belle Vs. Black Knight One Shot #1 and Monster Planet #5 have a place on the Back Order List, as Cover D for Belle is gone, and all four covers for Monster Planet #5 no longer around.
Plus Lots of Other Publishers
The Back Order List also had A LOT of other publishers get entries. Ahoy Comics had Billionaire Island #2 Cover B by Darick Roberston, It's Alive had Breathers #3 Cover B, AC Comics had FemForce #189, Albatross Comics had Goon #11 Cardstock Variant Cover, Scout Comics having both covers for Midnight Sky #5, Source Point had Touching Evil #6, and AWA get the first issue of Devil's Highway all on the List.
The Big Weekly Winner is Image
Finally, the end of the list sees Image continue to have lots of creator-owned books, and the most books, on the Back Order List starting with the All-America Comix One-Shot #1 and Goddamned Virgin Brides #1.
Marked #6 and On The Stump #3 had both covers no longer be available, and Olympia #5 Cover A and Protector #4 also are gone.
However, despite getting a second print announced and claiming a sell-out, Negan Lives! #1 is not on the Back Order List, and retailers can still get their hands on the first prints from Diamond … for now.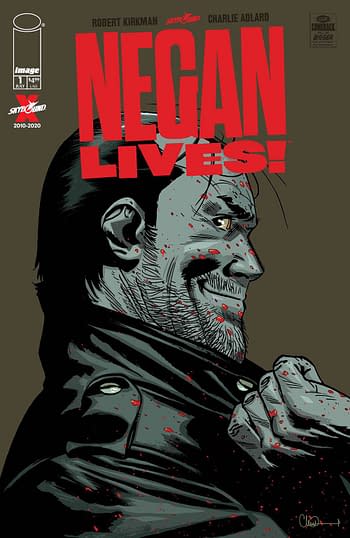 So for those who can go to your LCBS and see any of these "back order titles," grab them if you want them because Diamond won't likely be sending any more copies of these books. It's possible if LCBS return copies of these books, but not likely, and not likely anytime soon. Though if your LCBS has set up new accounts with Lunar Distribution or UCS Comic Distributors, then maybe they can get more copies of the Absolute Fourth World Volume #1 from DC.
Enjoyed this article? Share it!