There is something you need to remember when reading today's Superior Spider-Man. That you are getting the entire Black Widow #1 free in the back. But you might forget, get distracted by the heft in your hand and begin thinking you are reading a double-sized Superior Spider-Man, and when you get twenty pages in, to the big cliffhanger, expect to keep reading the story. Which you won't. So, you know, consider this fair warning. The comic in your hand deceives you.
I also want to talk about something that might be seen as a little spoilerish, though I'll do my best to avoid it. But basically, if you are one of those folks planning to read the comic, stop now, and come back when you have read it. If you are one of those who is waiting to read Amazing Spider-Man #1 and has no truck with all this SpOck nonsense then you may want to read the below. And those who do, if you pass it on anywhere else (though the internet seems full of Superior Spoilers this week) please preserve the spoilery nature of things. A while ago, I was told by what seemed to be a pretty good source that Superior Spider-Man would end with issue 30, and the fourth part of the five part Goblin Nation to mess with our minds, before being relaunched as Amazing Spider-Man in April.
It didn't happen. And it hasn't happened. Oh the relaunch is, and that was bang on, there will be a Superior Spider-Man #31. And that aspect nagged at me. It was difficult to argue with the source, but reality told a very different story.
Well, today Superior Spider-Man #30 is out. And it seems that my source was right. Just not in a literal way, only thematic.
Basically, if you were waiting for Amazing Spider-Man, don't. Go to the shop today. It starts now. We will be updating this article through the day according to Dan Slott protocols. But for now, here's a shot from the the preview… whatever happens, it's not over for Spidey.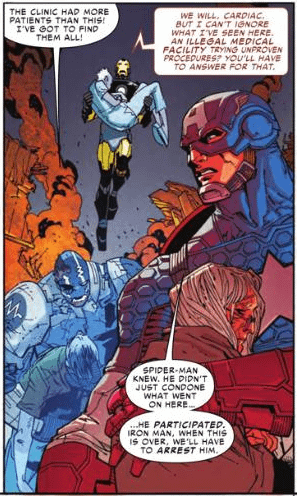 Oh yes, and the comic also has one hell of a swerve on the Goblin identity theory that I don't believe for an instant. Bleeding Cool's Tom Huxley has a better theory that he's going to be sharing later today which I'm going to follow it up with another theory on where its all going with Spider-Verse.
Welcome to Superior Spider-Man Speculation Day on Bleeding Cool…
Comics courtesy of Orbital Comics, London, with a massive Transformers #100 signing this Saturday… Enjoyed this article? Share it!