The Goblins On The Other Side Of The Mirror Seem So Nice…
Lela Gwenn writes for Bleeding Cool:
Can we talk about underdogs for a minute? About people who shouldn't find themselves standing next to the professionals in their dream jobs? Because that's where I find myself. Suddenly– AWESOMELY– a comic book that I have written is being drawn by Richard P Clark a guy who's art is found in books from all the big houses. It's been edited by Adam P. Knave! He's won awards for that sorta thing! And I cannot fail to mention that I've got a great letterer on board as well, Frank Cvetkovic.
So, how did I get here?
I made great friends and I wrote a great story.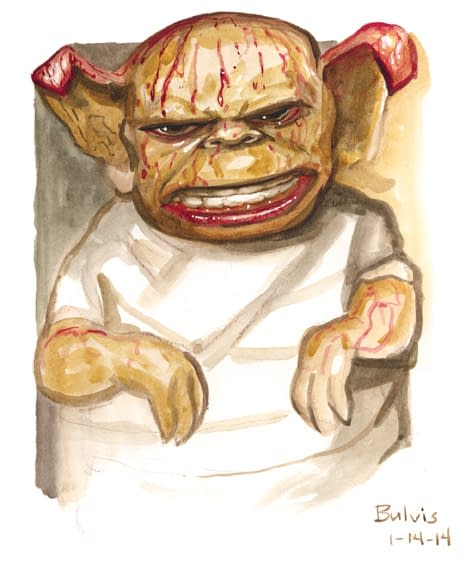 Issue 0 focuses mostly on Bulvis– a goblin who made and lost his fortune betting on his ability to manipulate an 11 year old Malcolm. That was twenty years ago and the loss has grown exponentially over the years. But now he has a new target, a young boy named Jake. A boy who wants something, desperately. And Bulvis isn't above lying to a child to get what he wants.
Jake is lost, shelved in a foster home that sees him as a cash crop. But he's made friends with a funny little guy in the mirror. Maybe the mirror guy can help him find his sister?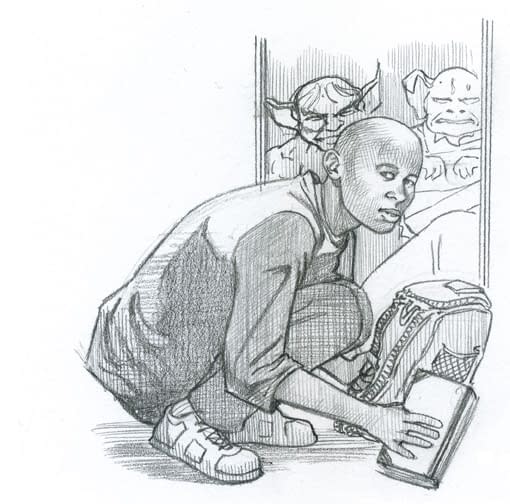 I hope you, too, will be excited by my story and join Team #BornDark
As an added incentive to Bleeding Cool readers– we are sweetening the pot for you! The first 10 BC readers who back at $9-$49.99 will get an extra pair of sketch cards hand drawn by Richard P. Clark. The first 10 to back at $50+ will get 4 sketch cards! Just send a message mentioning Bleeding Cool when you back!
Born Dark will be published 7/2014 with the help of a Kickstarter Campaign that ends Mar 27 2014. You can back it: https://www.kickstarter.com/projects/lelagwenn/born-dark-issue-0