The Immortal Hulk #5 Review: A Beautifully Dark Deathmatch
[rwp-review-recap id="0"]
Walter Langkowski is gone. Sasquatch is in his place. The monster tears through the hospital, and Bruce Banner knows he must be stopped. He tries to talk Sasquatch down, but the beast wants to talk to another beast. Sasquatch wants the Hulk, and the Hulk comes for him. A massive fight ensues and spreads across the hospital. McGee tries to evacuate everyone else.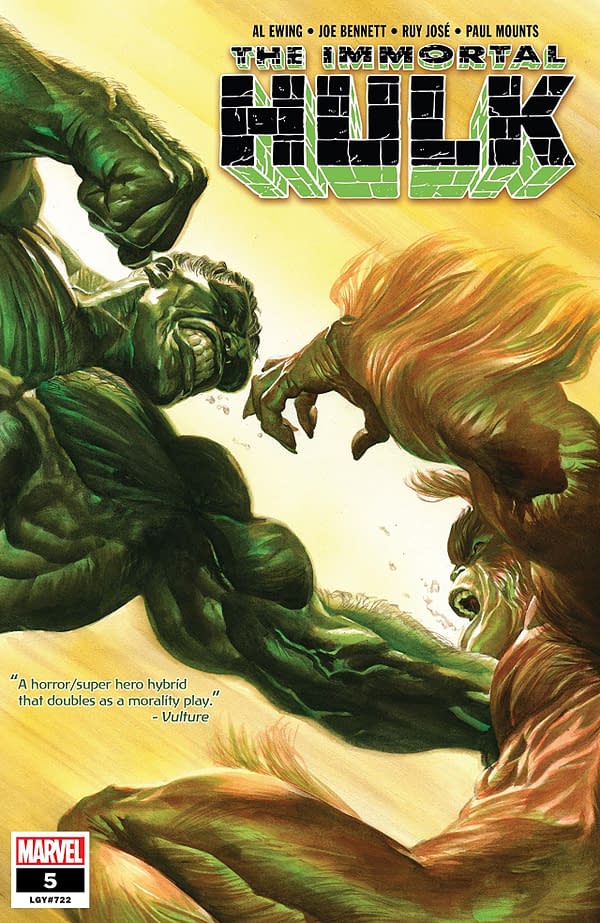 Immortal Hulk #5 brings the promised fight between the Hulk and Sasquatch for which the reader is waiting. The Jade Giant and Sasquatch duke it out across most of the comic, and we learn what specter has been chasing Bruce Banner and the Hulk since he's come back from the dead.
The fight turns personal quickly. The Hulk has no regard for Walter or Sasquatch, but, when the situation changes, it's the Hulk who finds himself on the defensive.
The fight is cathartic to read too. Massive and crushing blows are exchanged, with each creature getting more than their fair share of hits in.
We learn more about McGee as well, and her part in this isn't restricted to being the dedicated reporter with a history involving the Hulk. She's something a little different, and it adds to the cynical tone of the comic.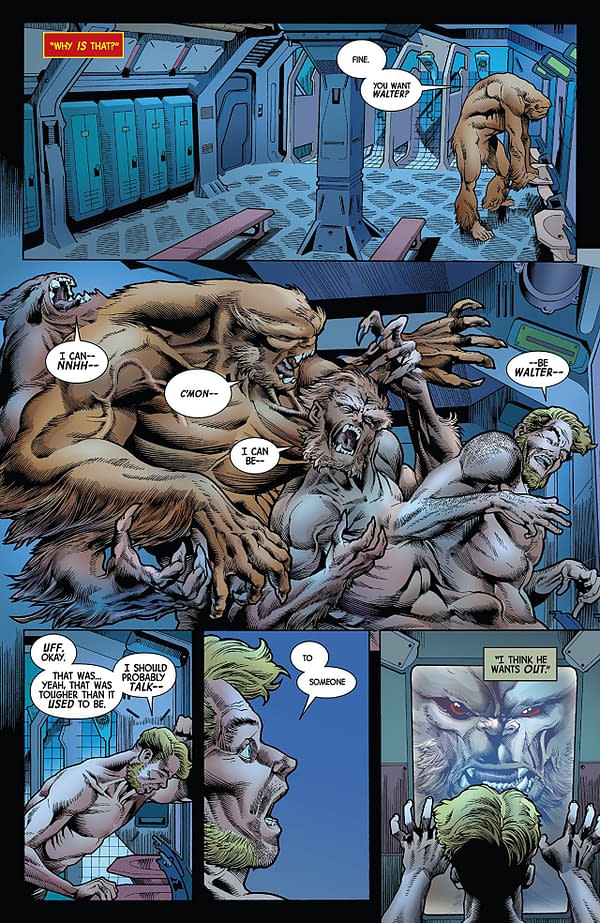 Joe Bennett's part in this work cannot be understated. His artwork is gorgeous and does this battle justice. Both Hulk and Sasquatch look aptly monstrous, with the Jade Giant's massive brow being a welcome aesthetic return in the Immortal Hulk series. The battle causes a lot of destruction and physical damage to the combatants. Ruy Jose's inking gives extra strength to the visuals. The color art of Paul Mounts is heavily contrasting and often enjoyably dark.
Immortal Hulk #5 is a beautiful deathmatch of a comic. We get to see the Hulk duel another of Marvel's greatest creatures in a smashing brawl accompanied by dark themes and revelations. Bennett, Jose, and Mounts make it darkly gorgeous. This book earns a strong recommendation. Give it a read.
[rwp-review-ratings id="0"]
[rwp-review-form id="0"]